15-Minute Thai Chicken with Rice Noodles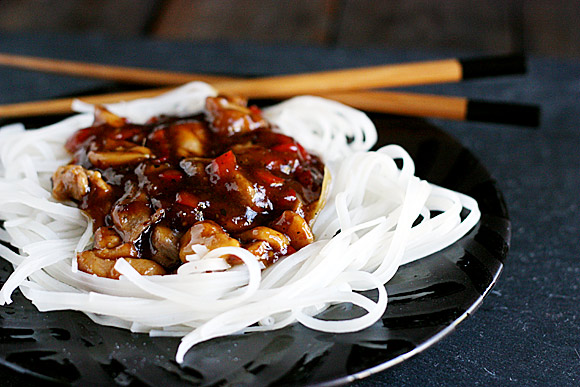 By all accounts, dinner time at Casa SoupAddict should be a sigh of relief, getting behind the stove after a day of not being behind the stove and doing lots of thing that have nothing to do with cooking or gardening. Or napping. (Yes, SoupAddict loves the nap.)
But during the week, I can't say that's always true (about dinner, not the nap — it's oh-so-very true that I love da nap).
I have just the teeny tiniest bit of suspicion that maybe ya'll can relate: It's 6:30, it's been a long day, and miles to go, and all that stuff. Dinner is just another hurdle to clear.
On those days, I have an arsenal of go-to dishes that can be made in under 30 minutes, tastes comfort-food great, and won't break the health bank (or the wealth bank, for that matter). This is one of those recipes.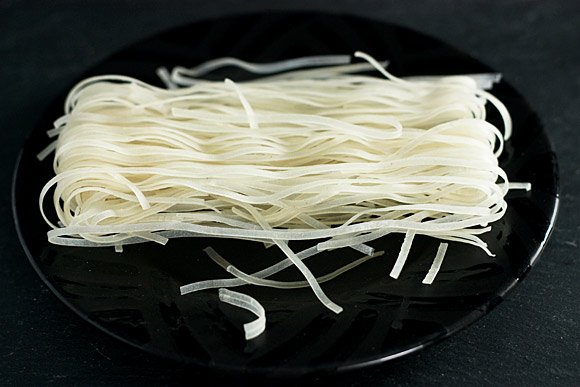 I love rice noodles. Big time <3. Big time. They're light and bland (that's a good thing) and slightly sticky — sauces drape over them like a form-perfect velvet gown. Beautifully white when cooked, every topping looks eye-poppingly amazing against them. And they're gluten-free. While I'm not gluten-free, I am a gluten-avoider, so I'm very thankful for this satisfying pasta substitute.
Here's a tip about rice noodles that I've learned from the School of Hard Knocks: don't follow the package directions. Don't boil rice noodles. Soak them in hot-hot-hot water for a few minutes — water that's been boiled and removed from the heat to stop bubbling. Keep an eye on them — don't walk away. Remove them from the water the instant they reach al dente.
Unlike wheat pasta that goes from perfectly al dente to aw-snap! limp when overcooked, rice noodles go from perfectly al dente to eeww-inedible-mush in the blink of an eye.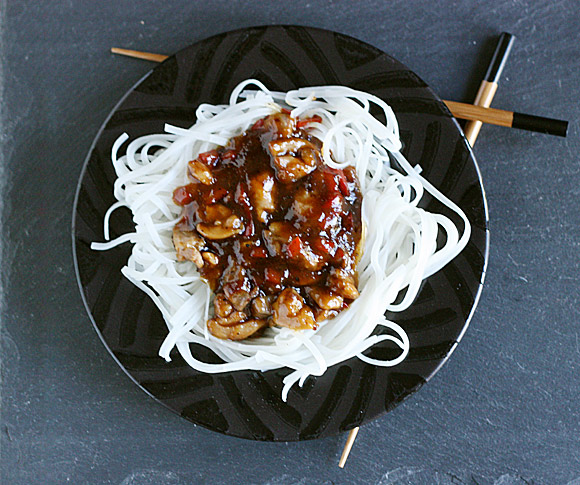 This is one of those happy surprise recipes that came about by throwing Thai-ish ingredients into a bowl, whisking it all about, and dumping it over some chicken. And it turns out right every time.
It was years before I actually thought to write it down, with measurements, and I only recently changed it up by using rice noodles instead of pasta — lovely, lovely lovely.
But if it's just been one of those days and you can't look another pan in the face and can only bear to do minute rice in the microwave, I won't tell. It's all good — pasta, rice, rice noodles … and even right out of the pan standing over the stove.
Thai Chicken with Rice Noodles
Prep Time: 5 minutes
Cook time: 15 minutes
Yield: 3-4 servings
Ingredients:
1 tablespoon canola or coconut oil
1 pound skinless, boneless chicken thighs, cut into 1-inch pieces
1 shallot, thinly sliced
1/4 cup dark brown sugar, packed
2 tablespoons good quality fish sauce
1/3 cup water
2 tablespoons rice vinegar
1 tablespoon hoisin sauce
1 teaspoon minced garlic
1 teaspoon finely grated fresh ginger
1/2 teaspoon red curry paste (optional)
1/2 red bell pepper or 1 serrano pepper or 1 fresh Thai chili, chopped (depending on your heat preference)
1/2 teaspoon corn starch (optional)
salt and freshly ground black pepper
3 tablespoons cilantro, chopped
1 package rice noodles (also called rice sticks)
Instructions:
1. Heat oil in a large skillet over medium heat until shimmering. Season chicken thigh pieces with salt and pepper, and place in skillet in a single layer. Add the shallots and cook until the chicken is lightly golden on both sides, about 7 minutes.
2. In a large pot, get 6 cups of water boiling.
3. Meanwhile, combine the sugar, fish sauce, water, rice vinegar, hoisin, garlic, ginger, curry paste (if using) and peppers in a medium bowl. Whisk to combine, until sugar is dissolved.
4. When thighs are golden, add the liquid to the skillet. Bring to a good simmer and maintain to finish cooking the chicken, about 5 minutes. Sauce will thicken slightly. For a thicker sauce, sprinkle 1/4 teaspoon corn starch over the top of the sauce with your fingers (to break up clumps). Stir well for one minute. If you want it thicker, add the remaining 1/4 teaspoon.
5. Remove the uncooked rice noodles from the package and, without breaking, place in a large, deep sauce pan or wide stock pot sitting on a trivet or heat-proof surface. When the water boils, remove from the and allow to settle for a few seconds, then pour over the rice noodles. The noodles will begin to soften immediately and sink into the water. Start the timer. Check the noodles after 4 minutes by picking them up with tongs to test their texture. When cooked, they'll be just short of al dente, like regular pasta, and not at all mushy. It's far better to slightly undercook than overcook them, as rice noodles can get very mushy. Move noodles to a clean bowl and set aside.
6. Taste the sauce, and adjust for salt and pepper as necessary. Stir in the cilantro. Serve over the rice noodles.