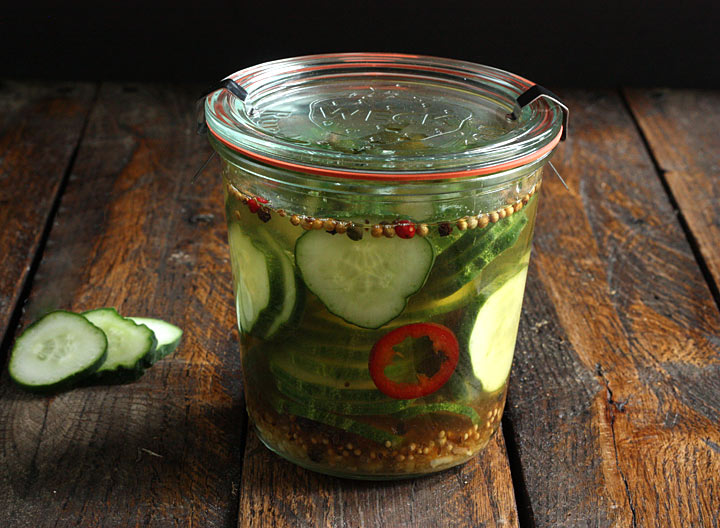 Summer's amazing cornucopia of produce sometimes brings on a happy panic. There's much to be done in the garden, favorite dishes to prepare as each new fruit or vegetable comes into season. Preserving, preserving, and more preserving, especially when one crop's harvest arrives faster than you eat them up.
My tomatoes are coming along splendidly (plenty of fresh to pick every day), but right now, cucumbers are vying for attention.
Lots of cucumbers mean pickles. And not just any pickles, but zesty, gingery, dill pickles. Mouth-puckering with a zing of heat.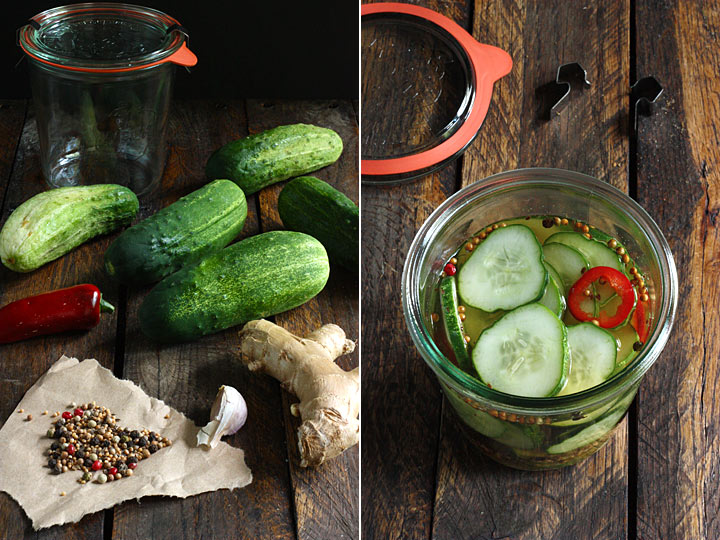 I love that so many of the ingredients in this recipe can come from the garden — the cukes, garlic, peppers, mustard seeds, coriander seeds, dill seeds.
And ginger. I didn't grow ginger this year — I backed out at the last minute — but I plan to next year. There's a farm in this area growing ginger from Hawaii, and I'm keeping an eye on their harvest to see how it fares in this climate (growing zone 6).
Karen xo

In 2017, I'll be donating a portion of SoupAddict's income each month to a non-profit whose works speak to my heart. April's proceeds will go to
La Soupe
, a Cincinnati non-profit working to relieve childhood hunger and tackle food waste in one swoop, using
soup
as the foundation for both. Founder and chef — and recent Jefferson Award winner — Suzy DeYoung has connected our city's best chefs and their kitchens with grocery store produce turnover — perfectly good fruits and vegetables that simply must be moved off the shelves — and the result is delicious, healthy soup that goes right into the bellies of our city's underfed children through schools and relief organizations. This summer, La Soupe is fundraising for their
Ladle Campaign
, which will provide a much-needed facility expansion to broaden their vegetable intake and sorting operations.
Learn more about their inspirational work
and
listen to Suzy
tell the story of La Soupe.
Spicy ginger refrigerator pickles
Equipment: 1 one-pint jar (I used a 500ml Weck jar, which is a bit more than a pint)
Ingredients:
Vinegar mix: 2 parts rice wine vinegar, 1 part apple cider vinegar, 1/2 part water – enough to fill the jar you've chosen (for example, I used: 1 cup rice wine vinegar, 1/2 cup apple cider vinegar, 1/4 cup water)
1 clove of garlic, minced
1 small red or green jalapeño pepper, seeds removed, sliced into rings
1 tablespoon pickling spices (or 1/2 teaspoon each mustard seeds, peppercorns, coriander seeds, dill seeds)
2 teaspoons fresh ginger, peeled and minced
2 teaspoons sugar
1/2 teaspoon salt
1 tablespoon soy or shoyu sauce
1 pound pickling cucumbers (3-4 cukes), sliced into 1/8″ thick slices
Instructions:
Pour about 1/4 cup of the vinegar mix into the jar. Add the garlic, peppers, spices, ginger, sugar, salt and soy sauce. Use a long spoon to give the ingredients a good stir, allowing the salt and sugar to dissolve.
Place the cucumber slices in the jar, stacking them loosely and leaving plenty of room for the liquid to flow around them.
Pour in the remaining vinegar mix, leaving 1″ headroom. (You might not use all of the mix, or you might need to add a bit more rice wine vinegar.) Make sure all of the slices are submerged in the liquid.
Seal the jar and place in the refrigerator. Let the pickles marinate for one week. The first day, they'll taste completely unremarkable. By the third day, they'll become quite flavorful, and at one week … ooo la la.