Bolognese — or
ragù
, as I knew it growing up — and I have a long history of discontent. My go-to method was clunky, plain, and lacked finesse — barely a method at all. Meat in tomato sauce —
meh
. Passable, but I didn't understand the fascination and adoration it received in the cooking shows.
It wasn't until I tried Mark Bittman's version that I finally understood the error of my ways and learned to make a bolognese worthy of its reputation: don't cheat on the long simmer — 3 hours is the minimum — use good wine, and don't forget the cream at the end. Perfection.
These days, my consumption of beef is practically nil, but I still crave that saucy dish, especially as we slip into winter and sub-freezing temps, and I need something warm and glossy to drape over a comforting heap of carbs.
I found the answer to that craving in the mushroom: hello, wild mushroom bolognese! Meaty, savory, and earthy, its flavor and texture creates an amazing bolognese in its own right.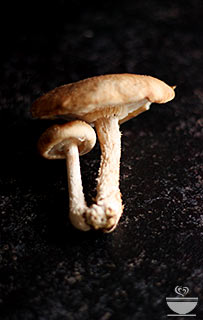 The very decent and ubiquitous cremini mushroom creates a solid flavor base, while the shiitake add its own indescribable savory goodness. But the icing on the cake is the dried mushrooms. Porcinis — impossible to find fresh in my area — are nutty, rich and saltlessly salty, adding a welcome depth to beefless sauces, soups, and stews. Dried chanterelles add another layer of mushroom flavor. (Dried morels would be fabulous as well, if they're easier to find in your area.)
They're the stars of this dish.

In addition to the many health benefits of mushrooms, another advantage of mushroom bolognese is that it requires far less than the 3+ hours of cooking time of regular bolognese, as there is no beef whose fat must be rendered and melted into the tomato sauce. (I do use bacon for a nice smoky hit, but it's cooked first and doesn't need a long stew over the flame.)
I hope you enjoy this comforting dish as winter's chill moves into the U.S. I like to serve it over whole wheat cheese tortellini — total comfort food overkill, but, yowza, it's good.
Karen xo