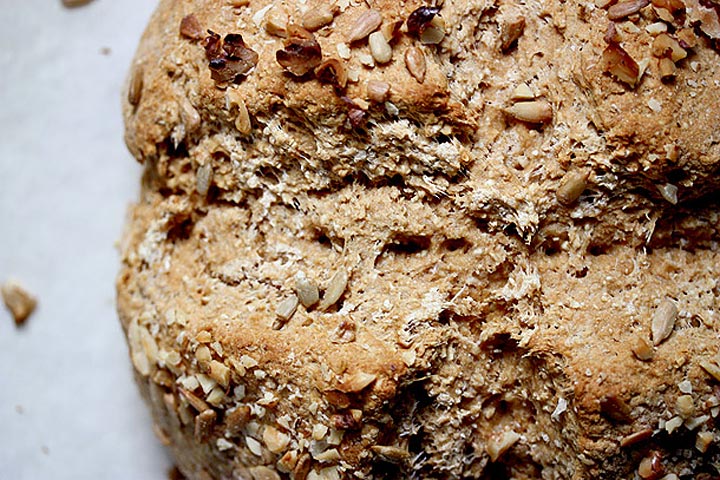 Like clockwork, every March brings the craving for bread. And not just any ole bread, but soda bread: a hearty peasant loaf perfected in all its simple goodness by the Irish. Soda bread is the bread lover's miracle loaf. Minimal kneading, no proofing (no yeast) and a mere hour later — two, if you can bear to allow the loaf to properly cool, which I never can — a fresh, hearty slice of savory goodness, topped with cultured butter, is yours for the taking.
I'm sure the timing of St. Patrick's Day and Irish soda bread cravings is completely coincidental, but past soda bread posts on my blog confirm that it's a reliable March thing for me:
Irish Soda Bread
Irish Brown Bread (soda bread's cousin)
Traditional Irish Soda Bread.
I can't help it. Like scones, soda bread is just too ridiculously easy not to make, even when you trick it out a bit, like I've done here.
This loaf substitutes a good portion of all-purpose flour for oat and whole wheat flours. The healthier grains produce a nutty flavor profile that's simply a joy to eat. And local honey, harvested by a beekeeper only two miles from my home, adds a hint of smooth sweetness that blends so well with the grains.
If you're new to bread baking, try this soda bread: it's more satisfying than the typical quick bread without the time commitment of a yeast bread.
Consider yourself warned, though. Once sampled — bread from your own hand — you'll never look at commercial bread with the same longing again.