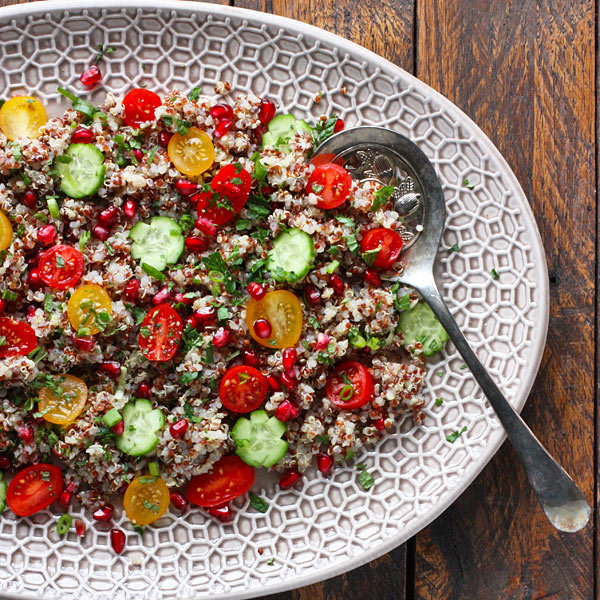 Warning: there's an unapologetic use of winter tomatoes in this post today.
I know. Please don't tell anyone, because the seasonal cooking police will bust down my door and revoke my membership card.
Winter tomatoes are the worst. Except when they're not. Except when winter has been so hard and cruel that the ground hasn't been snow-free for more than a handful of days for months (plural). Except when spring seems years away. Eons away. Infinity-and-beyond away.
Fresh, juicy tomatoes are a home gardener's heroin, and if you think I'm being at all drama-queeny about it, just try to get between a gardener and the first ripe tomato on the vine, 'round about July.
You lose fingers that way.
Fresh home garden tomatoes are still five months away … five loongloooongloong months away … and at some point every winter, my resolve shatters, and I just have to have a tomato. Not a tomato from a can. Or even a tomato that I froze from my very own garden last fall, which will be mushy and sauce-perfect when thawed, but not fresh-eating-perfect.
A tomato. A tomato that pops when you bite into it, all sweet acid and seed.
The only thing to be done for such a craving in the dead of winter is to turn to the cherry tomato. The big, bright red, mealy cue balls at the grocery store are a not-even-if-they-were-the-last-tomatoes-on-earth purchase. As in a Taylor Swiftian neverr-everrr-everrrr. Not because I'm a spoiled grower of luscious heirloom tomatoes, but because, Ew. The pink-gray-centered cue balls. They're just gross.
But cherry tomatoes are the lessers of many evils, and cherry tomatoes have pulled me through many a desperate winter.
As they do now. They're not half bad, all things considered, and I can eat them out of hand, although I usually juice them up for my green drinks. Or mix them into sanity-saving salads.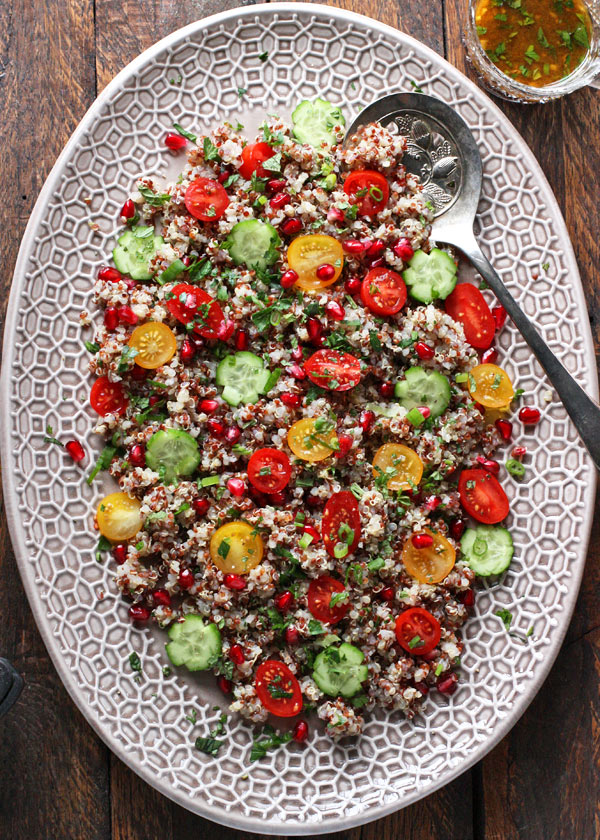 So as not to go completely off the out-of-season deep end, this winter salad is heavy on the nutty goodness of quinoa, with a liberal sprinkling of tart pomegranate seeds. Partially out of season; most definitely delicious and healthy.
Oh, and the herbs. Fresh herbs. Minced finely and sprinkled generously — and I do mean generously — throughout: quinoa tomato pomegranate salad with a winter weight but a lively, fresh flavor.
Just what this summer girl needs to make it through cruel, cruel March.
Karen xo
P.S.: Is it snowing today? You betcha. {Sigh}
Quinoa Tomato Pomegranate Salad
Ingredients
1/2 cup uncooked quinoa, well rinsed (I used 1/4 cup red quinoa and 1/4 cup white)
1 1/2 cups water
1 tablespoon minced fresh flat-leaf parsley
1 tablespoon minced fresh tarragon
1 tablespoon minced fresh mint
24 or so cherry tomatoes (mixed colors and shapes are nice), sliced
1 mini cucumber, sliced
1/2 cup pomegranate seeds
1 scallion, thinly sliced
1 half of a fresh lemon
Kosher salt and freshly ground black pepper
Your favorite vinaigrette dressing
Instructions
Bring one cup of water to a boil and add the rinsed quinoa. Reduce heat to low-medium, cover, and cook for 15 to 20 minutes, or until quinoa has sprouted curlicues. Fluff and drain into a sieve and let cool to room temperature (a sieve keeps air flowing around the quinoa, but you can also spread it out on a cool pan).
When the quinoa has cooled, transfer to a serving bowl and mix about half of the herbs (equal parts of each) into the quinoa, then gently fold in the tomatoes, cucumbers, and pomegranate seeds.
Before serving, sprinkle additional herbs over the top, along with the scallions, and salt and pepper to taste. Give a big squeeze of the lemon over the salad and toss lightly. Drizzle the vinaigrette and/or serve on the side. (My favorite for this salad: measure 1/2 cup prepared balsamic vinaigrette into a bowl and whisk in 1 to 2 teaspoons pomegranate molasses, plus a few pinches of the herb mixture.)