I hope everyone had a lovely Thanksgiving day, and that you're rarin' to go into the holiday season!
I also hope that the Thanksgiving cooks amongst you had — or will have soon — a chance to make some turkey stock from your leftovers, because man, that stuff is good! I used some of my own turkey stock (which I had made earlier for last Monday's post) to make some rich homemade gravy … delicioso! It's the little touches that make dinners special, you know?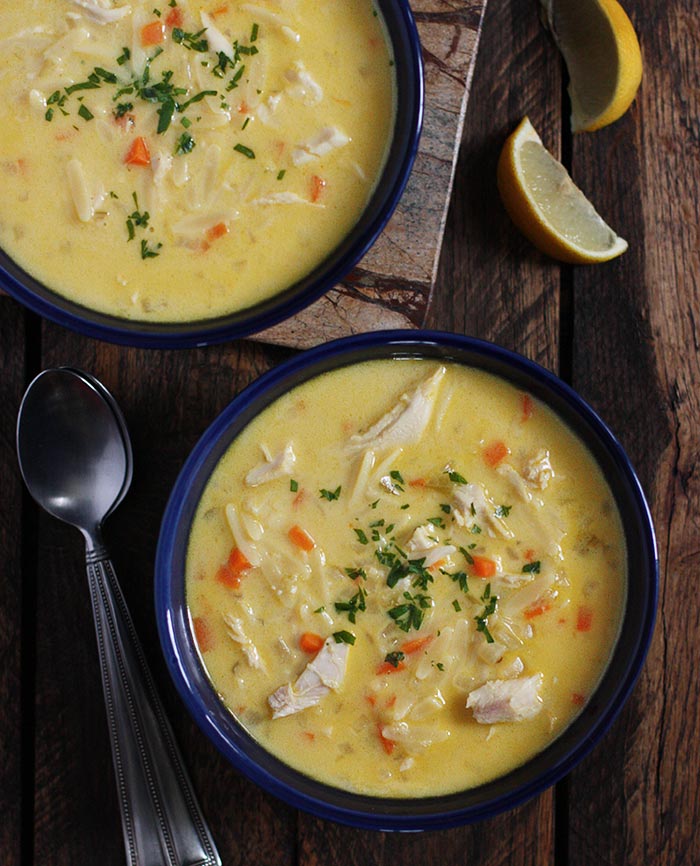 And speaking of little touches … there's today's avgolemono turkey soup. Avgolemono is Greek in origin, meaning egg-lemon, and is one of the family of Mediterranean sauces. Although traditionally made with chicken or lamb broth, turkey subbed just fine, and made a very satisfying soup on what was a bitterly cold day.
Eggs in soup? Right on! It's one of my go-to methods for creating a really silky, creamy soup without the heaviness of cream.
You whisk the eggs into a bit of hot broth — tempering them so it doesn't become scrambled egg soup — along with a big splash of fresh lemon juice and, voila! A smooth and creamy soup with the shining, savory flavors of the vegetables and meat within.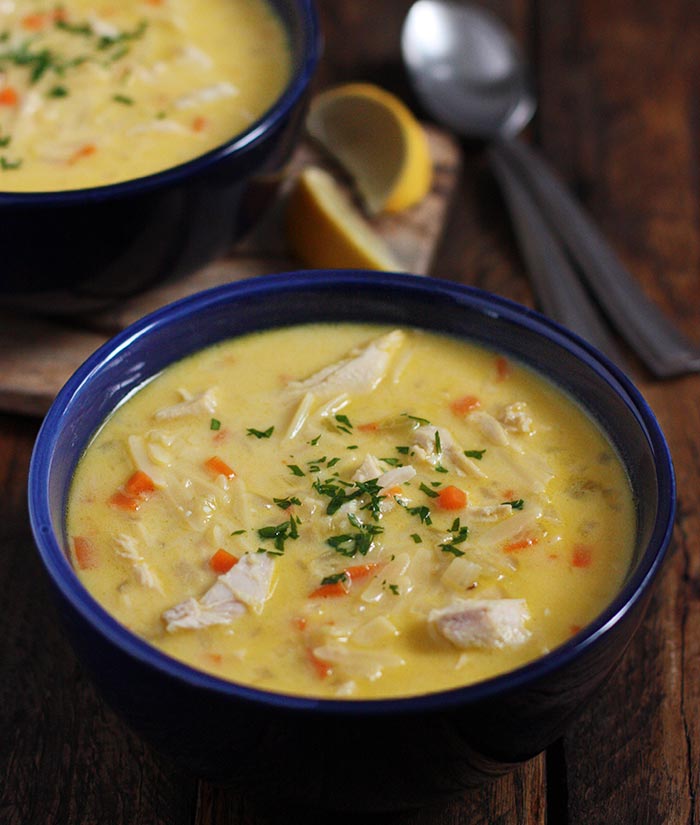 Now, the extra vegetables aren't necessarily traditional in avgolemono soup (some cook the vegetables in the soup, but remove them before adding the eggs), but I like the extra body — and nutrition — they give avgolemono turkey soup, along with the orzo pasta.
I have extra leftover turkey meat tucked away in the freezer, and there is definitely going to be a repeat performance of avgolemono turkey soup very soon.
Enjoy!
Karen xo
In 2017, I'll be donating a portion of SoupAddict's income each month to a non-profit whose works speak to my heart. April's proceeds will go to
La Soupe
, a Cincinnati non-profit working to relieve childhood hunger and tackle food waste in one swoop, using
soup
as the foundation for both. Founder and chef — and recent Jefferson Award winner — Suzy DeYoung has connected our city's best chefs and their kitchens with grocery store produce turnover — perfectly good fruits and vegetables that simply must be moved off the shelves — and the result is delicious, healthy soup that goes right into the bellies of our city's underfed children through schools and relief organizations. This summer, La Soupe is fundraising for their
Ladle Campaign
, which will provide a much-needed facility expansion to broaden their vegetable intake and sorting operations.
Learn more about their inspirational work
and
listen to Suzy
tell the story of La Soupe.
Avgolemono Turkey Soup
Ingredients
1 tablespoon olive oil
3/4 cup small dice onions
3/4 cup small dice carrots
3/4 cup small dice celery
4 cups turkey stock
1 bay leaf
heaping 1/2 cup orzo pasta, uncooked
2 eggs
1/4 cup freshly squeezed lemon juice (about 1 large lemon or 2 medium)
10 to 12 ounces cooked turkey, shredded or cubed (thawed, if frozen)
2 tablespoons chopped fresh flat-leaf parsley
kosher salt and freshly ground white pepper (optional)
Instructions
Heat oil in a 4 to 5 quart dutch oven or stock pot over medium until shimmering. Add the onions, carrots, celery and a big pinch of salt, and saute until soft, about 8 minutes.
Add the stock and bay leaf. Increase heat and bring to a gentle boil. Then reduce heat to maintain a simmer, cover, and cook for 20 minutes. Uncover, and remove the bay leaf at the end of the simmer.
While the turkey base simmers, fill a medium (2 quart) pot with water and a big pinch of salt, and bring to a boil. Add the orzo, adjust heat to maintain a gentle boil, and cook according to package directions (times will vary depending on the type of orzo you chose). Drain and add to the stock, along with the turkey, at the end of the 20 minute simmer. Reduce heat under the soup to low. Taste and add salt, if necessary.
In a medium mixing bowl, whisk the eggs and lemon together until very smooth. With your free hand, slowly add two ladles of soup, one at time, to the egg mixture, whisking vigorously and continuously until completely incorporated. Then add the egg mixture to the soup, whisking the soup until incorporated. The soup should have lightened considerably in color and have a silky texture. (Do not let the soup come to a boil after adding the eggs - ditto for reheating: use a medium-low-low setting to bring the soup up to eating temperature.) Taste and add salt and white pepper (if using). Garnish with the chopped parsley.