Italian Tortellini Soup with Sausage is comfort food in a bowl – weeknight fast but tasty like you spent all Saturday on it.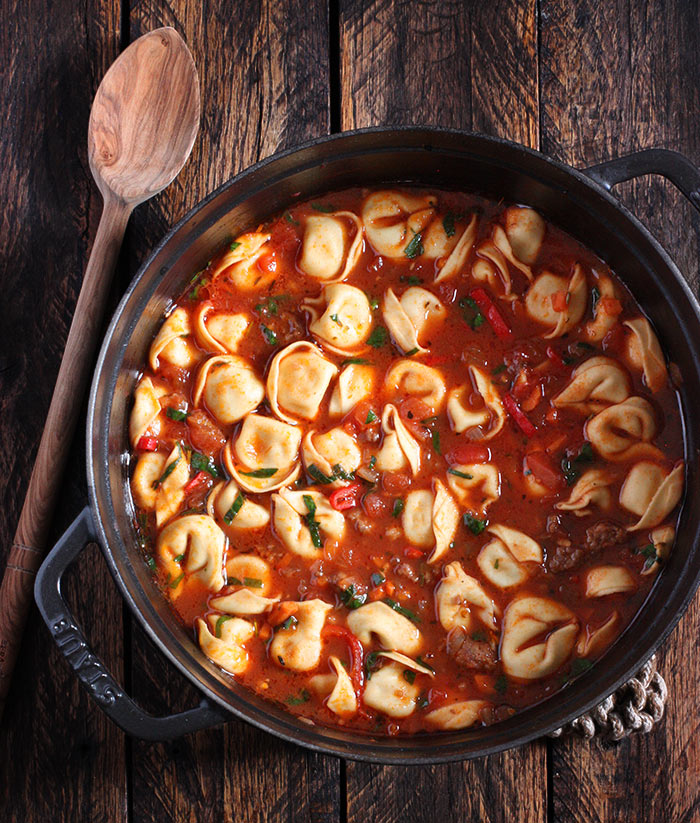 There's so much to love about soup. As a food form, the variation possibilities are endless: hot/cold, savory/sweet, thick/brothy/chunky, carnivore/veggievore, comfort-food-rich/delicate-appetizer-light.
I also appreciate how soup flexes with my desire to be behind the stove. In the summer (when the answer is as little as possible, please), a bright, flavorful, chilled gazpacho is just five ingredients and one quick spin in the blender away. In the winter, when cooking is an entirely delightful way to spend the afternoon, I can hover over the pot and experiment with a notebook page worth of ingredients and a slo-mo simmering that fills the house with tummy-rumbling scents.
And then there are the in-between soups, like today's Italian Tortellini Soup with Sausage. Complex flavors are squeezed out of easy-to-find ingredients (most are probably already in your pantry), and combined in a super-simple, weeknight-friendly saute-and-simmer.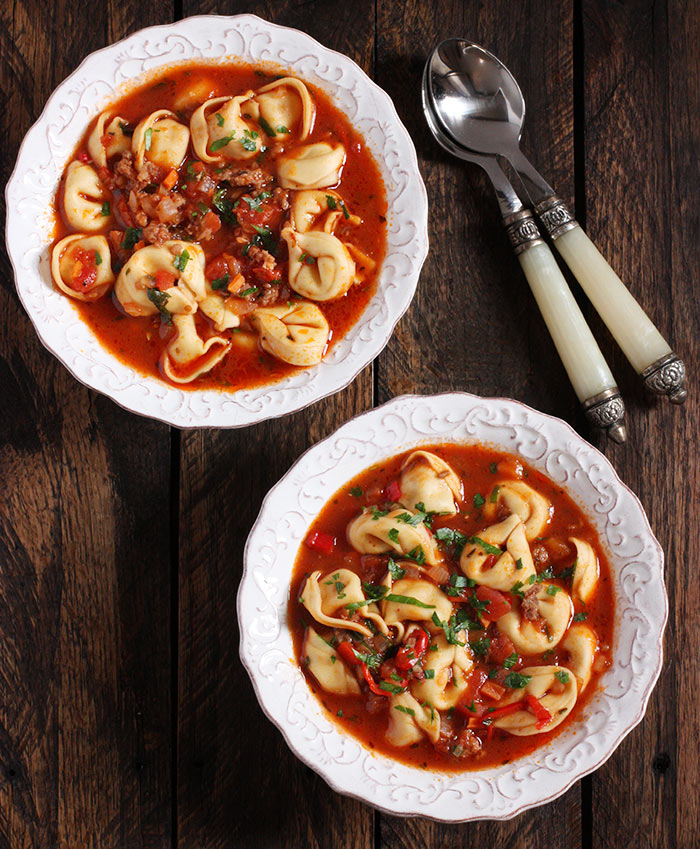 Which reminds me, with winter cooking gearing up, it's time to take a look at your spice rack and replace the dried herbs and spices that have been languishing for the last six months (check out my herb and spice guide for inspiration on building your own spice collection).
I recently spent a dreamy hour at my local spice vendor's shop. The only the customer in the store, the proprietor was more than pleased to show me his latest blends (an hour of spicy sniff tests … happy!), and I came away not only with a fresh supply of staple herbs and spices, but also a few of their clever, proprietary inventions, like a Green Thai Curry powder that I've been using in almost everything, mostly because I just want an excuse to stick my nose in the jar.
While you're stocking up, don't forget a nice Italian blend, which goes so well with many winter dishes, including Italian tortellini soup.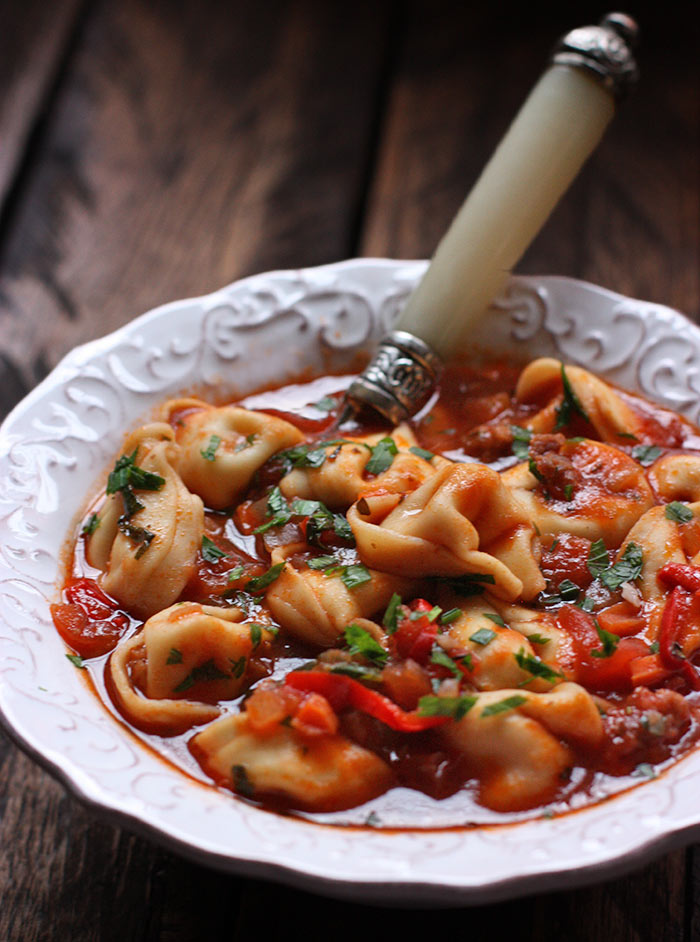 Oh, and one more thing: this is a soup that begs to be made in a big batch — the leftovers are amazing. And if you add a little cream to the bowl, it's like bolognese in soup form.
Karen xo
In 2017, I'll be donating a portion of SoupAddict's income each month to a non-profit whose works speak to my heart. April's proceeds will go to
La Soupe
, a Cincinnati non-profit working to relieve childhood hunger and tackle food waste in one swoop, using
soup
as the foundation for both. Founder and chef — and recent Jefferson Award winner — Suzy DeYoung has connected our city's best chefs and their kitchens with grocery store produce turnover — perfectly good fruits and vegetables that simply must be moved off the shelves — and the result is delicious, healthy soup that goes right into the bellies of our city's underfed children through schools and relief organizations. This summer, La Soupe is fundraising for their
Ladle Campaign
, which will provide a much-needed facility expansion to broaden their vegetable intake and sorting operations.
Learn more about their inspirational work
and
listen to Suzy
tell the story of La Soupe.
Italian Tortellini Soup with Sausage
Ingredients
1 tablespoon olive oil
2 links Italian sweet sausage, removed from casing and crumbled
1/2 medium onion, chopped
1 medium carrot, diced
1/3 cup diced sweet red peppers (about 1/2 of a medium, blocky pepper)
2 cloves garlic, minced
1 tablespoon tomato paste
1/2 teaspoon Italian herb blend
1/2 cup red wine
8 ounces tomato sauce
15 ounces diced tomatoes
2 cups beef broth
1/2 cup water
1 bay leaf
2" piece of parmesan rind (optional)
9 ounce package fresh tortellini (refrigerated, not dried)
handful chopped spinach
chopped fresh flat-leaf parsley, for garnish
salt and pepper
Instructions
Heat oil in a 5 quart dutch oven or soup pot over medium until shimmering. Add the crumbled sausage and cook until no longer pink. Add the onions and cook until softened (4 to 5 minutes). Add the carrots, peppers, garlic, tomato paste, herbs, and a big pinch of salt, and stir to mix well. Saute for several minutes to let the garlic, tomato paste and herbs become fragrant. Add the wine and continue sautéing until most of its liquid has cooked off.
Add the tomato sauce, tomato dices, broth, and water and increase heat to bring to a gentle boil. Reduce heat to maintain a simmer, and add the bay leaf and parmesan cheese rind (if using). Simmer for 15 minutes.
Remove the bay leaf and rind from the soup and discard. Taste, and add salt by the pinch as necessary. Add a few grinds of freshly ground black pepper.
Add the fresh tortellini to the soup and let cook for the time indicated on the package.
Stir in the spinach. Ladle into bowls and garnish with parsley.