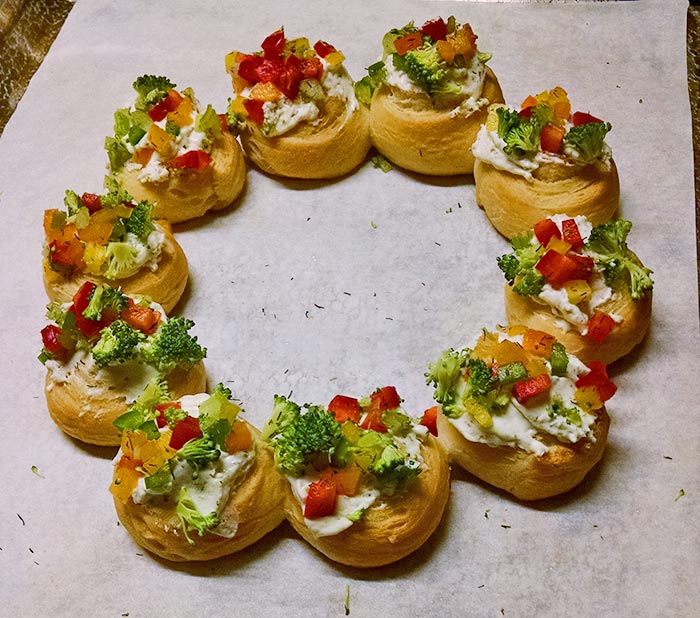 Hi Everyone! A quick post today, with an even quicker recipe.
Plus, the spectacle of questionable cell phone photos (cell phone + kitchen fluorescents = this recipe will not be featured on Food Gawker 😉 ), as I decided at the very last minute that this might be something cute enough to share, especially if you're rushing to round out your holiday party menu.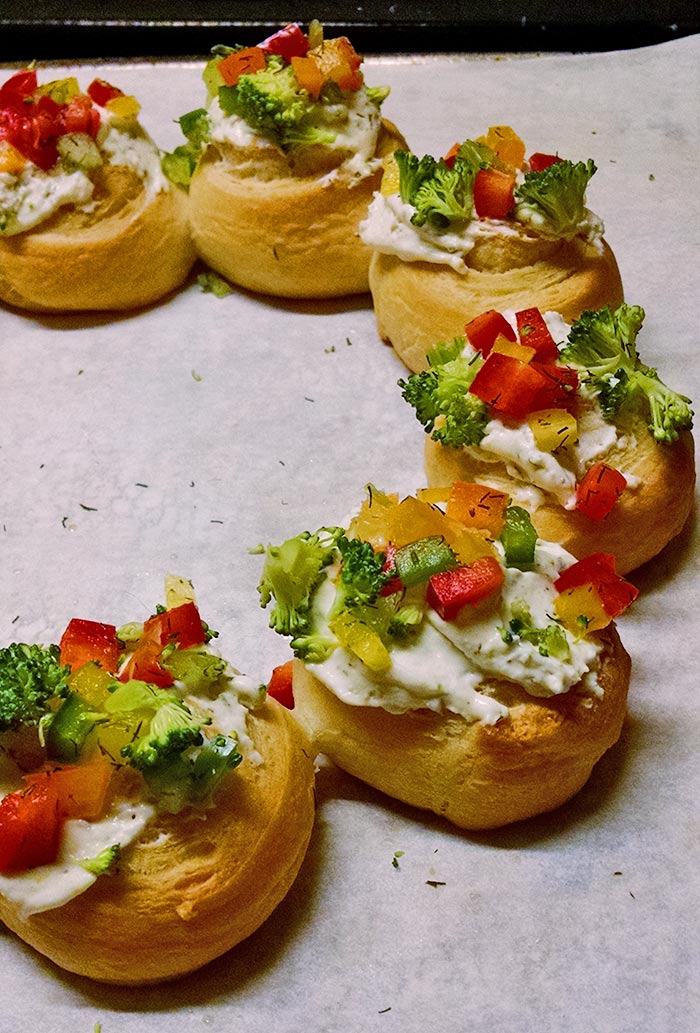 This recipe is an offshoot of one of my favorite childhood holiday appetizers, Crudité Pizza … but these Christmas wreath appetizers are even easier.
Just a few ingredients — pre-made crescent rolls biscuit dough, some chopped veggies, and Boursin (one of my favorite holiday indulgences).
They pull apart easily, and are walk-around safe. Each roll looks huge in the photos (cell phone!), but is actually three-bite small — perfect finger-food size.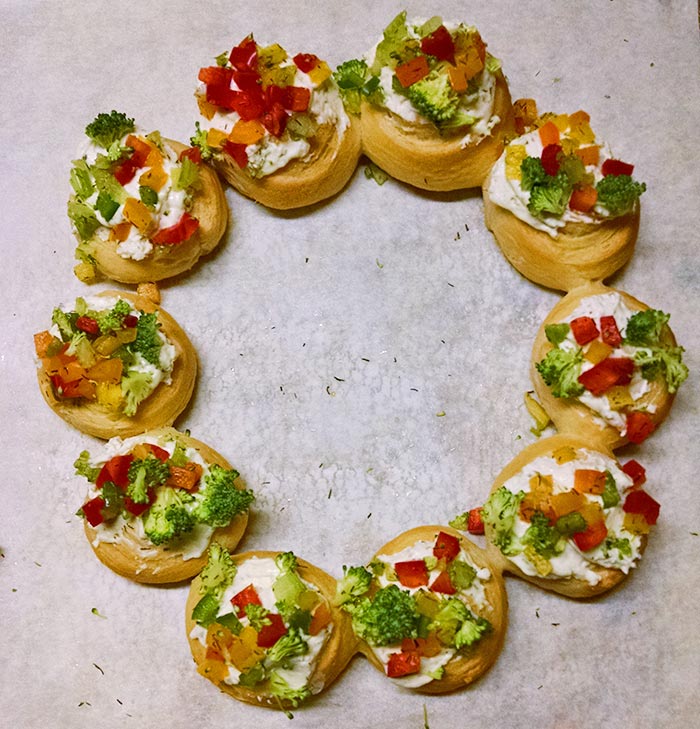 I made this small wreath as a side for a quick dinner, but you can easily make a show-stopping, crowd-sized wreath, served on a festive platter. The wreath can be baked ahead — or the whole thing prepared and assembled if you have room in the fridge. Set aside 5 minutes to spread the Boursin over the biscuits, and put any little, Santa-manic, sweets-fueled kiddie hands to work by sprinkling veggies over the top.
I hope you have a holiday that's full of joy and family and love!
Karen xo
In 2017, I'll be donating a portion of SoupAddict's income each month to a non-profit whose works speak to my heart. April's proceeds will go to
La Soupe
, a Cincinnati non-profit working to relieve childhood hunger and tackle food waste in one swoop, using
soup
as the foundation for both. Founder and chef — and recent Jefferson Award winner — Suzy DeYoung has connected our city's best chefs and their kitchens with grocery store produce turnover — perfectly good fruits and vegetables that simply must be moved off the shelves — and the result is delicious, healthy soup that goes right into the bellies of our city's underfed children through schools and relief organizations. This summer, La Soupe is fundraising for their
Ladle Campaign
, which will provide a much-needed facility expansion to broaden their vegetable intake and sorting operations.
Learn more about their inspirational work
and
listen to Suzy
tell the story of La Soupe.
Christmas Wreath Appetizers
Ingredients
2 cans crescent rolls (rolled up dough)
1 cup finely chopped vegetables (try broccoli, a color variety of bell peppers, celery, carrots, pink radishes)
1 container spreadable Boursin or Alouette garlic spread
1/2 teaspoon dried dill, for garnish
Instructions
Preheat oven to 375 degrees F.
Remove the dough from cans (do not unroll the dough).
Slice the dough tubes into 10 rounds of even thickness (pat them back into a round shape if slicing flattened them out a little).
Arrange the slices of dough on a parchment-lined round pizza pan about 1/2" apart (to allow the dough to expand while baking). Make one large wreath, or a smaller double-rowed wreath.
Bake for 11 to 13 minutes, or until the tops are nice and golden.
Remove from oven and allow to cool.
Carefully spread the Boursin on the top of each round (a nice wide spreader or offset spatula makes easy work of this).
Top each round with some of the vegetables, patting lightly to secure them in the spread. Sprinkle dill over the top.
Transfer to a serving platter or board, if desired.
Adapted from Taste of Home