This is the ultimate soup for when you're feeling a little punk. Couscous chicken soup is loaded with health-supporting ingredients like ginger, garlic, turmeric, and lemongrass, and its light and cheery flavor is comfort food at its best.
I knew this winter was going to be a tough one when my annual, knock-down-drag-out cold arrived in October. I really hope that I've paid my cold dues for the season, but judging by the red-noses and saggy faces of folks schlepping around the grocery store, looking like death warmed over, cold season has arrived with claws extended.
I don't care if there's science behind it; I don't care if it's a placebo effect of memories from my youth, sipping chicken soup when sick. Can chicken soup can help cure a cold? Well, all I do know is that there's no better comfort food than chicken soup when you're under the weather.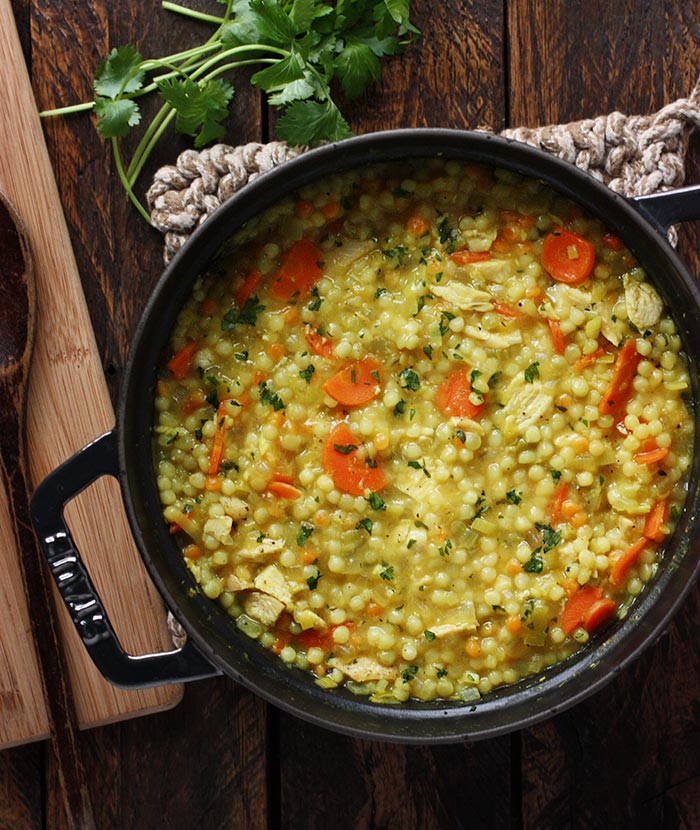 My couscous chicken soup includes health-supporting ingredients like ginger, garlic, lemongrass, turmeric, and a big squeeze of lemon, which also creates a light and bright soup. Comforting and good for you — it's a win-win, whether you're sick or not,
I'm a big fan of pasta in my chicken soup (when I was young, it was chicken and stars), so I always add pearl couscous (instead of noodles) because it's easy to keep on the spoon.
You know what I'm sayin' — you don't want to struggle with your soup and splashy noodles when you're sick.
Use a little couscous for a brothy soup, as in the video at the top; a lot of couscous for a hearty stew, as in the photos. Good stuff.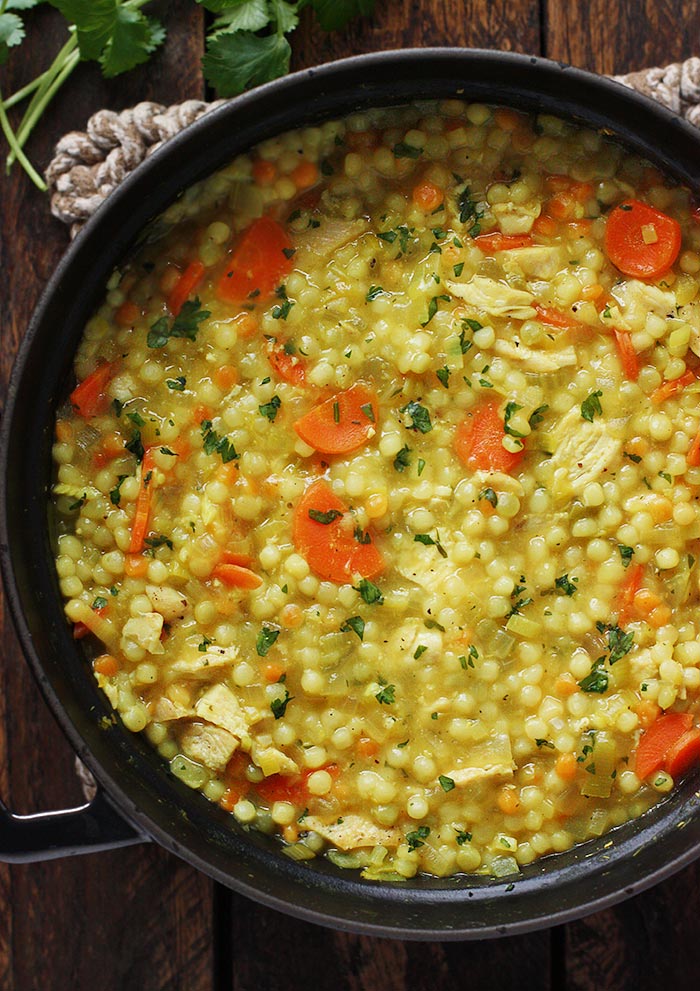 So delicious, light, and healthy, couscous chicken soup is easy to make, too — you're just a half hour away from a big fragrant pot of soup! Make lots, eat some, freeze some.
Stay healthy, everyone, and eat lots of soup!
Karen xo
Cold-Fighting Couscous Chicken Soup
Yield
:
4
generous servings
Ingredients
1

cup

chopped onions

about 1/2 of a medium

3/4

cup

sliced leeks

about 1 medium, white and light green parts only

1/2

cup

sliced carrots

about 1 medium

1/2

cup

chopped celery

about 2 ribs

1

tablespoon

minced ginger

1

tablespoon

minced lemongrass

or paste

2

cloves

minced garlic

1/2

teaspoon

ground turmeric

4

cups

chicken stock

8

ounces

cooked chicken

chopped or shredded (rotisserie chicken is great)

1

cup

pearl couscous

1/2

of a lemon

salt and pepper

chopped fresh parsley for garnish
Instructions
Heat one tablespoon of the stock in a 4 to 5 quart Dutch oven or stock pot over medium. When it begins to sizzle, add the onions, leeks, carrots, and celery. Saute until the vegetables are soft, about 6 minutes. Stir in the ginger, lemongrass, and garlic, and heat until aromatic. Sprinkle the turmeric over the vegetables and stir.

Add the stock, chicken, and couscous, and bring to a light boil. Reduce heat to maintain a gentle simmer; cook for 15 minutes. Squeeze the half lemon into the soup, taste, and season with salt and pepper to your liking. Top with parsley before serving.