Clean and healthy, this rich, earthy Mushroom Lentil Adzuki Bean Soup is chock full of veggies and legumes.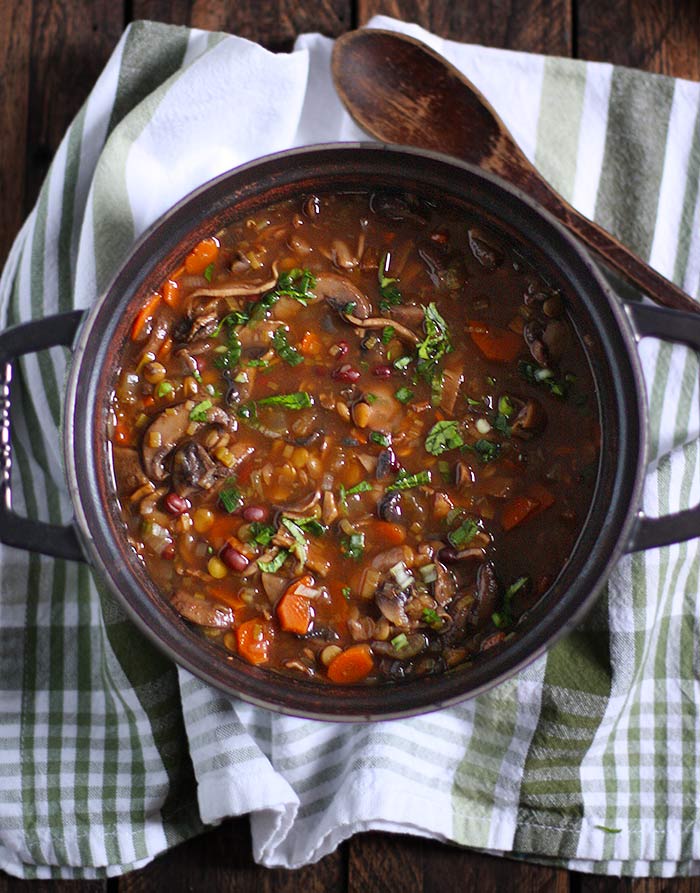 Oh, boy. It's the Monday after New Year's, the day everyone targeted as the beginning of their, "This year I will …" lists. You ready?
Even though December was really mild on the temperature front (yay!), I've been doin' soups like nobody's b'ness. Soups are just the best winter comfort food, whether it's 50° or 15° outside (like it is right now, booo).
And this mushroom soup brings my very first use of adzuki beans. These cute little burgundy beans with white eyes are packed with fiber and protein — a fitting addition to any healthy eating resolution. I love them, and they're now a permanent addition to my mason jar collection of legumes.
If you're a mushroom lover, do yourself a favor and stock up on dried porcini mushrooms. They're often sold in little 1/2 or 1 ounce packages (or buy in bulk at Whole Foods). With a stash of dried porcinis, delicious, homemade mushroom broth is only 20 minutes away — a short soak in hot water, then strained through a coffee filter, and boom – mushroom broth. Just a cup makes soups richer and earthier, without added salt or fats.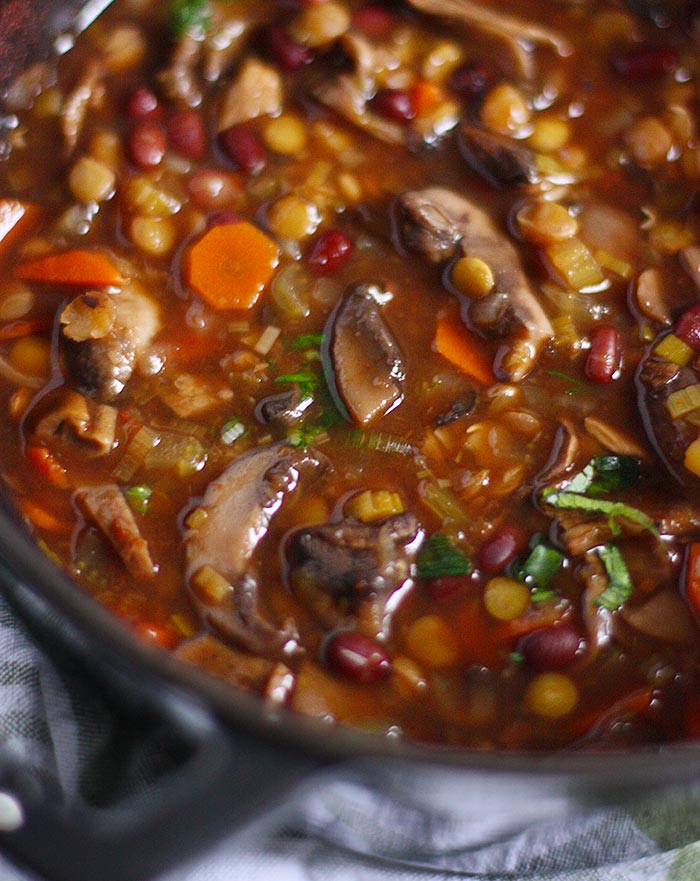 Oh, speaking of fats, here's a tip for the calorie conscious: when simmering your soup aromatics, skip the oil or butter and use the same amount of your stock instead. Extra virgin olive oil is fabulous … but … save those calories and fat grams for when the taste of it actually adds something (like a drizzle over your favorite marinara dish). I've been skipping the oil saute all season long and haven't missed it one little bit. Give it a try and see what you think.
Karen xo
In 2017, I'll be donating a portion of SoupAddict's income each month to a non-profit whose works speak to my heart. April's proceeds will go to
La Soupe
, a Cincinnati non-profit working to relieve childhood hunger and tackle food waste in one swoop, using
soup
as the foundation for both. Founder and chef — and recent Jefferson Award winner — Suzy DeYoung has connected our city's best chefs and their kitchens with grocery store produce turnover — perfectly good fruits and vegetables that simply must be moved off the shelves — and the result is delicious, healthy soup that goes right into the bellies of our city's underfed children through schools and relief organizations. This summer, La Soupe is fundraising for their
Ladle Campaign
, which will provide a much-needed facility expansion to broaden their vegetable intake and sorting operations.
Learn more about their inspirational work
and
listen to Suzy
tell the story of La Soupe.
Mushroom Lentil Adzuki Bean Soup
Don't forget to the soak the adzuki beans ahead of time (a minimum of 3 hours, or overnight). Soak time is not included in the prep time listed here.
Ingredients
1/3 cup adzuki beans, soaked in water for 3-4 hours, drained
1/2 ounce dried porcini mushrooms
2 cups vegetable stock, low sodium or homemade
1 small leek, chopped
1 small yellow onion, chopped
1 rib celery, chopped
1 medium carrot, thinly sliced
12 ounces mushrooms, sliced (use a mix - creminis, white buttons, portobellos)
1 cup mushroom broth (see instructions)
1/2 tablespoon tomato paste
1/3 cup green or brown lentils
shoyu or soy sauce
1/2 of a lemon
kosher salt
fresh tarragon, chopped, for garnish
Instructions
In a small sauce pot, bring 3 cups of water to a gentle boil. Add the pre-soaked adzuki beans, reduce heat to low, cover, and simmer for 30 minutes, while you prepare the soup.
Soak the porcini mushrooms in 1 cup of very hot water, while you prepare the soup.
Heat 1 tablespoon of vegetable stock in a medium (3 to 4 quart) dutch oven or stock pot over medium until until it begins to simmer. Add the onions, leeks, celery, and carrots to the pot and saute until soft. Add the mushrooms, stir, and cover. Cook until the mushrooms have reduced and released their liquids. Uncover, and scootch the mushrooms and vegetables to clear an area. Add the tomato paste, and let it heat for a minute or two (it might darken - that's good). Stir the paste into the mushroom mixture, and add the remaining vegetable stock and lentils.
If it's been 30 minutes, drain the adzuki beans and transfer them to the soup pot to continue cooking.
Strain the porcini broth through a coffee filter, and add the strained broth to the soup. Chop the porcinis and add them, too.
Adjust heat to retain a gentle simmer (uncovered), and cook for 20 minutes. (Lentils need to cook for a minimum of 20 minutes; adzuki for 60 minutes total.)
Add a splash of shoyu or soy sauce and a big squeeze of lemon. Taste, and add salt by the pinch to suit.
Ladle into bowls and garnish with tarragon.