Fresh, sweet corn, straight from the cob, gives a pleasant sweetness and crunch to traditional risotto. Use the cobs to create a savory stock that perfectly flavors the corn risotto.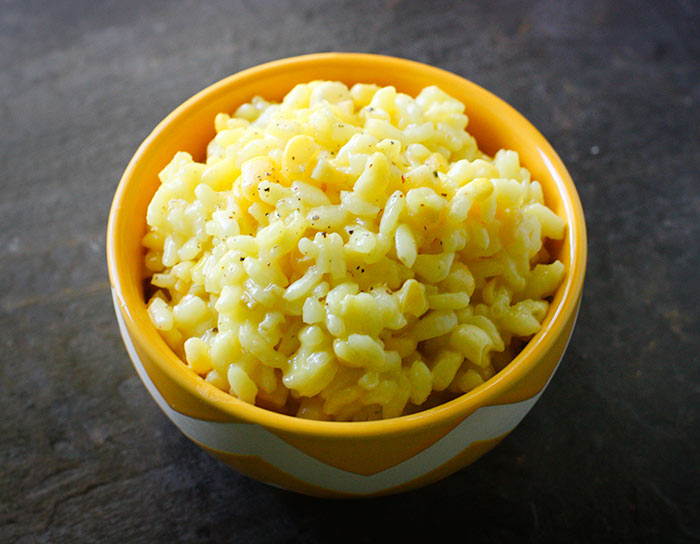 It's almost October, and I'm still trying work myself up to start saying farewell to summer vegetables. My home vegetable garden is most kind to me in that respect — I still have plenty of tomatoes and peppers and green beans and herbs to pluck whenever I need another hit of summer, easing the transition.
Except for corn. I had really high hopes for my corn crops this year, and everything was moving along splendidly until … The Attack of the Raccoons!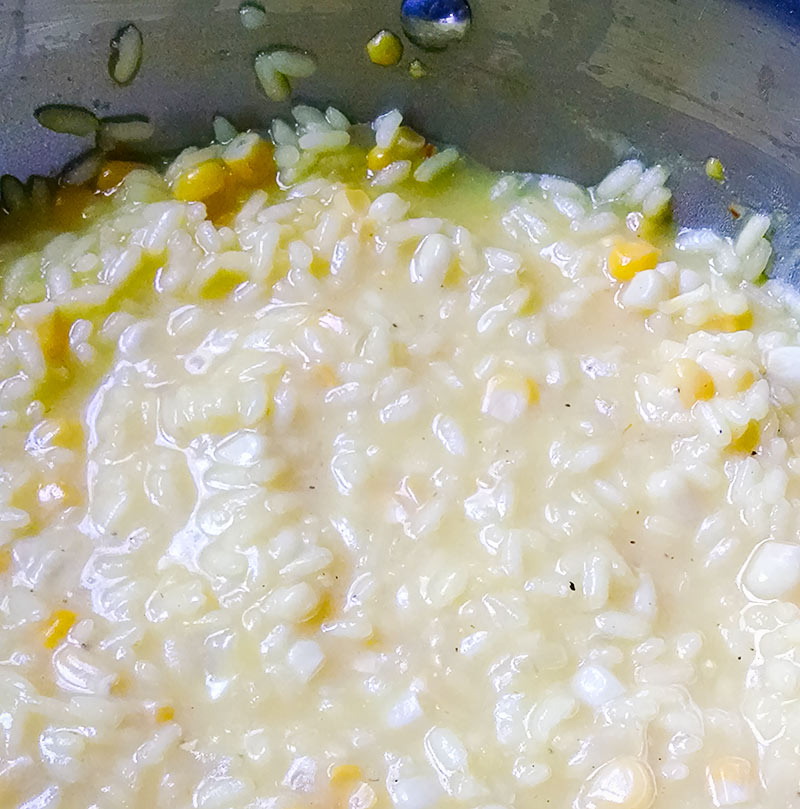 Those wily bandits with their nimble paws can not only yank an ear of corn cleanly from the plant, but they can also shuck the cob, silks and all, before gnawing it dry.
There's nothing like walking out into the yard in the morning and finding piles of corn leaves, silks, and bare-bones cobs to make you feel very low on Nature's hierarchy.
Nothing stops them. I even wrapped the stalks in netting — tightly. It barely slowed them down. The next day, the netting was still there — and still tight — but the ears were missing.
Over time, the little bastards consumed the entire crop, usually before the ears were even mostly mature.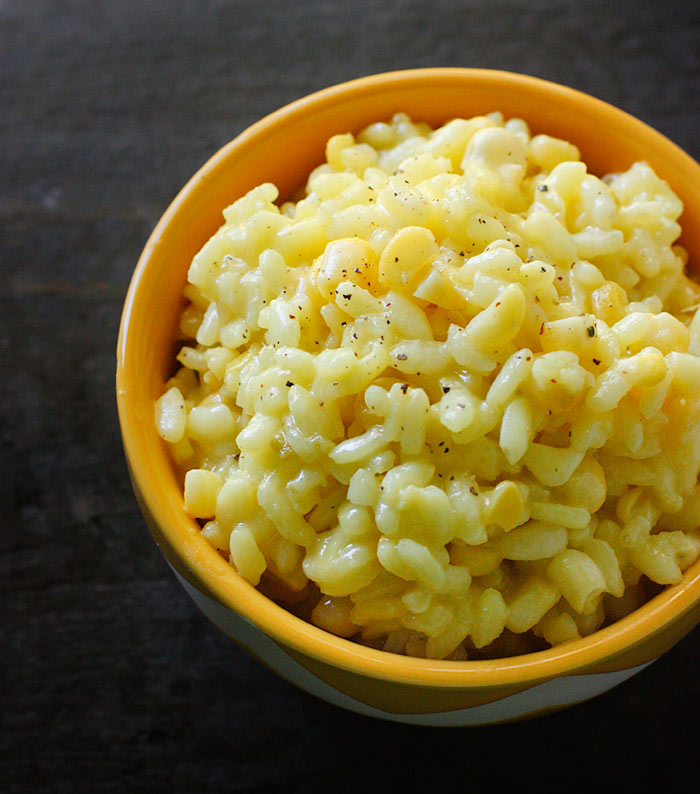 So, I've been depending on the farmers' markets for fresh corn, both to preserve for later and enjoy now.
This corn risotto has been one dish that's received repeat play. Simmering the cobs in the corn risotto stock magnifies the corn flavor, sweet and savory.
Even long after the corn is gone from the fields, I can see preparing this dish later in the winter with my corn stash, when summer fresh vegetables seems very far away. And of course, risotto is always a good idea, no matter the season.
Karen xo
In 2018, I'll be donating a portion of SoupAddict's income each month to a non-profit whose works speak to my heart. This month's proceeds will go to the
C.A.T. Adoption Team of Northern Kentucky and Southern Ohio
, a non-profit organization devoted to giving kitties second chances. My four furbabies are former ferals, so I have a super soft spot for stray and feral kitties, who often end up in county shelters under imminent threat of euthanasia. Staunchly no-kill, C.A.T. pulls these kitties from those shelters, vets and neuters them, and then works tirelessly to find them the perfect furever family match. C.A.T. fosters all cats in loving homes, rather than in lonely cages at a kennel, so every kitty knows love and safety from the moment they're brought into the fold. Check out
C.A.T.'s Facebook page
for daily kitty photos and all the fuzzy feels!
Corn Risotto
Ingredients
4 cups chicken or vegetable broth
2 ears corn, corn removed and both cobs and kernels reserved
2 tablespoons butter or extra virgin olive oil
1 shallot, chopped
1 heaping cup arborio rice
1/2 cup white wine
1 big pinch saffron threads
1 cup grated Parmigiano Reggiano cheese
Freshly ground black pepper
Instructions
Bring the stock to a boil in a 2 quart pot, then reduce to medium low to maintain a simmer. Break the corn cobs in half and add them to the stock.
Heat the butter/oil in a large skillet over medium heat until shimmering. Add the shallots and stir until softened and transparent, 2 to 3 minutes. Add the arborio rice and stir until well coated with the butter mixture. Add the wine and saffron threads and continue cooking until most of the wine has evaporated.
Begin adding stock, 1/2 cup at a time, to the skillet, and stir into the rice until each addition is incorporated. When 3/4ths of the stock has been added to the skillet, pour in the corn kernels, then continuing adding the stock as before.
When the rice is puffy and tender, and the risotto is creamy but still slightly loose, - somewhere around the 20 to 22 minute mark - stir in the cheese. (You might not use all of the stock.) Season with pepper, if desired, and serve.