Roasted stuff acorn squash topped with a rainbow of vegetables makes a healthy, tasty side. Naturally vegetarian, vegan, and gluten-free.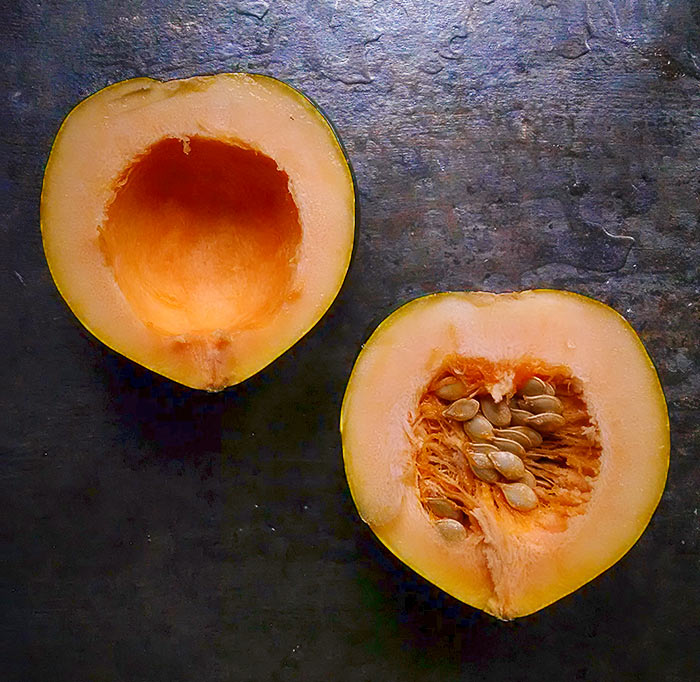 The El Niño weather system out west has been hard on some parts of the U.S., but exceedingly kind here on the eastern side of the Midwest. It's the end of November, and I'm still harvesting peppers from my container gardens, and my hardy culinary herbs are bright and beautiful, like it's mid-summer. We've had the occasional cold snap — and soup has been on the menu pretty consistently since October — but I can't say I'm quite ready for the heavy, squashy, saucy comfort food dishes that fill our winter meals.
But, the squashes are beautiful. Have you seen them piled up at the farmers' markets, all plump cheeks and shiny skins? I can't resist them.
So, instead of switching completely over to winter food, I'm incorporating them – roasted or pan fried – into my favorite fresh vegetable salads. And bonus points for acorn squash, which are already shaped like little bowls (and I do love foods in bowls), ready to hold a heaped serving of healthy vegetables.
The beautiful thing about roasted squash is that the flesh becomes so tender that you can scoop up a spoonful of flesh as you go, straight from the squash. And stuffing the hollow left by the removed seeds with something yummy means you can have bites of roasted squash right along with your filling.
Instead of the muted fall colors of typical squash dishes, you can fill your squash with bright, snappy vegetables, and the whole thing looks stunning on the plate, and tastes fresh and filling, all at the same time.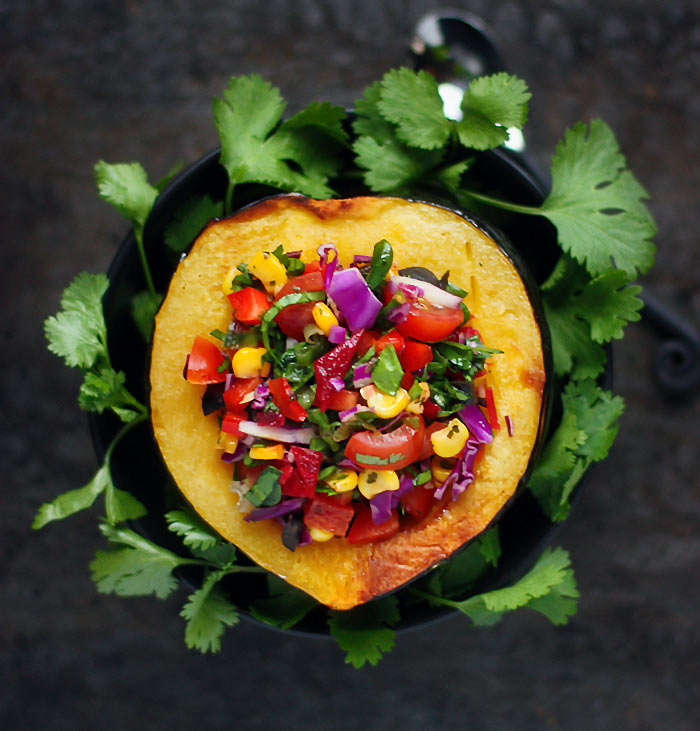 Stuffed acorn squash would also be a fabulous dish for your vegetable-lovin' peeps at Thanksgiving dinner. Naturally vegetarian, vegan, and gluten-free, you can customize the vegetable filling to suit your tastes. You could even roast squash halves ahead of time, and keep them wrapped in the fridge for reheating.
If you love the idea of a stuff squash but want something that's an entire meal, try this savory stuffed pumpkin, full of sausage or bacon, croutons or rice, and lots of cheesy goodness.
Karen xo
In 2018, I'll be donating a portion of SoupAddict's income each month to a non-profit whose works speak to my heart. This month's proceeds will go to the
C.A.T. Adoption Team of Northern Kentucky and Southern Ohio
, a non-profit organization devoted to giving kitties second chances. My four furbabies are former ferals, so I have a super soft spot for stray and feral kitties, who often end up in county shelters under imminent threat of euthanasia. Staunchly no-kill, C.A.T. pulls these kitties from those shelters, vets and neuters them, and then works tirelessly to find them the perfect furever family match. C.A.T. fosters all cats in loving homes, rather than in lonely cages at a kennel, so every kitty knows love and safety from the moment they're brought into the fold. Check out
C.A.T.'s Facebook page
for daily kitty photos and all the fuzzy feels!
P.S. Tips for slicing the sturdy little acorn squashes in half. Microwaving the squash, whole, for a minute or two will soften the outer skin. I skip this step and instead use a hefty, sharp chef's knife. Lay the squash on its side and begin slicing down the center (vertically), aiming the knife so that it slices to the side of the stem (I wouldn't attempt to cut through the stem – they're quite hard!). Likely, you'll get stuck about halfway down the squash. Carefully remove the knife upward and out of the slice, and flip the squash over. Line up your knife with the previous cut and begin slicing downward again, with the goal to meet the slice on the other side. When you've breached through to the other cut, remove the knife, and then pull the squash halves apart with your hands. It should come apart easily at that point.
Confetti Stuffed Acorn Squash
This recipe would work well with any small winter squash, including butternut and kabocha.
Ingredients
1 acorn squash
olive oil or nonstick spray
chopped vegetables, greens, herbs*
Your favorite light salad dressing (or olive oil and lemon juice)
Instructions
Preheat oven to 350°F. Line a rimmed baking sheet with foil or parchment paper (optional, for ease of clean-up).
Slice the acorn squash in half and scoop out the seeds from each half. Rub or spray cut halves with oil. Place each half cut side down on the baking sheet, and roast for 30 minutes. Check for doneness by inserting a knife into the outer shell - it should pierce easily. If not, continue roasting for another 10 minutes. Remove from oven, flip the halves over and let cool for 10 minutes.
While the squash roasts, prepare your vegetables. Chop or slice into fork-friendly pieces, and toss with your favorite dressing.
When the squash is handle-able, place on a plate (or in a bowl). Fill the center with your vegetable mix. Serve with a sturdy spoon or fork to scrap down the sides of the squash with each bite.
Notes
*I use the following for the photos in this post: corn, chopped red bell peppers, green onions, baby spinach, cilantro, red cabbage, and leftover roasted beets.
** I also had some leftover guacamole, which I used to make a vinaigrette by whisking it with a little apple cider vinegar and olive oil - delicious dressing for this dish!