The humble soba noodle is the perfect carrier for a homemade, quick and easy, extra peanutty Thai-inspired peanut sauce. So simple to pull together, peanut soba noodles are a tasty lunch or weeknight meal.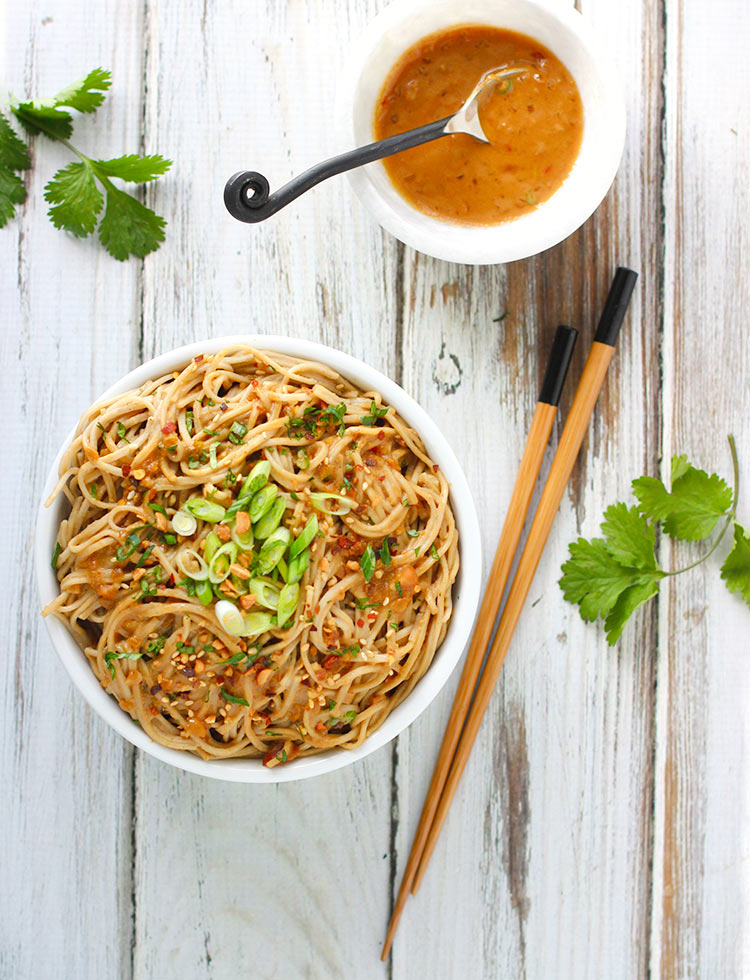 Isn't amazing how much memory power food holds with us? Smells from the kitchen can bring back happy times. (And if you have strong food aversions, like I do — shredded coconut! — certain textures can bring back, uh, let's just say, not so happy times.) But peanuts, at least, have always held great nostalgic value for me. Hope you don't mind a way-back-when story that involves baseball (pitchers and catchers report in two weeks! A sure sign of spring…).
In my junior high days, straight-A students were rewarded with two tickets to a Reds baseball game at the old Riverfront Stadium. They were nose-bleed seats, for sure, but it didn't matter. My dad would buy a bag of roasted peanuts-in-the-shell from the guy walking up and down the stairs yelling "PeaaaNUUTS!" and we'd sit there in the steamy summer twilight, cracking open the shells one by one (shells with three peanuts were the best!), sipping Coke — Coke on a school night, I doubt my mom ever knew that! — eyeballing the game now and then, but mostly watching the people in the crowd.
This was the era of the Big Red Machine, so whenever we heard the unmistakable "!crack!" of ball-meeting-bat in a serious way, it was always worth looking up to see what section of seats the homerun ball was screaming towards. And if the game finished early enough, we'd stop for a quick snack at Arby's (back when the Arby's street sign was a biiiiig brown cowboy hat with lights blinking all around the edges).
I'm about the same age now as my dad was then, I have to tell ya, I'm so amazed and grateful that he would cart me downtown for such a random thing as free baseball tickets. I've become a heavy duty introvert in adulthood — or come to realize that I have, is more like it, thanks to the interwebs and its recent fascination with this topic — just like my dad was. The thought of getting off work and hauling stakes across town, dealing with parking and all those cars, and walking to the stadium and the crowds, and standing in line at the concession stand and all.the.crowds … holy moly, that's just too much for me. I can only imagine the mental energy it must've taken for my dad to do that.
So, me and Reds games and Dad. That's all mixed up with my love of the peanut, and it's impossible to think about the one without remembering all the others. Anything I make with peanuts in it is automatically going to be a-okay in my book.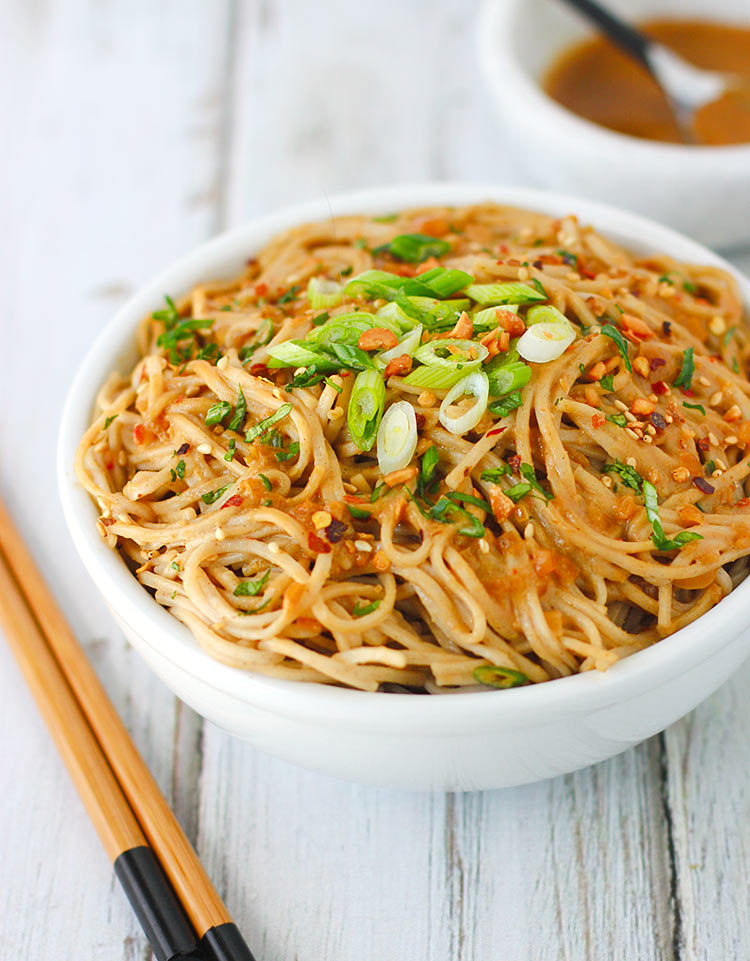 And doubly a-o-dokey-kay when that peanutty thing is a sauce.
Recipe Insights for Peanut Soba Noodles
Even though I love the peanut with my whole heart, my heart-disease-ravaged family history says to take it easy on things like peanut butter. And that's where lower fat, powdered peanut butter comes in. I avoided the stuff because it sounded a bit too deep in the realm of Tang-compared-to-orange-juice (if anyone among you has ever tried Tang 😉 ), but once I caved, I was won over. My favorite use is sprinkling it in Asian-leaning soups, but it's also the perfect medium for creating a thick and lower-fat peanut sauce.
Speaking of things that are a bit too deep in the realm of strangeness, I have to mention fish sauce. Fish sauce is an amazing[ly disturbing but still awesome] ingredient with a function-result that I totally cannot connect with a line from A to B that makes any sort of sense. Much like that last sentence. The stuff smells of your darkest, dankest nightmares, but turns whatever savory thing you add it to into near haute cuisine. Believe me, I tested today's recipe ten ways to Sunday without using fish sauce — because I wanted to be able to say, hey, fine peoples with sensible senses of smell, you don't have to use fish sauce! — but, dang, it really does make good sauce outstanding. So, you don't have to use fish sauce — the Thai peanut sauce police will not come beating down your door — but you really, really should try it.
Buckwheat soba noodles are a lovey change of pace from regular pasta, and a welcome complement to the peanut sauce. I do want to point out, though, that there's a lot of misleading information out there about soba noodles. If you're watching your gluten intake for any reason, be sure to read the ingredients on the noodle packaging: most soba noodles contain wheat flour as well as buckwheat (which is gluten-free, despite its name). If you have gluten concerns, use rice noodles instead.
I call for chili sauce in this recipe. If your grocery store is anything like my mega Kroger store, you'll be confronted with several different types of "chili sauce" in the Asian/Thai section. If you already have a favorite spicy sauce, such as sriracha or Tobasco, go with it! (And save the space in your fridge for something else.) But if you're wanting to use something with an Asian influence, my suggestion is to choose either the chili garlic sauce, which is hot, or the milder sweet chili sauce. Also, if you're a big fan of heat, don't hesitate to double or triple the quantity. My goal here was gently spicy, but do make it your own!
For all of you crunchy-peanut-lovin', noodle-eatin', food-in-bowls appreciatin' foodies, I hope you'll enjoy this homemade version of peanut soba noodles!
Karen xo
In 2018, I'll be donating a portion of SoupAddict's income each month to a non-profit whose works speak to my heart. This month's proceeds will go to the
C.A.T. Adoption Team of Northern Kentucky and Southern Ohio
, a non-profit organization devoted to giving kitties second chances. My four furbabies are former ferals, so I have a super soft spot for stray and feral kitties, who often end up in county shelters under imminent threat of euthanasia. Staunchly no-kill, C.A.T. pulls these kitties from those shelters, vets and neuters them, and then works tirelessly to find them the perfect furever family match. C.A.T. fosters all cats in loving homes, rather than in lonely cages at a kennel, so every kitty knows love and safety from the moment they're brought into the fold. Check out
C.A.T.'s Facebook page
for daily kitty photos and all the fuzzy feels!
Extra Peanutty Peanut Soba Noodles
Ingredients
for the peanut sauce
1 teaspoon olive or coconut oil
1 small shallot, finely chopped
2" piece fresh ginger, peeled and grated
1 teaspoon chili sauce*
1/4 cup stock (chicken or vegetable)
1 tablespoon fish sauce, soy sauce, or tamari
2 teaspoons apple cider vinegar
3 tablespoons PB2 peanut butter (or prepared prepared butter)
1 teaspoon sesame oil
1 big pinch brown sugar
2 tablespoons chopped peanuts
for the noodle bowls
6 ounces dried soba noodles
suggested toppings
green onions
crushed red pepper flakes
sesame seeds
more chopped peanuts
minced cilantro
Instructions
for the peanut sauce
Heat the olive or coconut oil in a 2 qt (medium) sauce pan over medium heat until the oil shimmers. Add the shallots, ginger, and chili sauce, and saute until softened and fragrant (2-3 minutes). Add the broth, apple cider vinegar, and fish sauce/soy/tamari. Bring to a simmer, then reduce heat to medium low. Stir in the PB2 or peanut butter, sesame oil, and sugar, mixing well to combine. Finally, stir in the chopped peanuts.
for the noodle bowl
Prepare the soba noodles according to package directions, drain, and return them to the pot or to a roomy bowl. Pour half of the peanut sauce over the noodles and use tongs to turn the noodles, coating them with the sauce. Add more sauce until the noodles are satisfactorily covered in sauce.
Divide the noodles between two serving bowls and top with your favorite toppings.
Notes
*If your grocery store is anything like mine, you'll be confronted with several different types of "chili sauce" in the Asian/Thai section. If you already have a favorite (such as sriracha or Tobasco), go with it! My suggestion is to choose either the chili garlic sauce, which is hot, or the milder sweet chili sauce. Also, if you're a big fan of heat, don't hesitate to double or triple the quantity. My goal here was gently spicy, but do make it your own!