Tender, almost cakey, shortbread, made with a clever technique, are baked into chocolate chip shortbread bars and drizzled with a rich cocoa Kahlua glaze.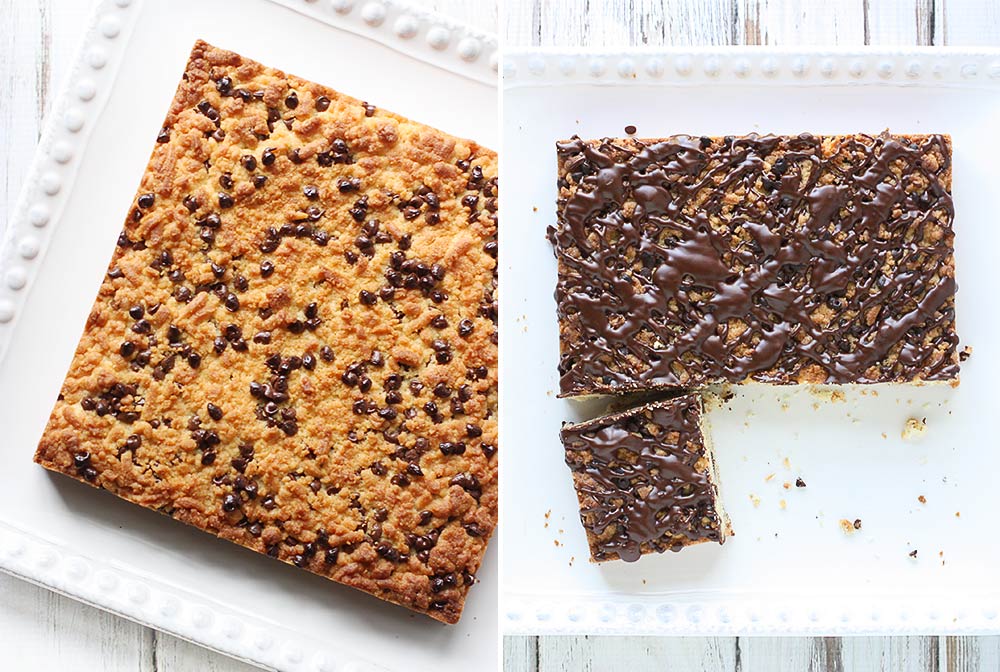 Today was the first day of Spring — yaaaas! — which means that summer is soon on its way (yaaaas!). But between now and then, we have to get past the bunny holiday.
The holiday where a certain dreadful bunny plays a major role in the familial celebration. A bunny that makes me shake and shiver from head to toe. A bunny so terrifying in all its aspects, that it makes me want to hide under the bed, clutching a baseball bat.
No, that bunny is not the Rabbit of Caerbannog. It's much, much worse. This bunny is….
The shredded coconut covered Easter bunny cake. (Duhn-duhn-duhhhh.)
Och, peeps (you peeps, not Peep-peeps). Shredded coconut. I can't even.
I discovered my most severe food aversion ever on — yep — Easter day as a young SoupAddict. The cake was soooo cute. Bunny! So fluffy, covered in fuzzy stuff. "Big slice, Mommy! Big slice!"
I'll stop right there, because the story goes downhill real fast.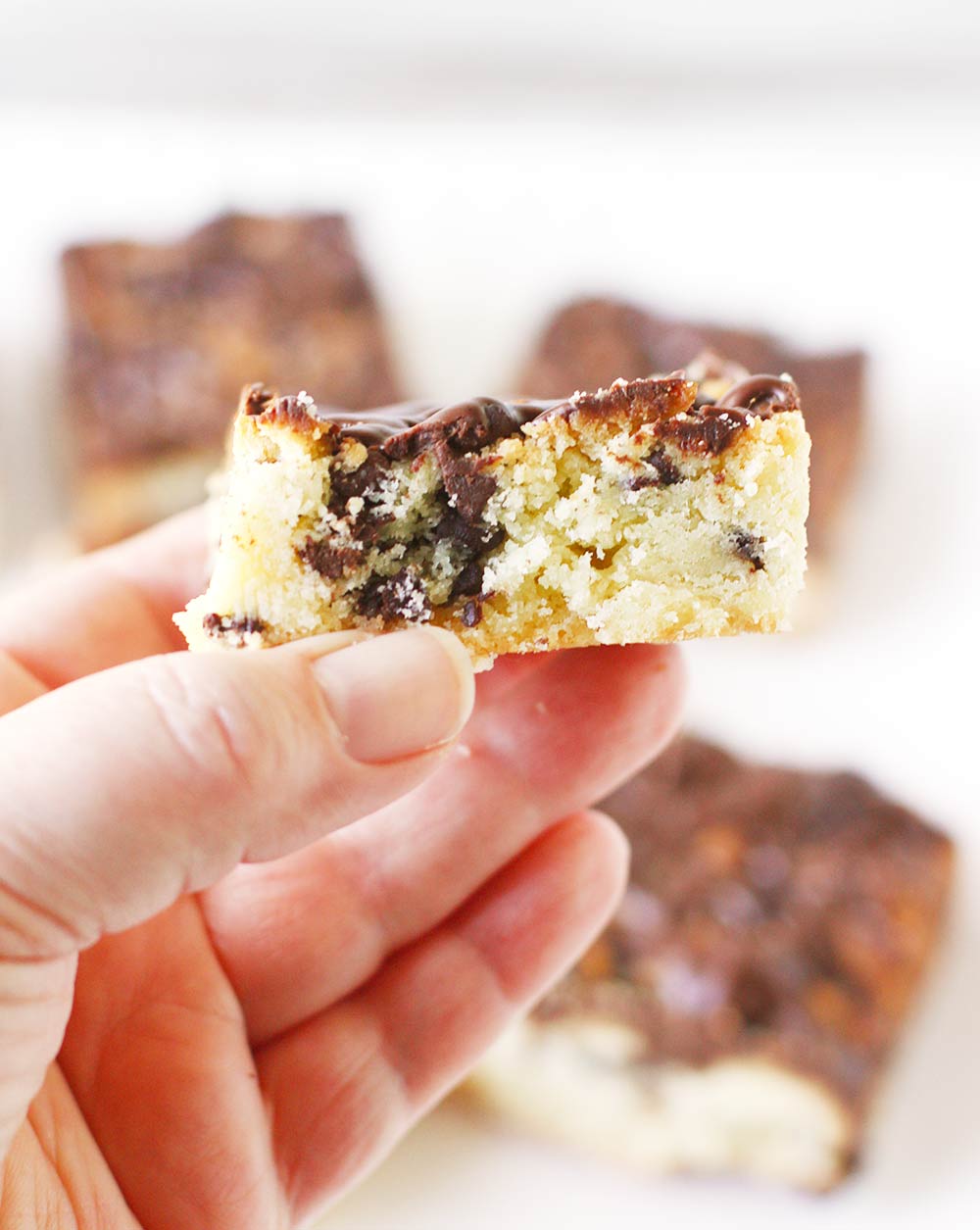 And so, for all the coconut aversioned people of all the worlds (hi!), I bring you chocolate chip shortbread bars, all drizzled-carefully-so-it-looks-like-I-didn't-try-even-though-I-did with a chocolatey Kahlua glaze.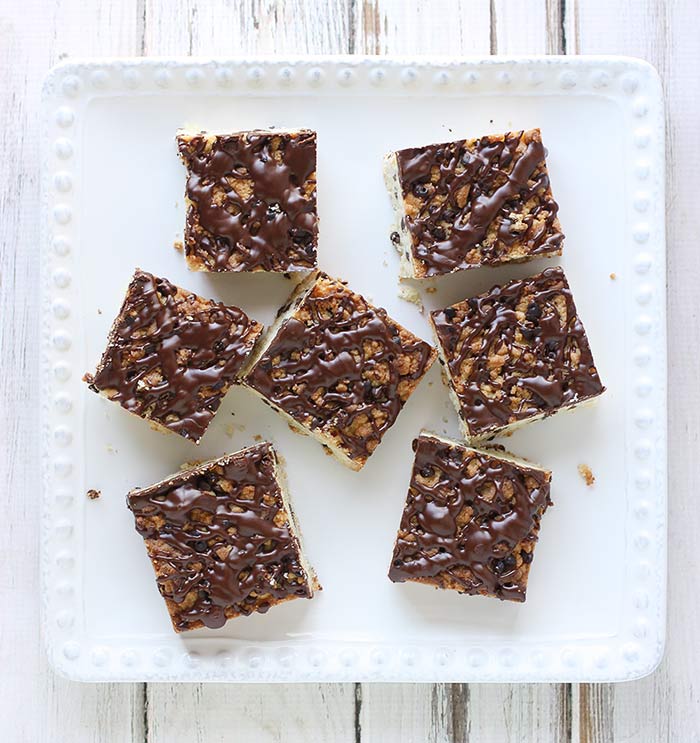 This recipe for chocolate chip shortbread bars is, without a doubt, my favorite shortbread recipe. Tender, sandy, and almost cakey, the recipe uses a really cool technique, where the dough is grated on a box grater (or in the food processor). Once baked, the grates meld together, but the result is shortbread with the perfect toothsome shortbread bite. And adding chocolate chips to the mix is just gilding the lily. But in a really great way.
As in, the exact-opposite-of-shredded-coconut way.
The rich cocoa-butter-Kahlua glaze makes the chocolate chip shortbread bars fit for any Bunny celebration. And even any ole Saturday night Netflix binge-watch.
Oh, one more thing: you can bake these bars in a square pan (or cake ring, as I used), or in a round springform pan, so you can slice the shortbread into traditional pie wedges.
Here's to chocolate, and may your Easter be shredded coconut free. (Or at least, if it isn't, pleeez, I don't wanna know about it.)
Karen xo
In 2017, I'll be donating a portion of SoupAddict's income each month to a non-profit whose works speak to my heart. April's proceeds will go to
La Soupe
, a Cincinnati non-profit working to relieve childhood hunger and tackle food waste in one swoop, using
soup
as the foundation for both. Founder and chef — and recent Jefferson Award winner — Suzy DeYoung has connected our city's best chefs and their kitchens with grocery store produce turnover — perfectly good fruits and vegetables that simply must be moved off the shelves — and the result is delicious, healthy soup that goes right into the bellies of our city's underfed children through schools and relief organizations. This summer, La Soupe is fundraising for their
Ladle Campaign
, which will provide a much-needed facility expansion to broaden their vegetable intake and sorting operations.
Learn more about their inspirational work
and
listen to Suzy
tell the story of La Soupe.
Chocolate Chip Shortbread Bars with Kahlua Glaze
Ingredients
for the shortbread
1/2 pound (16 tablespoons) unsalted butter, softened to room temperature
1/2 cup granulated sugar
2 eggs yolks
2 cups all-purpose flour
1 teaspoon baking powder
1/8 teaspoon kosher salt
1 cup mini chocolate chips
for the glaze
4 tablespoons butter
1 tablespoon Kahlua
1 teaspoon vanilla extract or paste
1 tablespoon cocoa powder
heaping 1/2 cup semi-sweet or dark chocolate, chips or chopped
finishing salt, like Maldons
Instructions
for the shortbread
Cream the softened butter on medium speed until light and fluffy, about two minutes. Add the sugar and egg yolks and beat until completely incorporated.
Mix together the flour, baking powder, and salt. With the mixer on low, add the dry ingredients to the butter until just incorporated.
Divide the dough in half and shape each into a narrow log. Wrap each log in plastic wrap and freeze for at least 30 minutes (and hour is better). Remove from freezer.
Preheat oven to 350°. Butter one of the following: an 8" springform pan, or a 7x7" square cake ring. If using a cake ring, line a small baking sheet with parchment paper and place the ring on top.
Grate the dough on the large holes of a box grater into a bowl. Alternately (and much faster), grate the dough in your food processor, using the grating disk. If you break the logs in half or thirds, they can fit into the shoot on their sides for fast grating.
Transfer the dough to a large mixing bowl. Add the chips into the dough grates and gently toss. Pour into the prepared pan or ring, and distribute evenly, pressing lightly to the edges.
Bake for 20-25 minutes, or until the top is lightly golden. Remove and cool in the pan, on a wire rack.
for the glaze
Heat in the butter in a small saucepan over medium until melted and beginning to sizzle. Add the Kahlua and vanilla heat briefly. Place the chocolate and cocoa powder in a bowl, and pour the hot butter mixture over. Stir until the chocolate is fully melted, then let the glaze set for 10 minutes.
Drizzle glaze attractively over the cooled shortbread, or pour over the top and even out with a spatula. Let set - or not! - and serve.
Shortbread cookie recipe adapted from Dorie Greenspan via Saveur. Glaze recipe adapted from A View from Great Island.