The retro broccoli grape salad was popular for a reason — it's amazing, especially my Mom's, which was the hit of every summer party. An unlikely combo of broccoli, grapes, almonds, and bacon in a creamy dressing seriously works. If it's been a while since you've had broccoli grape salad — or if you've never had it (whut!) — whip this up for your Fourth of July shindig and watch the bowl magically empty.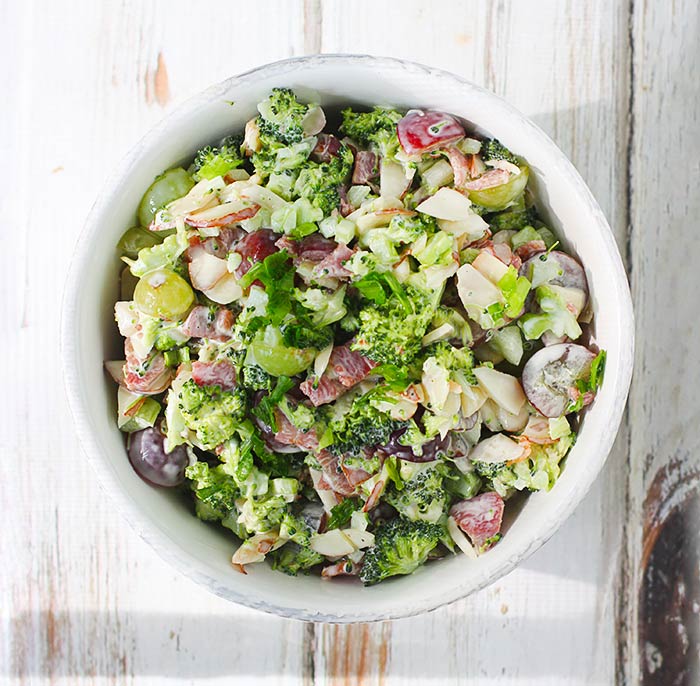 My mom was born on the 4th of July, and even though she's long passed, that holiday still means one thing — and she'd want it this way — outdoor party time!
The 4th of July parties of my childhood were the best. My older brothers would get a hold of those crazy fireworks that are probably now illegal in all 50 states, and when dusk fell, after the yummiest cookout of the year and a serious game or two of Jarts (also now illegal) or badminton, we'd take our positions behind trees, in the shed, or faaaar away on the porch, while they lit the questionably safe fuses and dove for cover.
My favorites were the airplanes, which took off from the ground, spinning in crazy, sizzling circles, darting all over the place, above you, beside you, and most often, at you — basically being the poster children for why those things are illegal.
Great memories, super fun times.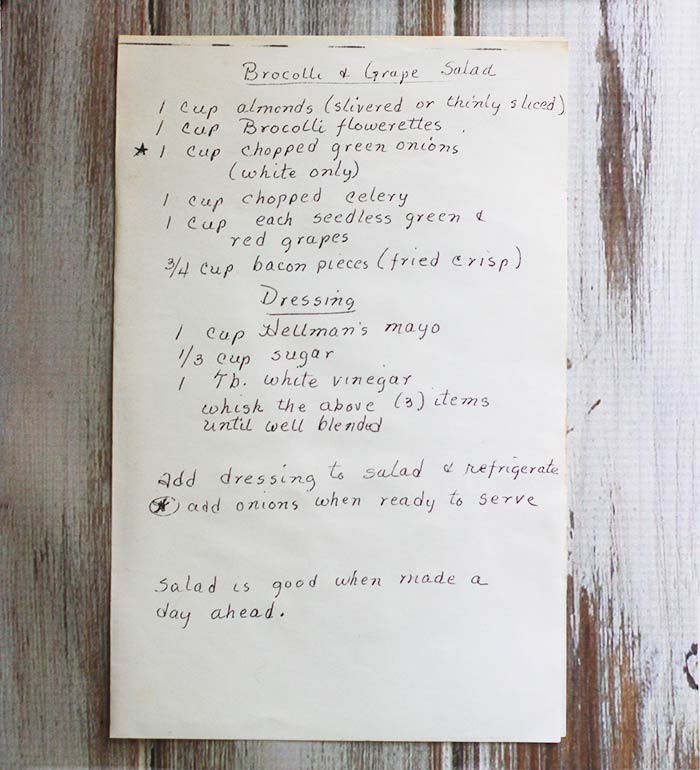 But this is a food blog, and we're all interested in the food, iamright?
Recently, I was thumbing through my old recipe notebook (with hand-written recipes, gasp), when I came across this gem from my mom, written in her own hand: broccoli grape salad.
I remember this so well from those summer parties that I can actually conjure the flavor of it from nowhere, and seeing her handwriting, which never changed during her lifetime (unlike my own that's now illegible, thanks to the constant presence of a keyboard), brought back such happy memories.
This was also the first time I noticed that she misspelled "brocolli," which happens to be a word I have to double-check with the Googs about 50% of the time: "two c's? does that look right?" lol.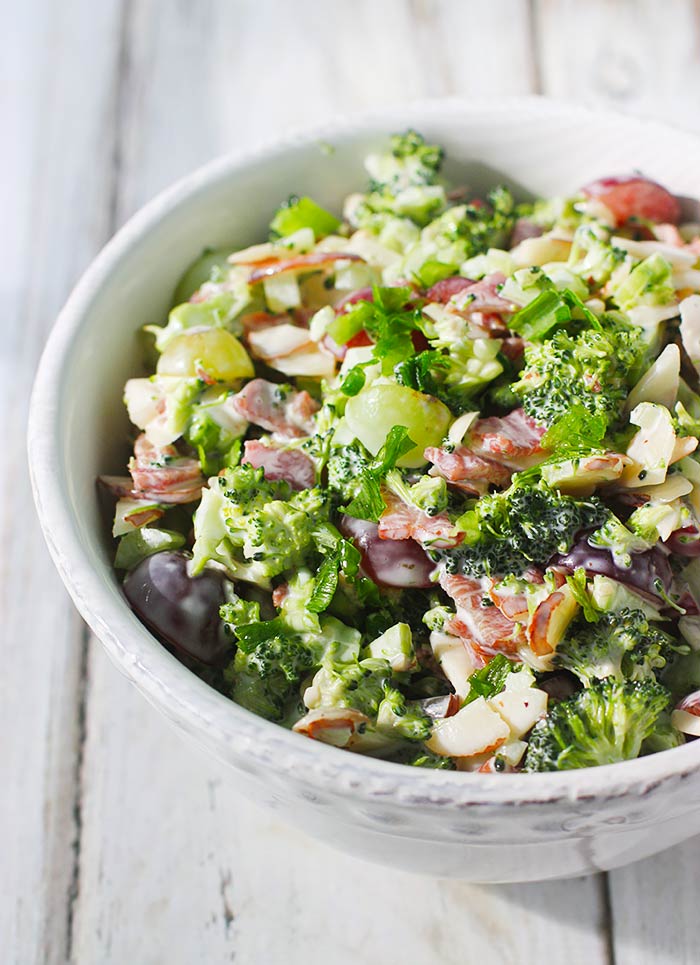 I couldn't resist making her broccoli grape salad immediately after find the long forgotten recipe. Oh, the memories those flavors brought back! Picnics and blue gingham table cloths and lazily buzzing bees. Isn't it just amazing, the taste memory power of food?
If you want to try my mom's perfect version of broccoli grape salad, it's printed above. I've made a few tweaks below to lighten it up for today's healthier leanings. I think Mom would approve.
Happy 4th of July, Everyone!
Karen xo
Broccoli Grape Salad Lightened Up
Ingredients
for the dressing
3/4 cup mayo (I use Duke's; Mom always loved Hellman's)
1/4 cup plain yogurt
1/4 cup white granulated sugar
1 tablespoon apple cider vinegar
pinch of salt
for the salad
1 cup broccoli florets, chopped
1 cup green and red grapes, cut in halves or quarters
1/2 cup chopped celery
1/2 cup slivered almonds
3 strips turkey bacon, fried crisp and crumbled
1 green onion, very thinly sliced
Instructions
prepare the dressing
Whisk all of the dressing ingredients together in a small bowl, and set aside.
prepare the salad
Toss the broccoli, grapes, celery, almonds, and crumbled turkey bacon together in a medium bowl. Fold in the dressing until the salad is coated (you might not use all of it; if not, save it, too). For the best flavor, refrigerate the salad for a minimum of 6 hours or overnight. (Refrigerate the green onions, too.) Before serving, toss to recoat the salad (add the extra dressing, if you had any and if it needs it), and sprinkle the green onions over the top.