New Post!
December 15, 2014 2 Comments
No, your eyes aren't playing tricks on you: today's recipe sounds like a healthy dish, looks like a healthy dish (and tastes fabulous), right smack in the middle of December, with Christmas hot on our heels. I know you all are positively drooling over the all the Pinterest sweets in your feed (which stubbornly won't show me soups and grains and salads, no matter how many times I clear my search or refresh the page or change preferences. I get it, Pinterest, the peeps want the sweets, so you're giving everyone sweets.) But I ... and I guess this makes me a weirdo ... I'm sweeted out. Thanksgiving is the focus of all of my winter carb and sugar cravings, and once that holiday is in the rear view mirror, I'm ready for greens and light soups and lots and lots of veggies (even though, technically — and a little depressingly — it's not even calendar winter yet). So, I'll understand if you have to bookmark this recipe and come back to it in January. But maybe — just maybe — … Read More...
Hello!
Welcome to SoupAddict, my little corner of the foodie world on the Interwebs. I'm Karen, and it's true, I'm addicted to soup. The seasons guide my cooking and eating, and when I'm not behind the stove, you can usually find me in my four-season vegetable garden.
More: •
About
•
Recipe Index
•
FAQs
Recent Recipes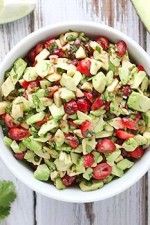 It's Salsa Time! A few days after the hullabaloo of Thanksgiving passed, I discovered a half … Read More...
It's been a while since I've mentioned my affection for food in bowls, so it's about time to bring … Read More...
I hope everyone had a lovely Thanksgiving day, and that you're rarin' to go into the holiday season! … Read More...
I think it's safe to say that now, the day before Thanksgiving, the holiday season is officially … Read More...
The very first time I made soup stock was in grad school. Just a simple vegetable stock was what I … Read More...
Happy Thanksgiving Week, Everyone! SoupAddict will be doing a couple of extra posts this week, … Read More...
Popcorn has been part of the human diet for thousands of years, and it's believed that the first use … Read More...
I'm typing this with 4" of snow piled on the deck rail outside my window. Schools are closed, and … Read More...
How did something so stinky and moldy and veiny as a chunk of blue cheese end up being such a prized … Read More...
Continue Exploring:
Who Loves Ramen!
I'm typing this with 4" of snow piled on the deck rail outside my window. Schools are closed, and … Read More...
As the season chills down (and boy, did it chill down — it was sleeting at the farmers' market on … Read More...
Let me just say this right at the start: the stir fry is genius. Truly genius. … Read More...
Summer is so full of vibrant color and flavors, it's hard to know where to turn first when grabbing … Read More...
A certain sit-down seafood restaurant chain that shall remain nameless ruined fried foods for me in … Read More...
With unofficial summer just weeks away, this is the time of year when eggs become a true mealtime … Read More...
When spring starts to creep in, pushing winter out, I get the most persistent cravings for … Read More...
I've recently re-fallen in love with ramen noodles. By the time I left that college staple behind — … Read More...