Make your game day eats extra special with Chimichurri French Fries! This post has been sponsored Bertolli® and Kroger Game Day Greats . All thoughts and opinions are my own.
Are you ready for some football??! I am! Although I'll admit that I enjoy all the hooplah surrounding the games (food!) more than the game itself, lol. I'm one of those people who asks a ton of questions during the game – Why was that off sides? What's illegal leverage? Hey, wasn't that face-masking? Why are both teams wearing monotone colors? (Thursday night football!) – so most people are happy to have me shuttling things to and from the kitchen, or being too distracted shoving things into my gob to pay attention to the TV.
And I'm okay with that, too. 😀 Because … food! So, let's get right to today's snack fest. As you can probably tell from the content of this blog, I don't have a sweet tooth. No, my weakness is not sugar, but potato products. Potato chips and french fries are my stuck-on-a-deserted-island dream foods, for sure.
So, fellow potato-lovin' friends, I've got some yummies today. Are you a fan of malt vinegar on french fries? I'm a fan of vinegar on anything. Fun/gross fact about SoupAddict: when I was a wee Soupie, it was a secret treat to find an almost-empty jar of pickles in the fridge, because I would eat that last pickle … and then drink the juice straight out of the jar. Dill pickles, sweet pickles, it didn't matter. Oh, that juice, yeeum!
As an herb gardener, chimichurri sauce has been on repeat in my kitchen all summer. It's so fresh and herbaceous, and that hit of vinegar. Oo-la-la. Irresistible. And it goes with everything, from traditional Argentinian grilled steaks to roasted vegetables to today's french fries.
Think, malt vinegar fries with a fresh summer twist.
And it's so easy, too! Fresh herbs and garlic, a little smoked paprika, some smooth red wine vinegar, and Bertolli® Organic Extra Virgin Olive Oil.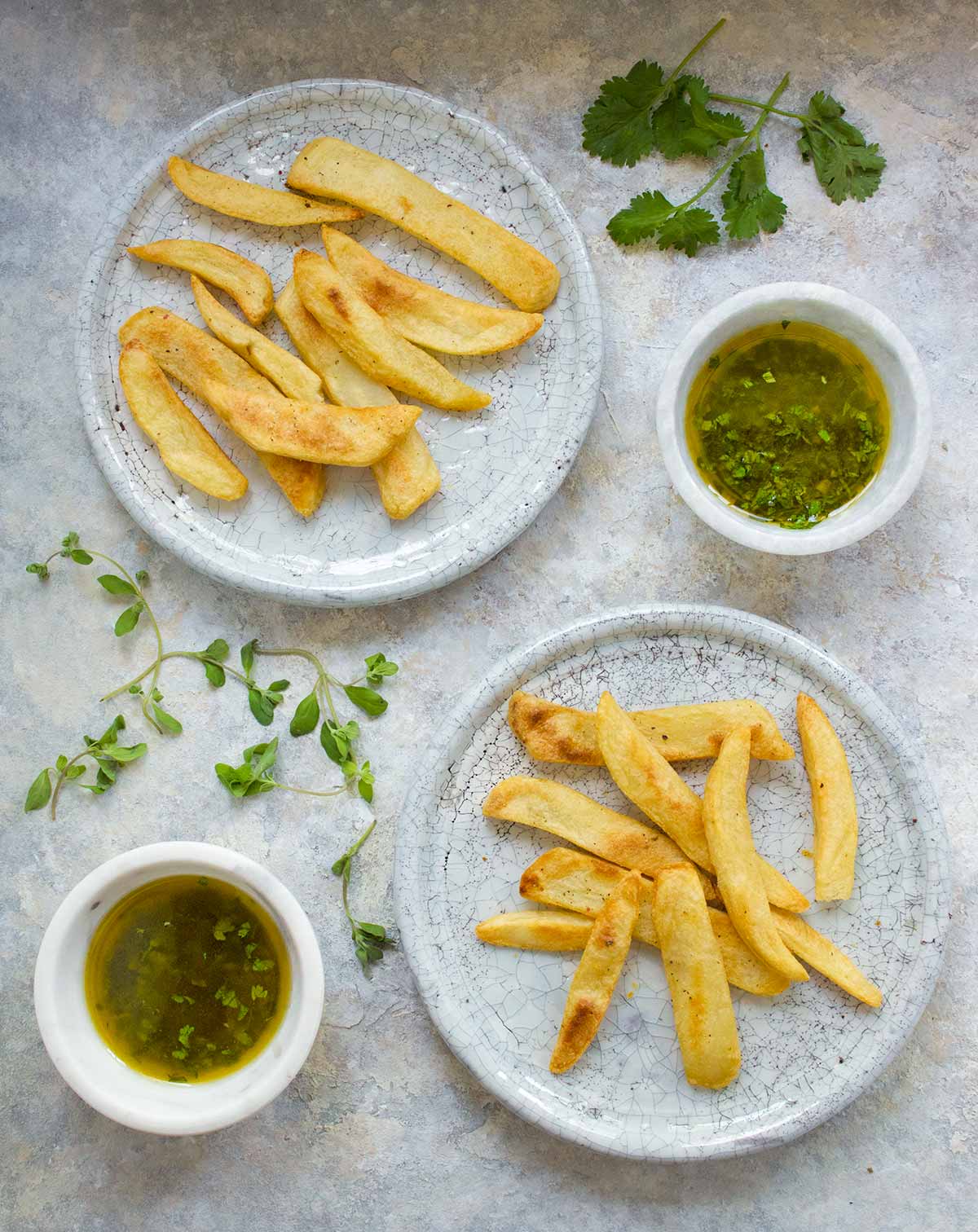 Let's talk about that olive oil for a sec. You don't want to use just any ole thing off the shelf, because you will taste the olive oil in your chimichurri sauce. Quality counts in this recipe, and that's why I'm glad that my local Kroger carries Bertolli® Organic Extra Virgin Olive Oil.
I appreciate the fruity notes of a really good extra virgin olive oil, and whenever I get a USDA certified organic option on that top of that, I'm all over it! And bonus points that I don't have to make a special trip to buy my go-to olive oil, as it's right on the shelf in the baking aisle.
And extra special bonus points are in play for us happy-but-harried grocery shoppers, because you can purchase Bertolli® Organic Extra Virgin Olive Oil – and all of today's recipe ingredients – through Kroger's handy-dandy Click List service.
Whatever your homegating menu, chimichurri french fries will fit right in! Some serving suggestions (see also photos above): Pile those crispy fries on a big platter, and spoon the chimichurri sauce over the top, letting your guests add to their plates, or treat the platter like finger food. Or, provide dip bowls for individual servings – whatever works best for the number of guests you're entertaining, and how you'll be seated!
Saving the best bit of info for last: the chimichurri sauce tastes best when you make it ahead of time. So, prepare the sauce the day before, stash it in the fridge, and that's one less thing to take care of on game day!
As for the fries, I will absolutely not discourage you from using my game day sorry-not-sorry cheat: frozen french fries! As food lovers and home cooking aficionados, we're supposed to feel compelled to cook everything fresh, all the time. But as a food lover and home cooking aficionado who lives in this crazy busy world, I'll make the chimichurri sauce from scratch, and take the shortcut with the frozen fries with a grateful heart. 😉
To learn more about Bertolli, visit Bertolli.com or their Facebook Page.
Karen xo
Print Recipe
Chimichurri French Fries
Chimichurri French Fries are a special game day treat, and so easy to make. Chimichurri sauce is vibrant and flavorful, and makes a unique and tasty dip for french fries.
Ingredients
For the chimichurri sauce
1

cup

loosely packed fresh flat leaf parsley

, thick stems removed, roughly chopped

1

cup

loosely packed fresh cilantro

, thick stems removed, roughly chopped

2

tablespoons

fresh marjoram or oregano leaves

(or 2 teaspoons dried)

1

clove

garlic

, chopped

1/4

teaspoon

smoked paprika

(optional)

1/2

cup

Bertolli Organic Extra Virgin Olive Oil

3

tablespoons

red wine vinegar

1

teaspoon

kosher salt
For the french fries
28

ounce

bag frozen french fries

(I use steak fries)
Instructions
For the chimichurri sauce
Add all ingredients to a blender or food processor, and blend until the herbs are minced (just 30 seconds or so). Transfer to a bowl, cover, and let rest in the fridge for at least 4 hours (overnight is better) to let the flavors meld.
For the french fries
Bake the french fries according to package directions on a large, rimmed sheet pan, flipping the fries halfway through. If a time range is given, aim for the upper end so the fries are nice and crispy. Remove from oven, and top the hot fries with a few grinds of black pepper, if desired. Note that one bag has, realistically, 6 to 8 servings. I've prepared two bags in the oven simultaneously using two sheet pans, switching racks and rotating the pans halfway through.
To serve
Two suggestions:

1) Divide the chimichurri sauce into small dipping bowls and serve alongside individual portions of fries.

2) Arrange the fries on a large platter and spoon the chimichurri sauce over the fries. Serve immediately.
Notes
The chimichurri sauce will probably not solidify in the refrigerator because of the vinegar, but if it does, just let the container come up to room temp on the counter, or place the container in a bowl of warm water until it loosens, and then whisk.
Nutritional information, if shown, is provided as a courtesy only, and is not to be taken as medical information or advice. The nutritional values of your preparation of this recipe are impacted by several factors, including, but not limited to, the ingredient brands you use, any substitutions or measurement changes you make, and measuring accuracy.