This one-skillet meal is internet famous for a few great reasons: it's easy, it's economical, and most importantly, it's delicious. Egg Roll in a Bowl can go from stove to dinner table in just 20 minutes, filled with the Asian-inspired flavors that we crave!
I do love a good quick and easy meal that both fills you up and pushes all of those craving buttons.
I also love egg rolls, but I have no shame in admitting here and now that I'm just not going to hand-make them very often. Or ever. For one, I don't like to fry things. And more importantly, I'm embarrassingly inept at rolling up food in wrappers so that they'll both hold tight AND look good enough to eat.
I'll order a burrito any day of the week, but you won't ever find one on this site because [hides face] I'd have to take pictures of it.
Immediately no. A thousand recipes on this site, but not one burrito or egg roll. Not one. Lol.
So, the Egg Roll in a Bowl is right up my alley: all filling and toppings, no awkward wrapping!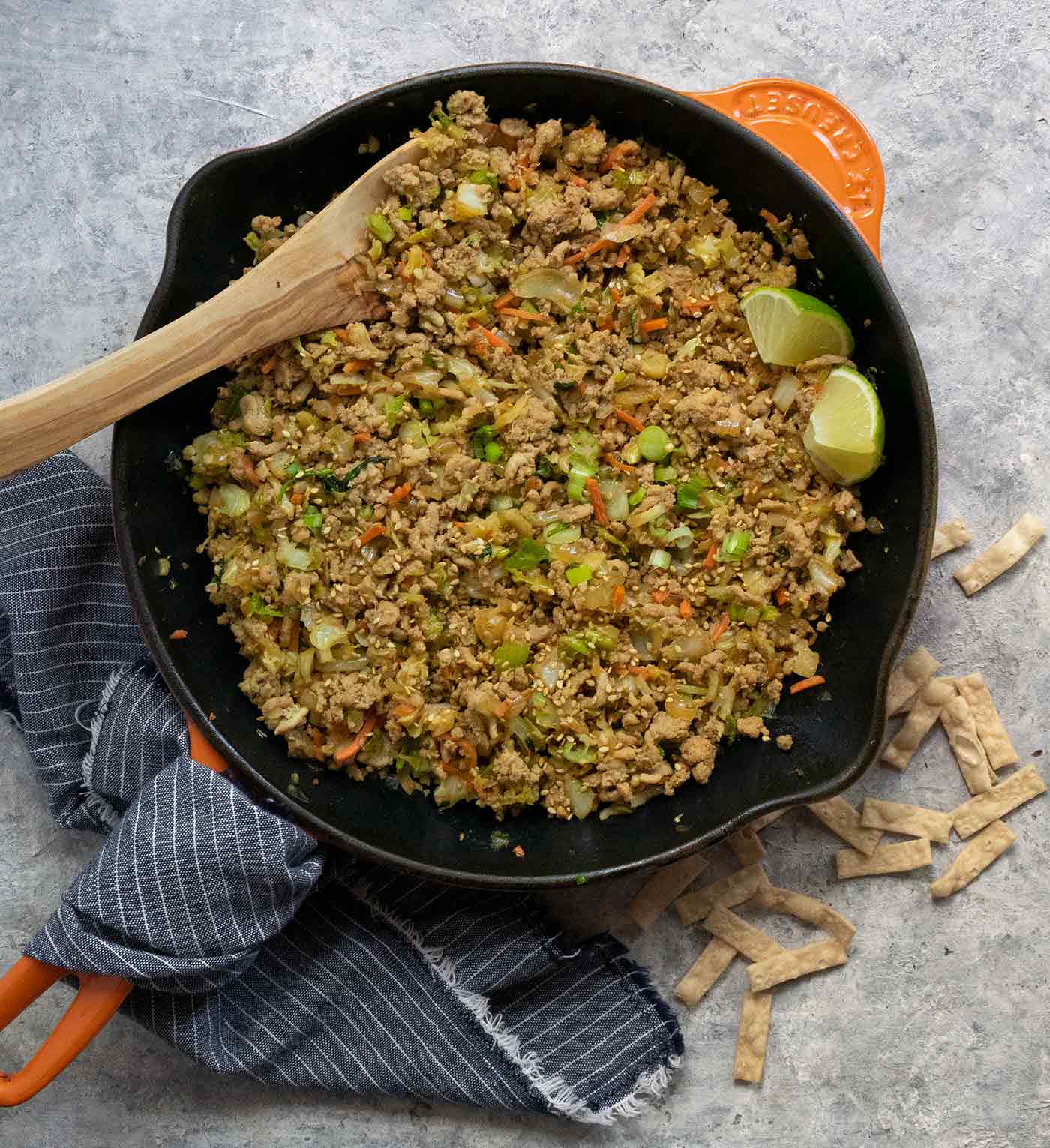 But the really beautiful thing about this dish is that it's highly customizable. It's popular in low-carb and keto circles, but you can make it to fit most any eating preference. Let's go through some of the many options to help you make your best egg roll in a bowl!
Proteins
You can use just about any meat for these Egg Roll Bowls. I usually go with lean turkey — and that's what's in the photos here — because it's a bit more flavorful than chicken with less fat than pork or beef. I do recommend lean cuts, whatever you choose, because it makes the cooking of it less messy.
If you're worried about flavor, try using a ground sausage, say, turkey or pork. Make sure that it's ground and not pressed into a solid hot-dog-like texture that you'd have to slice rather than crumble (sometimes it's hard to tell when packaged as a log in those opaque wrappers).
Ground sausage in a casing is perfectly fine — just remove the casing!
I mention this as an option because if you're cooking for someone who has a diminished sense of taste or smell, plain meats often don't have enough flavor to overcome that deficit. Seasoned sausage can provide a nice, low-effort flavor boost. (I went through this with my parents as they aged — it nudges you to get creative!)
If you're cleaning out the freezer and finding bits and bobs of meat (as what always happens in my freezer), you could even use a combo for this recipe. Turkey and chicken. Pork and beef. Pork and pork sausage. It's all good!
You can also easily make a vegetarian or vegan egg roll bowl by using a ground plant-based meat (like Impossible Burger — it comes in a 12-ounce brick and cooks just like ground beef).
Or even chop up some umami-rich mushrooms. I have not tried the mushroom option yet, but I think it has amazing potential. I might suggest bumping up the quantity to 1 1/2 to 2 pounds of mushrooms, because they cook down quite a bit after releasing their moisture. And be sure to chop them into small pieces to imitate the texture of crumbled meat (maybe run them through a food processor).
Cabbage
While you can definitely buy a whole head of green (or even red) cabbage, you can save a lot of time by buying a bag of precut and cleaned cabbage. Try Egg Roll in a Bowl with coleslaw mix — they often come with grated carrots, which are perfect for this dish!
I also like using bagged cabbage because then I don't have to wrangle a leftover half-globe of cabbage in my already-overflowing vegetable drawer.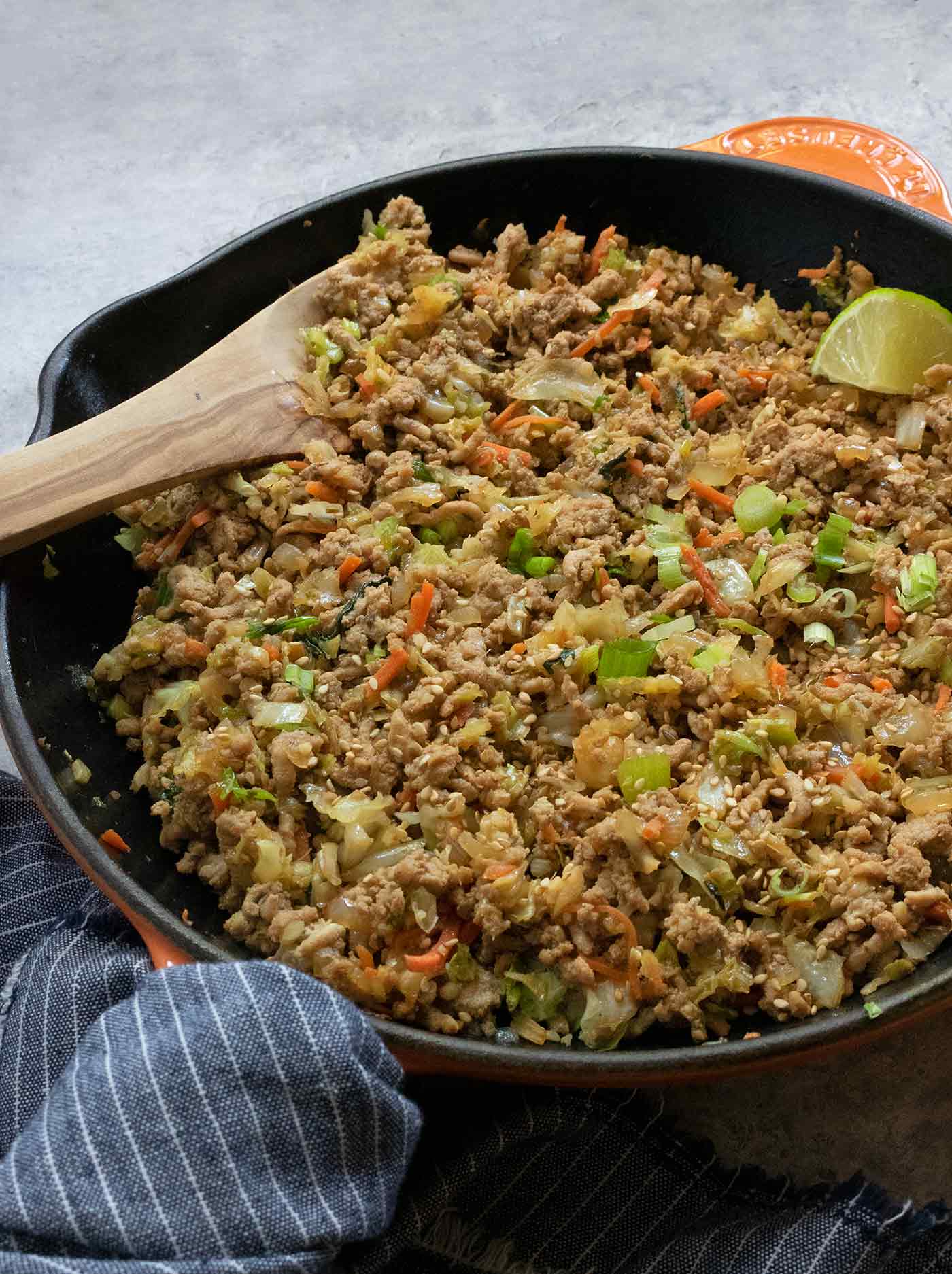 Sauce Options
Soy sauce is the classic ingredient, but I also wanted to mention some tweaks that I've tried over the years that can help you hone the sauce to your and your family's personal tastes. Mix and match the suggestions!
Soy sauce – I always use low sodium soy sauce. For everything, including Egg Roll in a Bowl. But if you're good with the full-strength version, go for it! My recipe calls for a 1/4 cup of lite soy sauce, but since I mix other things in with it, I usually stop just short of a filled 1/4 cup (that's the "scant" reference in the recipe).
Tamari – Tamari is a gluten-free alternative to soy sauce. For my tastes, they're very similar, as tamari is brewed like soy sauce, and can often be used interchangeably. (Note that tamari is not soy-free.)
Hoisin sauce – My version here calls for a bit of hoisin sauce because I think the dish needs a little sweetness (as is common in Asian cuisine — there's often a bit of sugar somewhere). And when I'm in a mood, sometimes I go half and half with the soy sauce and hoisin proportions.
Teriyaki, pad Thai, Korean BBQ or other sauces – you can easily swap out the soy sauce and soy/hoisin combo for any other Asian-leaning sauce you might have hanging around in the fridge. They all have that amazing savory-sweet-umami edge that makes Asian dishes so irresistible.
Rice wine vinegar & brown sugar – I don't call for it in my recipe because of the hoisin sauce I use, but this dish can sometimes benefit from a little bit of acid. Some people use lime juice; others, a light vinegar. You don't need much; just a couple of teaspoons. Then to complement the acid, stir in a heaping teaspoon of brown sugar.
Sriracha – some folks mix sriracha into the final dish, and if you know that everyone at the table loves spicy heat, go for it. Otherwise, serve it separately as a garnish.
Coconut aminos – if you need to avoid soy products, swap with coconut aminos. Note that coconut aminos are soy-free and gluten-free, while Bragg's Liquid Aminos are gluten-free, but *not* soy-free.
Garnishes
One way to customize, liven up, and vary this dish from meal to meal is to add garnishes. My favorites are included in the recipe below, but there's so much you can do to give it an extra lift.
Chow mein noodles – a generous handful adds a hearty crunch!
Wonton strips – you can fry up your own, or some grocery stores carry bagged strips in the section with other salad toppings.
Bean sprouts – for a lovely vegetal crunch, my go-to option here is bean sprouts. They're often hard to find fresh around here, but when I do … ohhhh!
Chopped nuts – peanuts or cashews would take this more into pad Thai territory, but still adds a welcome crunch.
Sesame seeds – just a little adds texture and a hint of flavor (find toasted, if you can. Or toast them yourself in a dry pan).
Hot sauces – Sriracha, sweet red chile sauce, chile crisp — my personal weakness — hot mustard, are all lovely as drizzled toppings (think, egg roll dipping sauces). As mentioned above, if you know that everyone will love the dish hot and spicy, feel free to mix them in during the cook. Otherwise, serve on the side.
How to Make Egg Roll in a Bowl
It's so quick and easy! Once you make this recipe a couple of times, it'll be ingrained in your brain and will become your go-to option for busy weeknights. Or relaxing "I don't want to stand behind the stove forever" Saturdays.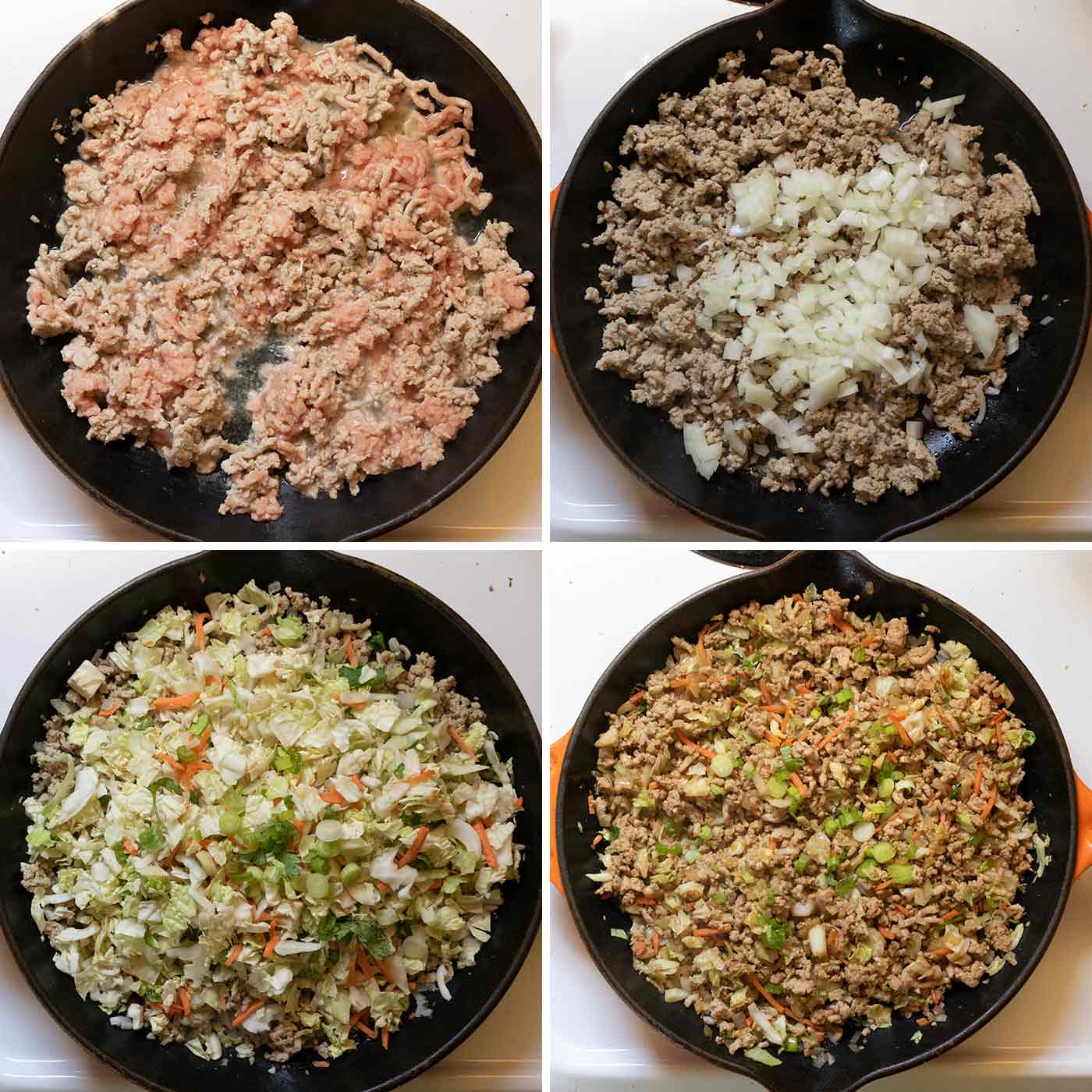 Here are the basic steps:
Brown the proteins in oil until no longer pink. Drain any pooled fat.
Add the onions and saute for a few minutes until beginning to soften.
Stir in the ginger and garlic and saute for about 30 seconds, until the garlic is fragrant.
Add the cabbage mix, and pour the soy sauce, sesame seed oil, and hoisin sauce over the top and stir well. Cook until the cabbage has softened, stirring frequently, about 5 minutes.
Top with the sliced green onions and serve with your favorite garnishes.
Frequently Asked Questions about Egg Roll in a Bowl
How long will egg roll in a bowl last in the refrigerator?
Leftovers should last up to three days in the refrigerator. This means it's perfect for next-day lunches — nothing goes to waste!
Bottled sauces usually last at least several months in the fridge. You can also buy ginger and garlic in paste or jarred form and keep them in the fridge as well.
Can this dish be made ahead and frozen?
Yes! Even cabbage freezes well, so there's no problem making extras for another meal. Just hold back on garnishes like nuts or wonton strips and add them fresh after reheating.
And for meal planning, you can buy the big items ahead of time, or when they're on sale, and keep them in the freezer (such as the proteins and cabbage (the latter can be blanched and frozen)).
Is it possible to make this vegetarian?
You could try a ground meat substitute, such as Impossible Burger. Or even lots and lots of chopped mushrooms (they cook down by at least half after exuding their liquids, so buy more than you think you'll need).
Can I use a different type of cabbage?
Yes, in fact, you can use any sturdy greens. I've even used iceberg lettuce. I usually just go for whatever bagged (pre-chopped, usually green or red cabbage) option that's available, but savoy or napa are great, too.
What are some good substitutes for soy sauce?
You can use any umami-heavy sauce you choose, such as: tamari, liquid aminos (or coconut aminos), teriyaki sauce, Korean BBQ sauce, etc.
Is it necessary to cook the vegetables until they're soft, or can they be a bit crunchy?
The beauty of Egg Roll in a Bowl is that you can cook it to your textural preferences. If you love crunchy veggies, just give everything a quick heating-through in the skillet. If you prefer it softer, let everything cook until the cabbage is wilted. It's all good!
Is this recipe keto friendly or suitable for other special diets?
Yes, absolutely! Lean meat is, of course, right up the keto alley, as is cabbage! Onions, garlic, ginger, soy sauce, too. If you're buying pre-prepped slaw, try to get one without carrots (or with minimal carrots), as they're more carb intense.
It also fits with the Mediterranean and Blue Zones eating plans, as long as you use lean meat.
Other Options Worth Considering
My go-to is definitely an Egg Roll in a Bowl with hoisin sauce and turkey. But you can vary up this deconstructed egg roll any way you like! Here are some ideas:
If you're a veggie lover like me, you can add in vegetables such as snow peas, radishes, edamame, zucchini, sweet potatoes, winter squash. Just be sure to slice or chop or grate them very thinly so that they cook quickly.
For an interesting twist, replace the cabbage mix with broccoli slaw.
Experiment with Asian-leaning spice blends, such as Asian Five Spice. Just a half teaspoon or so will do it, sprinkled over the browned meat, before the rest of the ingredients go in.
Bulk up the meal for extra hungry diners (teens!) by serving over rice, cauliflower rice, quinoa, or even rice noodles or ramen noodles (yes, the cheap packages – just toss the seasoning packet!).
Top each person's bowl with a fried or poached egg.
I hope you'll try this comforting, protein-powered meal in a bowl that's quick, easy, and perfect for busy evenings — and not-so-busy evenings, for that matter!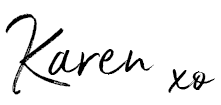 More Asian-inspired Recipes:
Print Recipe
Egg Roll in a Bowl
A super easy, high-protein, low-carb recipe that's perfect for busy weeknights. It's a deconstructed Egg Roll in a bowl!
Ingredients
1

tablespoon

vegetable oil

1

lb

lean ground turkey

(or pork or chicken or beef)

1/2

small onion

chopped

2

teaspoons

minced garlic

(two cloves)

1

tablespoon

minced ginger or ginger paste

14

oz

packaged slaw mix

(Asian salad blend, see notes)

1/4

cup

(scant cup) low sodium soy sauce (or similar, see notes)

1

tablespoon

toasted sesame seed oil

1

tablespoon

hoisin sauce

(optional)

1

green onion

sliced thinly, both green and white parts (remove the root)
Garnish suggestions:
sriracha sauce

sweet red chili sauce

chile crisp

chow mein noodles

fried wonton strips

(found with salad toppings)

sesame seeds
Instructions
Preheat a large skillet over medium, and add the protein. Brown thoroughly, stirring and breaking up clumps as you go. If more than about a tablespoon of fat or liquid has accumulated in the pan, drain off the extra.

Stir in the onions and cook for 2 to 3 minutes to remove the rawness.

Add the garlic and ginger and stir to mix with the meat.

Fold in the slaw mix (shredded cabbage and carrots) and pour the soy sauce and sesame seed oil (and optional hoisin sauce) over the top. Stir well and saute until the cabbage has wilted.

Stir in the green onions at the end, and serve with garnishes.
Notes
Greens: I love using a packaged cole slaw blend for this recipe because it usually also contains carrots. Sometimes you can also find a nice Asian blend of lettuces that would work. The weight of the package can vary between brands – the 12 oz to 16 oz range will get you there. You can also use 1/2 head of green cabbage and a small grated carrot, if you prefer. Soy sauce: You can complement or substitute soy sauce for just about any other soy-sauce-based sauce, such as teriyaki, hoisin, pad Thai, Korean BBQ. You know how those bottles work their way to the back of the fridge. Use 'em up! It's all good!
Nutrition
Nutritional information, if shown, is provided as a courtesy only, and is not to be taken as medical information or advice. The nutritional values of your preparation of this recipe are impacted by several factors, including, but not limited to, the ingredient brands you use, any substitutions or measurement changes you make, and measuring accuracy.