Hungarian Shortbread is the dessert recipe I bake most often from my own blog — I love it that much! Tender layers of sandy shortbread surround a schmear of your favorite jam or preserves – I used tangerine – to create an irresistible sweet-citrusy treat. It's the dessert you make when you want to effortlessly impress a crowd with a unique, but deliciously familiar, cookie bar recipe. (Updated 6-17-2018 to add baking tips and new photos for your baking enjoyment.)
When I first read through this recipe as part of the online baking group, Tuesdays with Dorie, I immediately fell in love.
In. Love, I tell you. In love.
It was 2012, and our baking group was cooking from Dorie Greenspan's Baking with Julia cookbook at the time, and, not being a natural baker, I was trying break through a frustrating wall of baking failures. I was dutifully making my way through the tarts and cakes (although totally jamming on the breads — I love breadbaking), when we came to Hungarian Shortbread week. I was immediately smitten, and the result was such a success, I made it again the following week.
And then the years passed (all six of them). Being a savory, soup-lovin' girl, I don't have much of a sweet tooth, but, of all the dessert recipes on this blog, this is the sweet treat that I return to again and again.
Perhaps it has to do a little bit with my Hungarian heritage, lol, but mostly it's the utterly cool technique of grating the shortbread dough, which creates an impossibly tender and fluffy cookie bar, while still retaining the wonderfully sandy texture that is the hallmark of really good shortbread.
Indeed, this recipe should be called "Hungarian Shortbread Cake," or maybe "Hungarian Shortbread Cookie Bars." More substantial than a traditional shortbread cookie, this party-worthy confection has double-stacked layers of soft and sandy-chewy shortbread sandwiched around a tart, citrusy jam that perfectly offsets the sweetness.
I'm normally a try-it-once-and-move-on baker. But this recipe is a keeper. I can't begin to count how many times I've made Hungarian Shortbread, and my family considers it my signature dessert.
Although a recipe created by Julia Child and meticulously documented by Dorie Greenspan, I've made this recipe enough to have developed my own tips and shortcuts, which I'll share with you, in hopes that it will help make the recipe a success for you the first time and every time. (I kept one photo from the original post — and my first try at this recipe — at the very bottom here, where you can see that the center sank. Still delicious, but not perfect, lol.)
First, let's talk about the portions
Note that the full recipe, which I include below, fills an entire 9″ x 12″ pan. That is a lot of Hungarian Shortbread, people. It's a party size recipe, and definitely not something that I make on the reg, because I cannot have this dessert sitting around the house (self-control, what's dat?).
So, I always cut the recipe in half. Small squares or triangles are really the perfect size to serve to guests. Hungarian Shortbread is sweet — even with the wonderfully tart tangerine marmalade I use — so a little goes a long way, especially if you serve it with a scoop of vanilla ice cream.
The ingredients cut very cleanly in half — you won't have any trouble there — and I'll make things easy by doing some math for you, so you can decide the best pan to use:
The shortbread will be about an inch tall, so most pans with that minimum height will work fine (don't use a baking sheet / jelly roll pan; they're just not tall enough).
We need to find a pan that's as close to half of the surface area of the 9×12 pan as possible, so that you don't have to alter the baking time: (9 × 12)/2=54″.
Your best bet is to use a 7″ x 7″ pan: 7 × 7 = 49″, which is really close to 54″. Indeed, I always use my 7″ square cake ring, shown in all of the photos here. Cake rings can be hard to find, so you might consider a 7″ square cake pan.
What about an 8″ x 8″ square pan, which is more likely to be in the average kitchen? Well, 8 × 8 = 64″, which isn't terrible, but is 10 square inches larger than the halved recipe calls for, and will produce a thinner cookie bar, for sure. You'll want to keep an eye on things while baking, to make sure the shortbread doesn't burn.
How about an 8″ round pan? This size would actually do quite nicely, as its area is 50″. (Watch out, possible math trauma ahead: the area of a circle is πr2. The radius (r) of this pan size is 8/2 = 4 (diameter divided by 2), and therefore the formula is = π × 42, or 3.14 × 16 = 50.24.) If you have an 8″ springform pan, you'll be loving life when it's time to slice the Hungarian Shortbread into perfect servings.
Tips for baking perfect Hungarian Shortbread
Beat the butter for way longer than you think is necessary: 6 to 8 minutes. This is a great tip for most cookie recipes. The butter should be so soft and fluffy that it's like whipped cream.
I highly recommend adding flavoring to the shortbread dough (and my recipe reflects that). Vanilla or almond extract are my go-to choices. The shortbread dough is simply butter, sugar, and egg yolks, which, while completely awesome, creates a muted dough. Extract adds a little boost that nicely complements the marmalade filling.
This is a sweet recipe: it has 2 cups of sugar (whut!) or 1 cup when using a half recipe. I usually go full-bore and use the entire amount. But, you can cut the sugar down to 1-1/2 cups (about 25%) without affecting the recipe too badly. Any more than that, however, and the results will be less reliable. Sugar is part of the "liquid" in a recipe and reducing it too far will impact the texture of the dessert. I have not tried this recipe with a similar sweetener, such as date sugar or coconut sugar, but it could be intriguing.
Julia's original recipe calls for grating the dough on a box grater. This absolutely works, but, it's awkward and — let's be honest — tiring. If you have a food processor with a grating disk, you will be one happy camper. The only thing you have to do differently is the preparation of the Hungarian Shortbread dough for freezing: instead of forming 2 balls, as her recipe calls for, roll the dough into logs that fit through the chute of your food processor. Even if you're like me and hate cleaning your food processor, it's completely worth it. Trust me.
Freeze the dough for only 30-60 minutes, max. Don't freeze the dough solid. You could damage your grating equipment. If life interferes with your baking plans and you can't finish the recipe in the same day, transfer the dough to the fridge.
If you grate the dough by hand on a box grater, the warmth of your hand might soften the dough to the point where it's difficult to grate. No problem: just put the dough back in the freezer for 5 minutes (and give you hand a well-deserved rest in the meantime).
Don't smoosh the grates into the pan, even though it's tempting to do so. Just pat them gently, nudging the grates into the corners.
Spreading the jam/marmalade/preserves over the grates is much easier than it seems. If your marmalade is too stiff, heat the jar (without the lid) in the microwave for a short stretch, and stir well. It will go on quite easily with an offset spatula.
Make sure the oven rack is in the center position, not the lower third, as is typical with dessert recipes.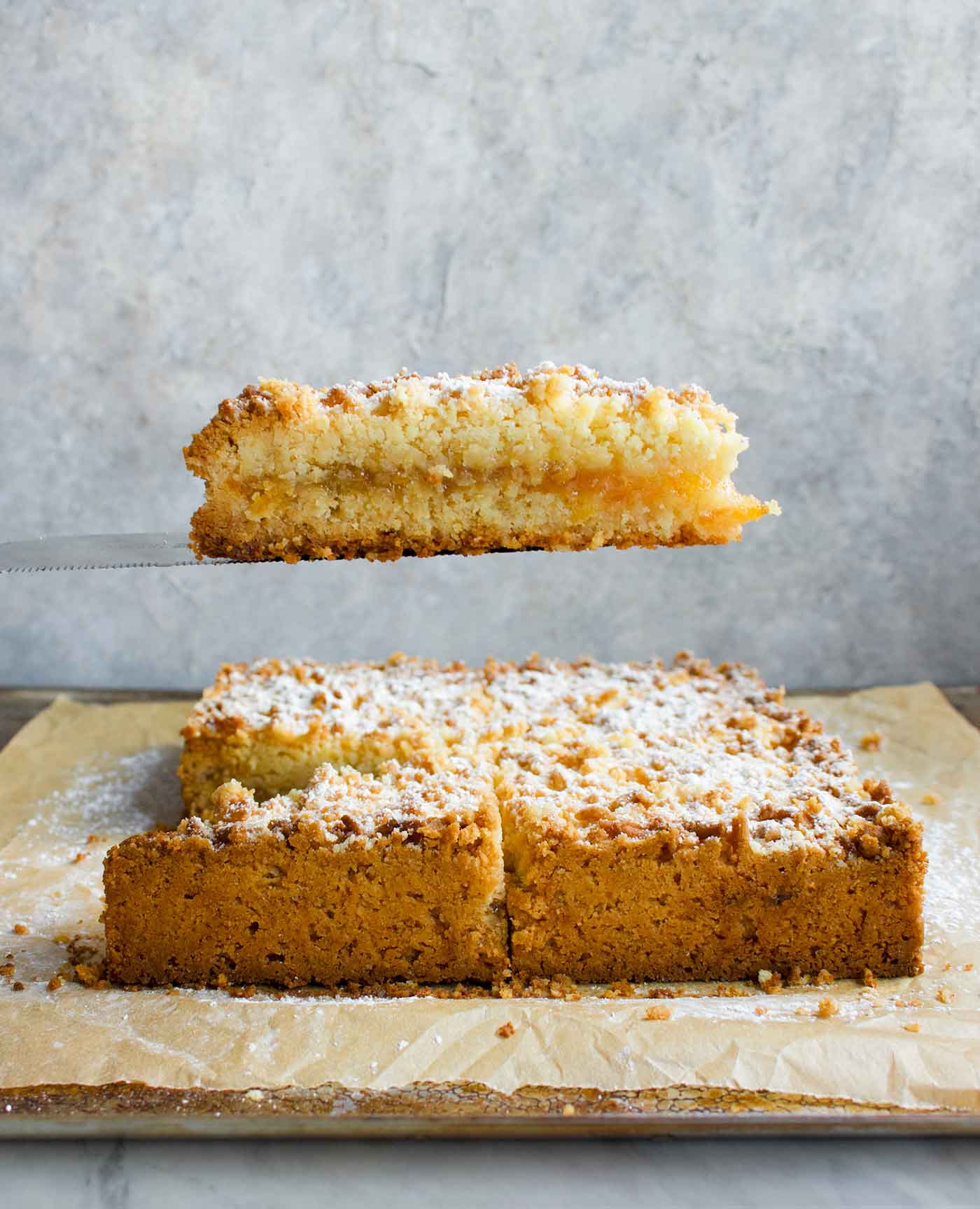 Isn't that beautiful!
The original recipe calls for a homemade rhubarb jam, but, I really wanted to use tangerine preserves. I thought the tart citrus would be an equitable swap for the tart rhubarb.
And it was really, really good. Big thumbs-up on any kind of citrusy jam or marmalade — my first attempt used my homemade Blood Orange & Meyer Lemon Marmalade with Amaretto — for this recipe.
Karen xo
P.S.: In our baking group, one or two members "hosted" the week's recipe on their blog, while the rest of us posted about the results and linked to the host. The hostess for Hungarian Shortbread week was my friend, Cher of The Not So Exciting Adventures of a Dabbler. Visit her site to see how the recipe turned out for her!
Print Recipe
Hungarian Shortbread
Tender layers of shortbread sandwich a tart layer of tangerine preserves to create a unique, yet deliciously familiar, dessert that everyone will love. Note that this recipe is for a 9x12" pan. The photos in this post featured a half recipe in a 7x7" square cake ring.

Ingredients
4

cups

all-purpose flour

2

teaspoons

baking powder

1/4

teaspoon

kosher salt

1

pound

unsalted butter,

room temperature

2

cups

granulated sugar

4

large egg yolks

1/2

teaspoon

almond extract

2

cups

of your favorite jam or preserves

(I used tangerine)

confectioners' sugar

for dusting
Instructions
In a medium bowl, whisk together the flour, baking powder, salt, set aside.

Add the butter to the bowl of a stand mixer fitted with the paddle blade (or, better, a scraper blade) and beat on medium speed until pale and fluffy (5 to 8 minutes). Add the sugar and mix until dissolved. Add the egg yolks and almond extract, and continue beating until completely incorporated.

Reduce speed to low and slowly add the dry ingredients. Mix only until incorporated (do not over mix).

Turn the dough out on you cutting board, gather up into a mass, and then cut the dough in half. Form each half into a ball*, and wrap each in plastic wrap. Freeze the dough for at least 30 minutes, until firm.

Preheat oven to 350°F with rack in the center position.

Remove one ball of dough from the freezer and grate the dough using a box grater into a 9" x 12" baking pan (use the large hole side).

Gently pat the dough shreds to even it out in the pan, pushing the shreds into the corners. Spread the jam or preserves over the top. If the jam is hard to spread, heat briefly in the microwave and stir well. You might not need all two cups: use your judgment.


Grate the second ball of dough over the jam, and pat to even out the surface.

Bake for 40 minutes, until the shortbread is golden. Remove from oven, and immediately dust with confectioner's sugar through a sifter or small sieve. Allow the shortbread to cool in the pan, set on a rack. Cut into squares or triangles, and serve. Store, covered, at room temperature.
Notes
* The original directions call for forming a ball, but I find it easier to grate - and grip while grating - if the dough is formed into a thick log instead. Also, a food processor with a grating disk does a great job here. Form the dough into 4 logs that are skinnier than the chute for your food processor. Wrap each with cling wrap and place in the freezer for no more than an hour. You don't want the logs to freeze solid; they might damage your food processor.
Nutrition
Nutritional information, if shown, is provided as a courtesy only, and is not to be taken as medical information or advice. The nutritional values of your preparation of this recipe are impacted by several factors, including, but not limited to, the ingredient brands you use, any substitutions or measurement changes you make, and measuring accuracy.
Adapted from "Baking with Julia"