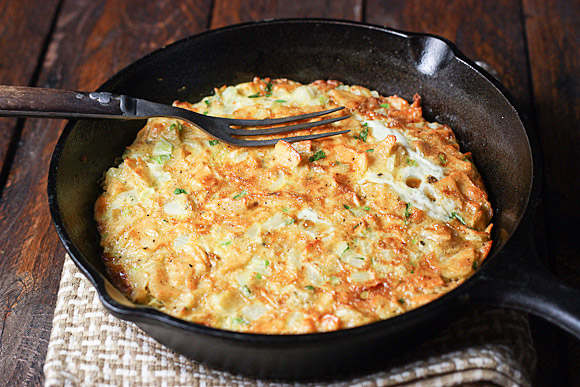 This is one of those recipes that makes you crinkle your forehead in confusion.
Potato chips? In a Spanish tortilla?
Okey dokey. Our next assignment in the French Fridays with Dorie cooking group featured Dorie Greenspan's simplification of the Spanish potato-egg-cheese dish, using potato chips instead of potatoes. On further thought, the curious substitution turns out to be a simple shortcut: in potato chip form, potatoes come pre-peeled and pre-seasoned.
Nice. The forehead crinkle smoothed out as I nodded in understanding. Leave it to Dorie to be creative and clever.
Now the burning question: did it work?
Before answering, I must fess up that I've never had an authentically prepared tortilla, so I have nothing to compare it to.
But, I made two versions, one as written, one with my ingredient preferences. I did prefer my own adaptation, but that would stand to reason: it's basically an egg and potato dish, and I know what I like in my eggs and potatoes.
One thing I will note is that the salt in the potato chips was not enough to season the dish to my liking in both cases. It's not disappointing, but it was surprising. Potato chips are pretty salty.
This dish can easily stand in as an appetizer — but I'd reserve it for an egg-loving crowd who appreciates the bland nature of eggs and potatoes — or as a side dish (I served it with soup. Of course).
Well, that's what normal people would do, anyway. Me, I can see whipping this up for a light lunch, or a late night insomniac snack. I mean, yo, it has potato chips and eggs. Some of the finest foods on the planet.
This post is participating in French Fridays with Dorie, where we cook from Dorie Greenspan's cookbook,
Around My French Table
. We're not supposed to print the recipes from the book, although the book's recipes are now all thoroughly all over the interwebs. I will, however, print only my variation of the recipe.
Potato Chip Tortilla
adapted from Around My French Table
Prep Time: 10 minutes
Bake time: 10 minutes

1 tablespoon olive oil
5 ounces potato chips
4 eggs
2 green onions, thinly sliced
1 small onion, chopped
1 garlic clove, peeled and minced
1 teaspoon chipotle chili powder (or use ancho)
3 slices prosciutto, coarsely chopped
1 tablespoon cilantro, chopped
1/3 cup grated Gruyere cheese
salt and pepper (when in doubt, use a dash of each)
1. Heat the oil in a small-medium, heavy, oven-proof pan over medium. (I use an 8″ cast iron skillet.)
2. Crush potato chips by hand in a medium bowl. You want the pieces to be somewhere between crumbs and chunks.
3. Whisk the eggs in a separate bowl, and stir in the remaining ingredients. Pour over chips and mix well.
4. When the oil is shimmering, swirl to coat, and then pour in the egg mixture. Use a spatula to scootch the thick mixture out to the edges of the pan.
5. Cook until the edges are set, and the top shows signs of setting up (about 5 minutes). Run a thin spatula around the edges and under the tortilla to unstick any stubbornly clinging areas.
6. Carefully place the pan under the broiler, and broil until the top is set and slightly golden.
7. Flip the tortilla onto a plate (top side down) to cool slightly. Slice and serve as a side dish or as an appetizer.