Inspired by the super-healthy, legume- and vegetable-filled minestrone soup enjoyed by the long-living residents of Sardinia, this soup is naturally vegan and perfect for Meatless Mondays. (Now with video!)
I recently started reading The Blue Zones: Lessons for Living Longer From the People Who've Lived the Longest, the book profiling regions of the world where residents routinely live to 100 and beyond. It's fascinating, and I'm thoroughly enjoying the read.
Now, I don't necessarily want to live to 100. One standout characteristic of these long-living communities is that residents have very strong, life-long support systems of both family and friends, which, quick frankly, we lack in the US. High school and college friendships often dissolve with miles, as we scatter across the country for careers and different climates.
Sibling and extended family bonds soften for the same reasons. Young families form, and we busyify our lives. By the time we reach an age where we need a little assistance, there's just a small circle of people who can and are willing to help. Aging in American is stressful all around.
No, I'm not interested in the number, but rather in the quality. And that's what these Blue Zones seem to share — they live long but are sharp and spry right to the end.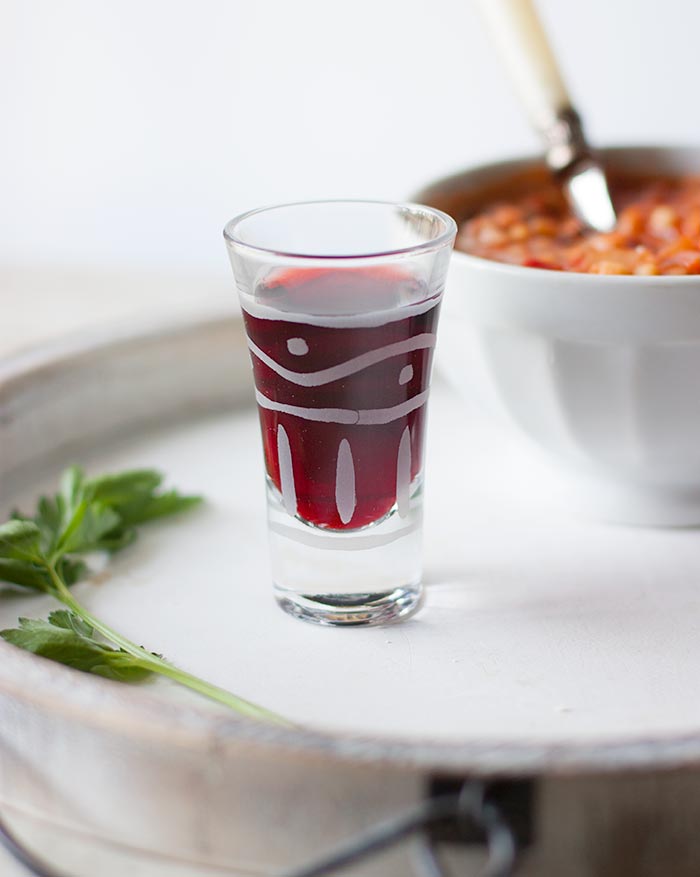 I'm particularly drawn to their diets, which appeal to my basically vegetarian nature. The Sardinian (Italy) and Ikarian (Greece) groups and their Mediterranean meal plans are strongly vegetarian, focusing on legumes and seasonal vegetables, usually picked from their own gardens. And wine. Lots of red wine.
Bitter beverages are not my favorites, but as I've aged, my tolerance for them has improved, and I've always been intrigued by the claimed health benefits of red wine. When I read about the Sardinian's love for their native Cannonau wine, I was excited to give it a taste.
To my surprise — I have a love-hate relationship with red wine — a double-shot of Cannonau went down mighty smooth with a bowl of Sardinian minestrone soup one rainy afternoon. I don't think it's in the cards to drink wine every afternoon, like the Sardinians do with their long lunches — we 'burb dwellers have too much driving to do — but I'm happy to have a red wine in my stash that I enjoy (and that might just be very good for me to boot).
Which brings me to today's soup. I have to say, I *love* this minestrone soup. Adapted from the Blue Zone's website, my version of this vegetable-heavy soup contains plenty of flavorful fava beans, Great Northern beans, and a few of my favorite spring veggies, including broccoli stems and fennel.
It also contains a fun little Sardinian pasta called fregula, which is pebble-sized and toasted, giving the pasta a deeper flavor and multi-colored, rustic appearance.
As we transition to warm weather here in the States, I'd like to call out one aspect of this recipe that makes this minestrone soup particularly spring-worthy: it uses water rather than stock.
Don't get me wrong — stock is awesome (especially home vegetable or chicken stock) and is often the key to a make-or-break winter comfort soup. But using water here creates an unexpected lightness that you don't normally get from minestrone. The flavor is pure fresh vegetables, and the soup is one I can definitely enjoy even as the thermometer continues its creep upward.
Perfect for Meatless Mondays, this minestrone soup doesn't weigh me down; it fuels me up!
Serving Suggestions for Sardinian Longevity Minestrone Soup
I made a huge batch of this soup, and enjoyed the leftovers for lunch several times last week. The soup is delicious with the pecorino romano cheese, but it's really something with a fried egg on top. When the yolk breaks into the soup … oh, my guhness. Soup heaven. #putaneggonit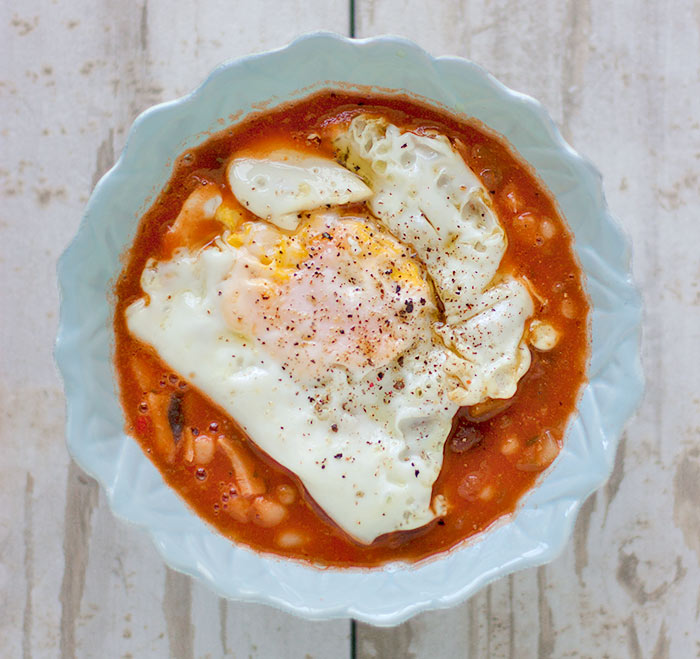 I hope you'll try and love this healthy, super tasty Sardinian minestrone soup! And if it's the height of summer and you have an abundance of fresh veggies, try this light and lovely Summer Minestrone!
Karen xo
Print Recipe
Sardinian Longevity Minestrone
Inspired by the super-healthy, legume- and vegetable-filled minestrone soup enjoyed by the long-living residents of Sardinia, this soup is naturally vegan and perfect for Meatless Mondays.
Ingredients
2

tablespoons

extra virgin olive oil

1

small yellow or white onion

chopped

1

medium carrot

peeled and chopped

1

celery rib

chopped

1

broccoli stalk

peeled and chopped

1

small sweet potato

peeled and diced (about 1 cups)

1

small fennel bulb

chopped

1

tablespoon

tomato paste

2

cloves

garlic

minced

1

can fava beans

1

can Great Northern beans

1

28-ounce can crushed tomatoes

1/4

cup

loosely packed fresh Italian flat-leaf parsley leaves

chopped

1

tablespoons

chopped fresh basil leaves

1/2

cup

of fregula or Israeli couscous

kosher salt and freshly ground black pepper

1/4

cup

Pecorino Romano or Daiya Smoked Gouda

finely grated (optional)

extra virgin olive oil

for garnish
Instructions
Heat the oil in a 5 qt Dutch oven or soup pot set over medium. When the oil begins to shimmer, add the onions, carrots, celery, broccoli, sweet potatoes, and fennel. Saute, stirring frequently, until all of the vegetables are softened.

Scootch the vegetables to the side, creating a clear spot and add the tomato paste and garlic to the spot. Stir together until the garlic is fragrant (less than a minute), then mix in with the remaining vegetables.

Increase heat to medium-high, and ddd the beans, crushed tomatoes, and 4 cups of water. Bring to a boil, then reduce heat low or medium-low to maintain a very gentle simmer. Cook for 20 minutes, uncovered.

Add the pasta and a pinch of salt. If the soup is too thick, add another cup of water. Cook for 10 minutes more.

Stir in the herbs. Taste, and add salt and pepper as needed.

To serve, spoon into bowls, drizzle with olive oil and top with the cheese.
Notes
- You can use dried beans instead of canned. Soak the beans overnight (peel the favas, if you prefer them that way), increase cooking time to 1 1/2 to 2 hours.
- Fregula is a small, peppercorn-sized Italian pasta that's dried and toasted (and has a lovely multi-colored hue). If you can't find fregula, substitute the similarly shaped Israeli couscous or another small pasta such as orzo or ditalini.
- Leave off the cheese, and the soup is naturally vegan.
- This soup is awesome the next day, and the day after. Make a lot - you won't regret it!
Nutrition
Nutritional information, if shown, is provided as a courtesy only, and is not to be taken as medical information or advice. The nutritional values of your preparation of this recipe are impacted by several factors, including, but not limited to, the ingredient brands you use, any substitutions or measurement changes you make, and measuring accuracy.
Pin Sardinian Longevity Minestrone Soup recipe for later: