Summer vegetables and fresh herbs shine in this easy vegetarian dish with pan seared peppers and tomatoes, served on fried bread with squeaky cheese (it's a thing!).
Summer vegetables have been so delicious this year, haven't they? Simplicity is the rule of the day, and meals come fresh from the garden and go through just a quick spin on the stove or grill.
A light seasoning and a generous sprinkling of herbs are all these beauties need. Seared peppers with cherry tomatoes, olives, capers, and halloumi cheese is my go-to summer meal.
One of my favorite recipes, ever, from Deborah Madison, the combination of fresh and seared vegetables is briny, herby, acidic, and vegetal, all at once. It positively screams summer.
As a vegetable gardener, I feel very spoiled and lucky. Everything in the first photo above came from my own garden (and if I could grow and cure my own olives and capers in this too-temperate climate, I would).
There is just nothing better than cooking with fresh vegetables that you grew yourself.
See all those juicy peppers and tomatoes? I can't get enough! (Which is a good thing because I'm buried in cherry tomatoes right now.)
Halloumi cheese is such a neat little thing. It fries up in a cast iron pan like a champ, softening ever so slightly and grabbing on to all of the pepper juices in the process. Some call it the squeaky cheese because, sure enough, it squeaks against your teeth as you chew. (No worries – we're all friends here, so funny mouth noises at the dinner table are totally acceptable in my book.)
I served all of this deliciousness over fried bread to make it a full meal. You've tried fried bread, right?
No? What?
You must remedy that immediately. Fried bread is what toast wants to be when it grows up. Sauteed in a shallow layer of an oil of your choice, fried bread is crispy on the outside — but not teeth-crackingly so — and tender on the inside, and perfectly golden all around. It's received a lot of play in my kitchen lately because it just goes with everything summer.
One of the best lessons I've learned from Deborah Madison is the use of herbs in cooking. I grow herbs — lots of herbs — and I've cooked with them for many, many years.
But Madison doesn't just politely sprinkle herbs over a dish, she puts those babies to work. Here, no less than two tablespoons of parsley and mint add bright counterpoints to the richness of the sauteed veggies. The dish just wouldn't be the same without them.
As I mentioned, I'm a vegetable and herb gardener, and although I don't post often here about gardening (browse my gardening archives here), I'm very active on Instagram, where I share photos from my four-season gardens, as well as tips and tricks for successful growing. Follow along if you're interested in gardening, too!
Karen xo
More recipes from "Vegetable Literacy":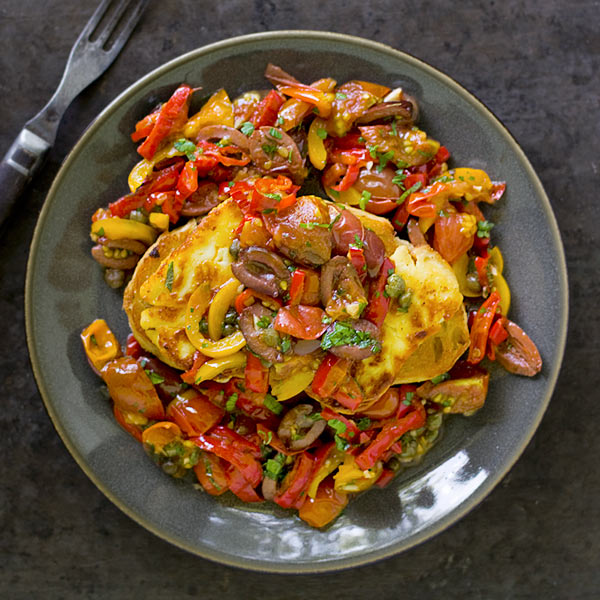 Print Recipe
Seared Peppers with Olives and Halloumi
Ingredients
12

or so cherry tomatoes

quartered or sixth'd

1/2

cup

sliced kalamata olives

1

large garlic clove

minced with a pinch of salt

2

tablespoons

non-pareil capers

rinsed

balsamic vinegar

3

tablespoons

olive oil

3

Italian frying peppers or 2 sweet bell peppers

red, orange, or yellow, seeded and cut into rings or 1/2" strips

4

slices

halloumi

about 4 ounces, 1/2" thick

1

tablespoon

fresh mint

chopped

1

tablespoon

fresh flat-leaf parsley

chopped

sea salt and freshly ground black pepper
Instructions
Place the tomatoes, olives, garlic and capers in a bowl. Drizzle with 1 tablespoon of olive oil and a splash of balsamic vinegar, and fold gently to coat. Set aside.

Heat 1 tablespoon olive oil in a skillet over medium heat, until gently shimmering. Add the peppers and saute until soft and seared, about 5 minutes. Move them to the bowl with the tomatoes.

Turn the heat to medium-high and add the remaining olive oil to the pan. When shimmering, add the cheese slices in a single layer and cook, flipping the slices until both sides are golden (1 to 2 minutes), transferring to serving plates as they finish. Turn off the heat.

Add the pepper/tomato mixture to the pan and saute for one minute. Spoon over the halloumi slices and sprinkle the herbs, salt and pepper over the top.
Notes
Serving suggestion: this simple dish becomes an entre when you add a slice of crusty fried bread to the works. Fry the bread at the end of preparation. Keep the heat on the pan and, after giving the pepper/tomato mixture its quick saute, add more olive to cover the pan surface, heat to shimmering, and add the bread. Keep an eye on the oil level - when the bread starts to absorb the oil, flip the slice (it will not be golden). Sprinkle a pinch of salt over this side of the bread, and let fry until the bottom is golden. Flip, and salt the up side of the bread. Fry until the other side is golden, then remove to a serving plate. (The bread will have absorbed all of the delicious vegetable juices as it fried.) Place two halloumi slices on top and spoon the pepper/tomato mixture over the whole the plate.
Nutritional information, if shown, is provided as a courtesy only, and is not to be taken as medical information or advice. The nutritional values of your preparation of this recipe are impacted by several factors, including, but not limited to, the ingredient brands you use, any substitutions or measurement changes you make, and measuring accuracy.
Adapted from Deborah Madison's book, Vegetable Literacy"