The color of sunshine and powered with healthy vegetables, this superfood soup is super easy to get to the table, and filled with flavors your family will love and ingredients you'll feel great about serving. This post is a recipe collaboration with Bird's Eye® to bring you quick, healthy, veggie-strong, and oh-so-tasty meals to your dinner table. All thoughts and opinions are my own.
Why, hello, summer soup, with your curried cauliflower broth and healthy greens and tummy-filling grains and legumes!
Wait, what, soup in the summer? Eh? Yaaas! Yes, when it's the color of liquid sunshine and chock full of summer's best vegetables!
Aaaand, yes, when this super simple soup doesn't keep you hovering over a hot stove, the way that brrrr-chill winter weather begs us to do with soup, but still fills you up with the unique goodness that only soup can bring.
"But," you protest, "hot soup in hot weather, SoupAddict, what's dat all about?"
No fear, my shade-seeking, AC-craving Lovelies. You know those other hot things we devour in the summer? Baked beans, stir fries, and spaghetti piled high with fresh marinara? All those things = hot. We drink hot coffee and tea in the summer, right? Right!
The key to hot summer meals is to get in and get out of the heat as fast as you can. And this summer superfood soup is born to do just that! No stove-hovering, nuh-nuh-no — 30 minutes and it's ready for the table.
That's right, just a half hour for a healthy soup filled with cauliflower and spinach and sweet potatoes and chickpeas, plus rice and barley to boot. Here's the secret: Bird's Eye just released a new line of frozen Superfood blends in its Steamfresh® line. You stock up on the easy storing freezer bags, and whenever you get those deep-down cravings for a fresh batch of sunshine superfood soup, you can hop right to it.
'Cause here's what you don't do: You don't cook up the brown rice for 45 minutes, nor the barley for 30 minutes. You don't scrub, peel, and chop the sweet potatoes. You don't rinse-drain-rinse-drain the can of chickpeas (or, eeek!, soak dried beans overnight and cook for an hour). You don't do those things because it was a long day of summer fun, and your tummy's rumbling, and the fam is starting to get that look in their eyes that means it's time to hide the cookies.
No, here's what you do instead: You chop up an onion and some cauliflower (pre-cut = totally cool and clever). You do a short simmer in your favorite vegetable stock and blend everything up with yummy herbs and spices — including the wunderkind sunshine spice, turmeric — until smooth.
And then you grab the ready-to-go Bird's Eye Superfood Blend bags from the freezer, empty the contents into the pot — still frozen — heat through and ladle up the healthy superfood soup! Fresh vegetables and broth + frozen legumes and grains = awesomeness!
Many of you know that I'm a long-time vegetable gardener, and let me tell you, my freezer is a life-saver. Canning the amazing harvests from my garden is awesome … but … I'll be honest: this canning has to occur in August and September, when it's so hot that even air conditioning can't make that steamy kitchen, with pots of water boiling on every burner, a pleasant place to be.
I do water-bath can part of the harvest, but the majority of it goes right into the freezer: Tomato sauce, check! Tomato paste, check! Clear the way for the whole tomatoes! Corn, bell peppers, butternut squash, sweet potatoes, spinach, kale, peaches, apples, you're going in, too!
Freezing food is an awesome way to preserve flavor and nutrients, without melting yourself over the stove for hours on end. So if you think it's somehow a health cheat to pull ingredients out of the freezer, stop dat sort of thinking right here and now! 🙂
And best of all, you don't have to go out of your way to find Bird's Eye Steamfresh Superfood blends – they're right in the frozen food aisle of your local Kroger or Kroger banner store.
A big bowl of gently curried, creamy cauliflower superfood soup that's souper-powered (see what I did there?) with chickpeas, sweet potatoes, grains, and spinach is just half an hour away. Serve with a big loaf of crusty, buttery bread, and soak in the goodness of this quick and tasty summer meal. (P.S.: leftovers, if there are any, are da bomb.)
Big-time thanks to Bird's Eye for sponsoring this post.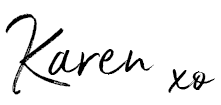 Print Recipe
Sunshine Superfood Soup
The color of sunshine and powered with healthy vegetables, this superfood soup is super easy to get to the table, and filled with flavors your family will love and ingredients you'll feel great about serving!
Ingredients
2

tablespoons

olive oil

1/2

cup

chopped onions

(about 1/2 of medium onion)

1

teaspoon

mild yellow curry powder

1/2

teaspoon

ground turmeric

(powder)

4

cups

vegetable stock

(homemade or low sodium)

12

to 16 ounces cauliflower florets

(about one small/medium head, core and leaves removed, roughly chopped)

2

tablespoons

course or whole grain prepared mustard

2

packages Bird's Eye® Steamfresh® Superfood Blend Chickpeas and Spinach

(no need to thaw)

1

can

(14 ounces) unsweetened coconut milk, well-shaken

1

tablespoon

chopped cilantro leaves

1

tablespoon

chopped fresh dill

1

teaspoon

fresh thyme leaves

1/2

fresh lemon

(or 1 tablespoon bottled lemon juice)

Kosher salt and freshly ground black pepper
Instructions
Heat 1 tablespoon of the oil in a 4-5 quart Dutch oven or stock pot over medium until shimmering. Add the onions and saute until softened, about 5 minutes.

Scootch the vegetables to the side, and add the remaining oil to the cleared spot. Spoon the curry powder and turmeric over the oil, and stir in place to create a fragrant paste.

Pour in the vegetable and cauliflower, and bring the soup to a gentle bubbling boil over medium-high heat, then immediately reduce heat to medium-low and simmer for 15 minutes. Test the cauliflower florets by slicing one with a knife – it should cut easily through. Stir the mustard into the soup.

Puree the soup thoroughly: use an immersion blender directly in the pot to blend the soup smooth, or use a regular blender (you'll need to do it in batches), and return the soup to the pot.

Add the two packages of chickpeas and spinach, along with the coconut milk, cilantro, dill, and thyme.

Let the soup heat gently over medium-low for 10 minutes – if the soup begins to bubble at any point, reduce the heat a bit.

Squeeze the lemon half over the soup, and add a pinch of salt with a few grinds of black pepper. Stir, and taste, adding more salt as needed.

Serve immediately with a loaf of crusty bread. This soup can be made ahead of time and stored in the fridge. Leftovers, if there are any, will taste great for lunch the next day.
Nutrition
Nutritional information, if shown, is provided as a courtesy only, and is not to be taken as medical information or advice. The nutritional values of your preparation of this recipe are impacted by several factors, including, but not limited to, the ingredient brands you use, any substitutions or measurement changes you make, and measuring accuracy.