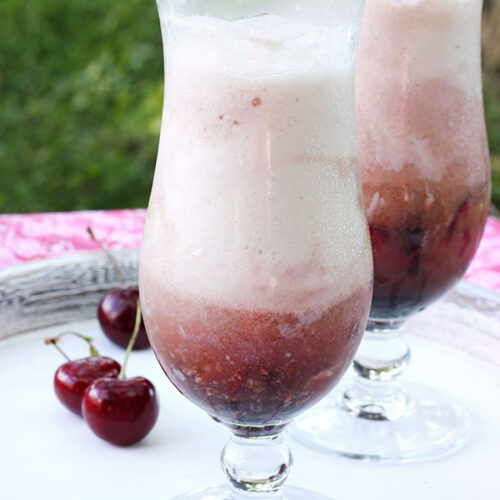 Print
Black Cherry Champagne Floats
For a colorful result, make sure you use a cherry liqueur eau de vie (which is normally red) and not kirschwasser, which is clear. The amount of ice cream and Champagne will depend on the size and volume of your glasses, so use the amounts listed as a guideline, scaling up or down as needed. Chill the liqueur and Champagne thoroughly beforehand so the ice cream doesn't melt too quickly.
Slice the cherries into quarters, and add 24 quarters to the bottom of one glass.

Pour 2 teaspoons of cherry liqueur over the cherries.

Gentle drop one large scoop of ice cream over the cherries and liqueur.

Drizzle 1 teaspoon of cherry liqueur over the scoop of ice cream.

Add two to four more scoops of ice cream to the glass, until the ice cream reaches the rim.

Pour Champagne over the ice cream.

Repeat with the second glass.

Serve with a straw and a long handled spoon to scoop up the liqueur-infused cherries.