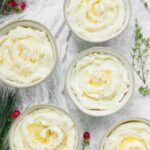 Print
Roasted Garlic Mashed Potatoes
Creamy smooth celebration mashed potatoes are so easy to make at home. Roasted garlic adds an extra level of flavor your guests will love.
for the garlic:
2

heads garlic

olive oil

salt & pepper
for the mashed potatoes
2

pounds

potatoes

, peeled, and cut in 1" cubes

1/4

cup

buttermilk

, room temperature

1/4

cup

heavy cream or half and half

, warmed

1/4

cup

(1/2 stick) butter, melted

sea salt

freshly ground black pepper
Roasting the garlic:
Cut the top 1/2" off of each head (leave skin intact) - the tops of the cloves should be exposed. Place each clove on a square of foil. Drizzle olive oil over each head. Sprinkle liberally with salt and pepper.

Close the foil up over each head, like a Hershey's Kiss. Place the foil packets in the oven for 35-40 minutes. If your house smells positively yummy, you're doin' it right. Remove packets from oven and allow to cool before unwrapping. While the garlic's cookin', move on to the potatoes.
Make the Potatoes:
Place potatoes in a medium saucepan and cover with cold water. Salt liberally and stir. Bring to a boil and cook uncovered for 15 minutes, or until a fork or knife easily pierces one of the chunks.

Mash the potatoes in a clean pot or bowl, using a masher or run them through a ricer. Unwrap the garlic heads. Squeeze the head of roasted goodness into the mashed potatoes (or also send them through the ricer). Don't worry, the cloves will slip right out of their skins. [Plop!]

Stir in the buttermilk and mix well. Repeat with cream and the butter (hold back a bit of the melted butter to drizzle over the finished presentation, if desired). Add salt and stir. Taste. If you can't tell there's salt, add more. Then do the same with the pepper.