Hands down, the best fish taco sauce you'll ever try, and so easy to make at home with your favorite herbs and spices.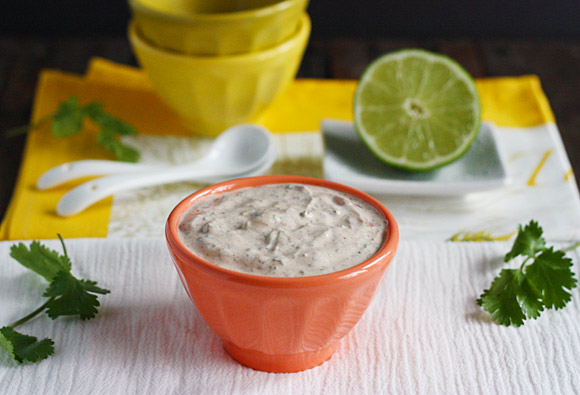 Years ago, I came across a recipe for San Diego fish tacos and fish taco sauce. It was good. They sure have a way with fish tacos, those San Diegoans. But, I lost the recipe and have forgotten how to authentically prepare the fish.
Doesn't matter. It's hard to screw up a fish taco too badly. The fish taco sauce included in the recipe, however, burned a little hole in my brain.
So, soooo good. Forget salsa. Forget sour cream. Forget tartar sauce. You'll never want anything on your fish tacos except this fish taco sauce, ever again.
I suspect my fading memory and stubborn inability to leave well enough alone has inserted itself on the original fish taco sauce recipe. But that's the beauty of a spice-heavy concoction: You can tweak to your own tastes.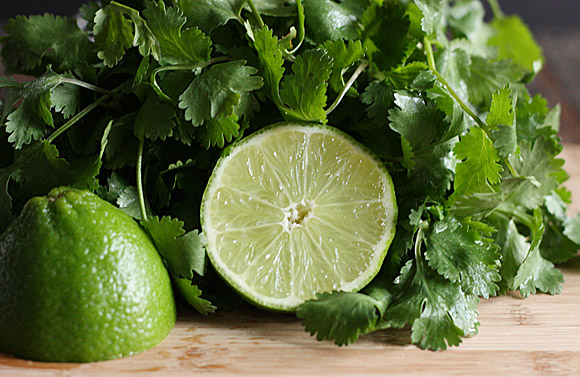 Lime and cilantro (above) are so natural together, it would not have surprised me one bit to find them growing on the same plant, had I not grown cilantro myself without producing a single lime (I knew better, of course, but was still unreasonably disappointed).
If you want to create a fantastic rice dish to go with your mexican dinner, just add butter to the finished rice, and stir. Squeeze a lime into the rice, and stir. Sprinkle a dusting of coriander over the rice, stir. Finish it off with a generous helping of fresh, chopped cilantro. (Yeah, stir).
Oh, and use the cilantro rice on your fish tacos with a big dollop of wickedly good fish taco sauce. 😉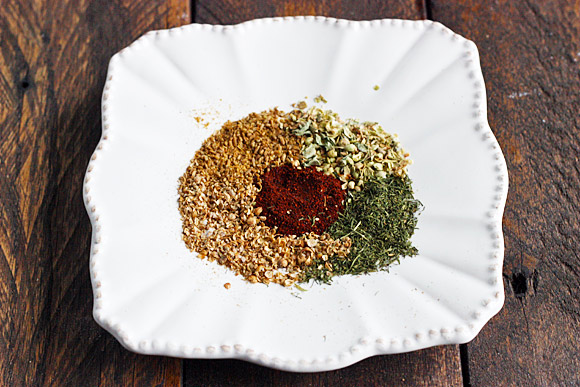 Coriander, by the way, is the seed produced by the cilantro plant. Redundant, both sharing a spot in the same fish taco sauce recipe? No, sir. Ground coriander tastes nothing like its leafy parent. Gently aromatic and somehow citrusy, it adds a bright flavor to mexican dishes, and is an especially delicious companion to cumin.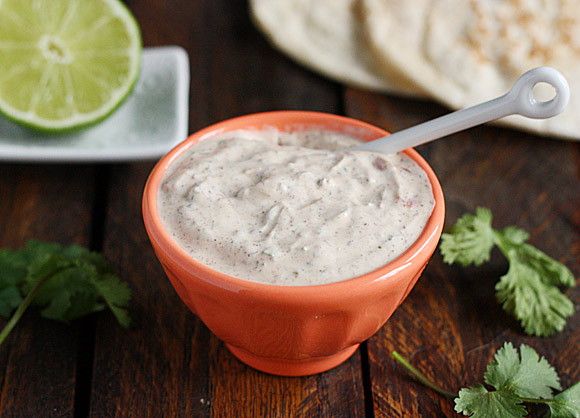 You can whip up this sauce as fast as you can wield a whisk! Try this uniquely spiced white sauce for your fish tacos – I hope you'll love it!
Karen xo

Wickedly good fish taco sauce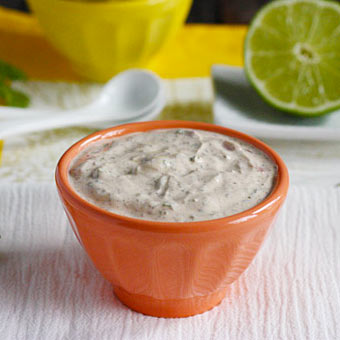 This is without a doubt the best fish taco sauce I've ever had or made. The herbs and spices are unique and create an incredible white sauce for fish tacos.
Ingredients
1/2 cup reduced fat sour cream (Greek yogurt is delicious as a substitute if you're not a fan of sour cream)
1/2 cup reduced fat mayonnaise (you can use full fat, but, the spices are so delicious, you won't miss that particular flavor contribution)
1 lime, cut in half
1/2 teaspoon cumin
1/2 teaspoon ground coriander
1/2 teaspoon dried dill weed
1/2 teaspoon dried oregano
1/4 teaspoon ground chipotle chili powder
1/2 teaspoon capers, minced
1 hot pepper of your choice, seeded and minced (jalapeno is delicious, as are the cherry bomb poppers I used in this batch).
1 tablespoon fresh cilantro, chopped
Instructions
In a small bowl, whisk the sour cream and mayonnaise until well blended.
Squeeze the juice from one lime half into the fish taco sauce mixture, then whisk thoroughly. You'll want the consistency of a pourable, creamy salad dressing. If still too thick, add more lime juice from the other half. If too runny, add sour cream.
Add all of the spices, whisking to mix thoroughly. Add the capers, minced pepper and cilantro, and whisk thoroughly.
Cover the bowl with wrap and refrigerate the fish taco for at least one hour — the longer the better.
Serve chilled. Spoon white sauce over fish tacos, or add into taco salads or rice bowls.
In 2017, I'll be donating a portion of SoupAddict's income each month to a non-profit whose works speak to my heart. February's proceeds will go to the
C.A.T. Adoption Team of Northern Kentucky and Southern Ohio
[2]
, a non-profit organization devoted to giving kitties second chances. My four furbabies are former ferals, so I have a super soft spot for stray and feral kitties, who often end up in county shelters under imminent threat of euthanasia. Staunchly no-kill, C.A.T. pulls these kitties from those shelters, vets and neuters them, and then tirelessly works to find them the perfect furever family match. C.A.T. fosters all cats in loving homes, rather than in lonely cages at a kennel, so every kitty knows love and safety from the moment they're brought into the fold.
C.A.T.
[2]
is 100% volunteer run by
amazing
people, and is totally devoted to the kitties — they make my animal-loving heart sooo happy!