My name is Karen, and it's true, I'm addicted to soup.
I'd get help, but ya know, I just don't wanna. I mean, it's soup. Who wants to be saved from soup?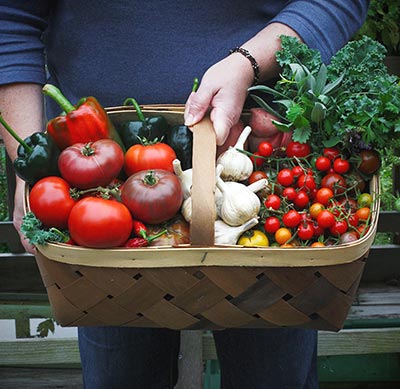 I'm a four-season vegetable and herb gardener, and seed-to-kitchen cook based in Cincinnati, Ohio. As a home cooking and gardening advocate, my recipes feature fresh, seasonal foods prepared with learnable techniques and reliable results. You'll find lots of soups, salads, and pasta dishes, many vegetarian or easily made meat-free.
An independent writer with 20 years of professional experience, I began my career in the tech sector, publishing articles on software and office automation, resulting in over 50 bylines in some of the best tech magazines and journals of the day. Over the last few years, I've transitioned to the food and gardening world, where I write about yummy food and how it gets from the ground to our tables.
I hope you enjoy this website and the recipes within. Want to get in touch? Drop me a note!
I'm active on social media, too — stay connected off-blog on Pinterest, Facebook, or Instagram (cooking) or Instagram (gardening).
I've worked with some of the top brands in the country, including Kroger, Target, Coca Cola, Tropicana, and Disney. My recipes are regularly featured in media outlets such The Today Show, Brit & Co., Buzzfeed, Fitness magazine, Better Homes & Gardens, House Beautiful, and The Kitchn. If you would like to collaborate on a tasty project, please contact me for my media kit and rate card.
Karen