Chili with bacon + mushrooms
As I type this, the winds are screeching around my house like a kindergarten class on a sugar high running from a swarm of bees. (Take a moment to soak in that imagery — I swear, that's what it sounds like, but I don't want to look out the window, in case sugared-up children are actually being chased by scary clowns, and, knowing thusly, I would be expected to rescue said children. But in the case of scary clowns, it's every woman for herself, man. Zombies, I'll grab up all-y'alls' kiddies and stab the undead in the forehead with my Shun chef's knife, but clowns, they're on their own.)
Every once in a while, the lights flicker, but hold (thankfully … thinking about my freezer full of summer preserves). Hard, crunchy leaves from the nearby mighty oak tree hit the west-facing windows with loud !PINGs! as they're ripped from their branches and hurled outward. Far and away, Superstorm Sandy is showing New Jersey and New York what hurricane hospitality is all about, and the wind storm here that is torturing the nerve endings of everyone in the household is rushing eastward to hook up with her, promising snow on Tuesday. It's a crazy night in the eastern half of the country.
And so, October makes a dramatic exit. And comfort food hits the menu, big time.
A cold, breezy Saturday called out for something stewy and spicy, like chili. Coincidentally, with the farmers' markets prepping to close down for the season here, it's time to stock up on both winter storage vegetables and local, grass-fed beef, pork, and poultry.
Now, I follow a mostly vegetarian diet — the only meat I ever crave is in the form of a really good smoked turkey sandwich (especially when smeared with Boursin and topped with a tangy cranberry sauce — hello, Thanksgiving leftovers!), but I do purchase meat and feel tons better about it when I know the animals were well-cared for, roamed grassy fields, and fed a proper animal diet. (Tyson, Perdue, Smithfield — no, thank you — they and their Big Ag ilk are why I went vegetarian to begin with).
I like all kinds of chili, truth be told — with beans, without beans, with tomatoes, without tomatoes, with or without chocolate and cinnamon, with beef, pork, turkey and/or chicken, and, of course, no meat at all. What I really wanted on Saturday was a great big mish-mash of flavors — a nice cut of fresh chuck, smoked bacon (both local), simmered with juicy cremini and porcini mushrooms.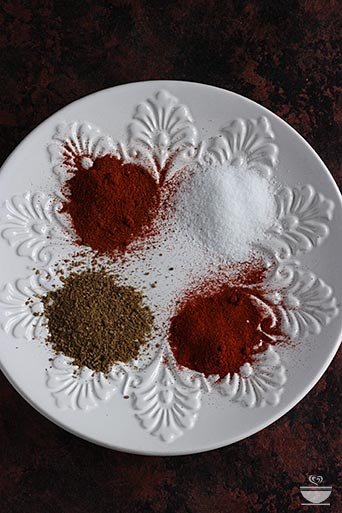 Aaanddd … the spices. "Chili" is not chili without spices. That's what "chili" means, dontcha know: chili, as in, chili pepper. No chili of mine leaves its pot without a big blop of homemade chili paste and frequent doses of ground spices. Chili paste is super easy: rehydrate a handful of your favorite dried chilies — I prefer smoky chilis, like guajillos and anchos and New Mexicos, over hot chilis — and blend 'em up in the blender with a bit of the chili water or tomato juice.
In the photo above, left, the chilis I used are (clockwise) guajillos (2), chipotles (2) and one big ancho. In the photo above, right, I mixed up a batch of sweet paprika, smoked paprika, cumin, and salt, and seasoned the chili throughout its two hour cooking time.
Between the chilis, the spices, the hint of bacon, and the super-savory-beefy mushrooms (which replaced 1/4th of the meat normally called for), this chili really hit the spot — flavorful and perfectly seasoned.
Karen xo