New Post!
July 13, 2015 1 Comment
I'm a turmeric convert. I say that with loads of caution, however, because I came from the era of the whole "fat is evil" disaster, where low-fat (but sugar- and additive-filled) eats became all the rage. Cautious, but optimistic, too, that that this wormy-looking, crazy-staining orange tuber has all the right stuff. … Read More...
Hello!
Welcome to SoupAddict, my little corner of the foodie world on the Interwebs. I'm Karen, and it's true, I'm addicted to soup. The seasons guide my cooking and eating, and when I'm not behind the stove, you can usually find me in my four-season vegetable garden.
More: •
About
•
Recipe Index
•
FAQs
Recent Recipes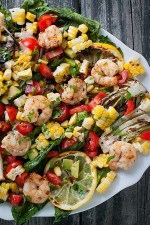 I didn't really appreciate greens until I started growing my own. Fresh greens are bright and … Read More...
When I was a full-time vegetarian, I never got too excited about recipes that were "vegetarianized." … Read More...
I'm getting so antsy for fresh vegetables and fruit, I can hardly stand it. It happens every spring … Read More...
I recently started reading The Blue Zones: Lessons for Living Longer From the People Who've Lived … Read More...
January and February is a manic time for vegetable gardeners (like me). A thick layer of snow still … Read More...
Hi Everyone! I hope-ity hope-hope that winter will start winding down with the turn of the month. … Read More...
Are you a tofu hater? I have a definitely a like/dislike relationship with tofu. Early on, my … Read More...
I had never thought to serve soup in a bread bowl until Panera came along. The first time I had its … Read More...
Along with chili and maybe bolognese, French onion soup ranks right up there with kitchen aromas … Read More...
Continue Exploring:
Who Loves Ramen!
I'm typing this with 4" of snow piled on the deck rail outside my window. Schools are closed, and … Read More...
As the season chills down (and boy, did it chill down — it was sleeting at the farmers' market on … Read More...
Let me just say this right at the start: the stir fry is genius. Truly genius. … Read More...
Summer is so full of vibrant color and flavors, it's hard to know where to turn first when grabbing … Read More...
A certain sit-down seafood restaurant chain that shall remain nameless ruined fried foods for me in … Read More...
With unofficial summer just weeks away, this is the time of year when eggs become a true mealtime … Read More...
When spring starts to creep in, pushing winter out, I get the most persistent cravings for … Read More...
I've recently re-fallen in love with ramen noodles. By the time I left that college staple behind — … Read More...