New Post!
January 26, 2015 4 Comments
The artisan food and beverage movement has created so many lovely businesses in my hometown, I can't keep count. Cincinnati has a deep and rich beer brewing history, thanks in large part to its German heritage: the brands Christian Moerlein, Hudepohl, and Weidemann, among others, began in Cincinnati. It's quite natural and fitting, I think, that we have a newly booming craft beer industry. Back in grad school, a fellow student even wrote his dissertation on the topic, and took a lot of ribbing for it (mostly because the rest of us were sequestered away in the library for days on end while he was out and about town on his "research" trips). But the paper was a beaut, and it rightfully earned him his Ph.D. It's not true winter in this Cincinnati household until the beer cheese soup gets made ... just in time for Super Bowl weekend at that. And not to begrudge the forefathers of the sudsy brew, but I'm happy to support the innovation and creative palates of today's young … Read More...
Hello!
Welcome to SoupAddict, my little corner of the foodie world on the Interwebs. I'm Karen, and it's true, I'm addicted to soup. The seasons guide my cooking and eating, and when I'm not behind the stove, you can usually find me in my four-season vegetable garden.
More: •
About
•
Recipe Index
•
FAQs
Recent Recipes
I knew this winter was going to be a tough one when my annual, knock-down-drag-out cold arrived in … Read More...
It's chili cook-off time here in Cincinnati. I don't compete, but the steady social media stream of … Read More...
Oh, boy. It's the Monday after New Year's, the day everyone targeted as the beginning of their, … Read More...
I'd like to end the year (or begin the year, depending on when you read this post) with some … Read More...
Hi Everyone! A quick post today, with an even quicker recipe. Plus, the spectacle of questionable … Read More...
No, your eyes aren't playing tricks on you: today's recipe sounds like a healthy dish, looks like a … Read More...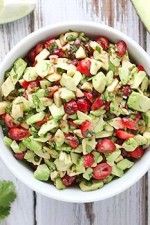 It's Salsa Time! A few days after the hullabaloo of Thanksgiving passed, I discovered a half … Read More...
It's been a while since I've mentioned my affection for food in bowls, so it's about time to bring … Read More...
I hope everyone had a lovely Thanksgiving day, and that you're rarin' to go into the holiday season! … Read More...
Continue Exploring:
Who Loves Ramen!
I'm typing this with 4" of snow piled on the deck rail outside my window. Schools are closed, and … Read More...
As the season chills down (and boy, did it chill down — it was sleeting at the farmers' market on … Read More...
Let me just say this right at the start: the stir fry is genius. Truly genius. … Read More...
Summer is so full of vibrant color and flavors, it's hard to know where to turn first when grabbing … Read More...
A certain sit-down seafood restaurant chain that shall remain nameless ruined fried foods for me in … Read More...
With unofficial summer just weeks away, this is the time of year when eggs become a true mealtime … Read More...
When spring starts to creep in, pushing winter out, I get the most persistent cravings for … Read More...
I've recently re-fallen in love with ramen noodles. By the time I left that college staple behind — … Read More...