New Post!
November 22, 2015 Leave a Comment
The El Niño weather system out west has been hard on some parts of the U.S., but exceedingly kind here on the eastern side of the Midwest. It's the end of November, and I'm still harvesting peppers from my container gardens, and my hardy culinary herbs are bright and beautiful, like it's mid-summer. We've had the occasional cold snap — and soup has been on the menu pretty consistently since October — but I can't say I'm quite ready for the heavy, squashy, saucy comfort food dishes that fill our winter meals. … Read More...
Hello!
Welcome to SoupAddict, my little corner of the foodie world on the Interwebs. I'm Karen, and it's true, I'm addicted to soup. The seasons guide my cooking and eating, and when I'm not behind the stove, you can usually find me in my four-season vegetable garden.
More: •
About
•
Recipe Index
•
FAQs
Recent Recipes
I added this Silician Chicken Soup pin to my Pinterest boards last week, and I haven't stopped … Read More...
It's pumpkin season (and pumpkin spice overload season), but I've done surprisingly little baking. … Read More...
It's almost October, and I'm still trying work myself up to start saying farewell to summer … Read More...
Tucked away on a corner of an active airport is one of Cincinnati's oldest — and definitely most … Read More...
Jalapeños are one of my favorite chili peppers to grow — they produce a bumper crop every year that … Read More...
For living in a landlocked flyover state, I consider myself pretty lucky on the food front. Our wet … Read More...
Summer vegetables have been so delicious this year, haven't they? Simplicity is the rule of the day, … Read More...
I'm a turmeric convert. I say that with loads of caution, however, because I came from the era of … Read More...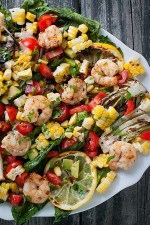 I didn't really appreciate greens until I started growing my own. Fresh greens are bright and … Read More...
Continue Exploring:
Who Loves Ramen!
I'm typing this with 4" of snow piled on the deck rail outside my window. Schools are closed, and … Read More...
As the season chills down (and boy, did it chill down — it was sleeting at the farmers' market on … Read More...
Let me just say this right at the start: the stir fry is genius. Truly genius. … Read More...
Summer is so full of vibrant color and flavors, it's hard to know where to turn first when grabbing … Read More...
A certain sit-down seafood restaurant chain that shall remain nameless ruined fried foods for me in … Read More...
With unofficial summer just weeks away, this is the time of year when eggs become a true mealtime … Read More...
When spring starts to creep in, pushing winter out, I get the most persistent cravings for … Read More...
I've recently re-fallen in love with ramen noodles. By the time I left that college staple behind — … Read More...