This series will help cooks learn how to make great soup at home without a culinary education or a huge pantry or expensive equipment. The secret is to master layering flavors, and my series will thoroughly examine and explain these elements, breaking them down into usable details. Happy soup-making!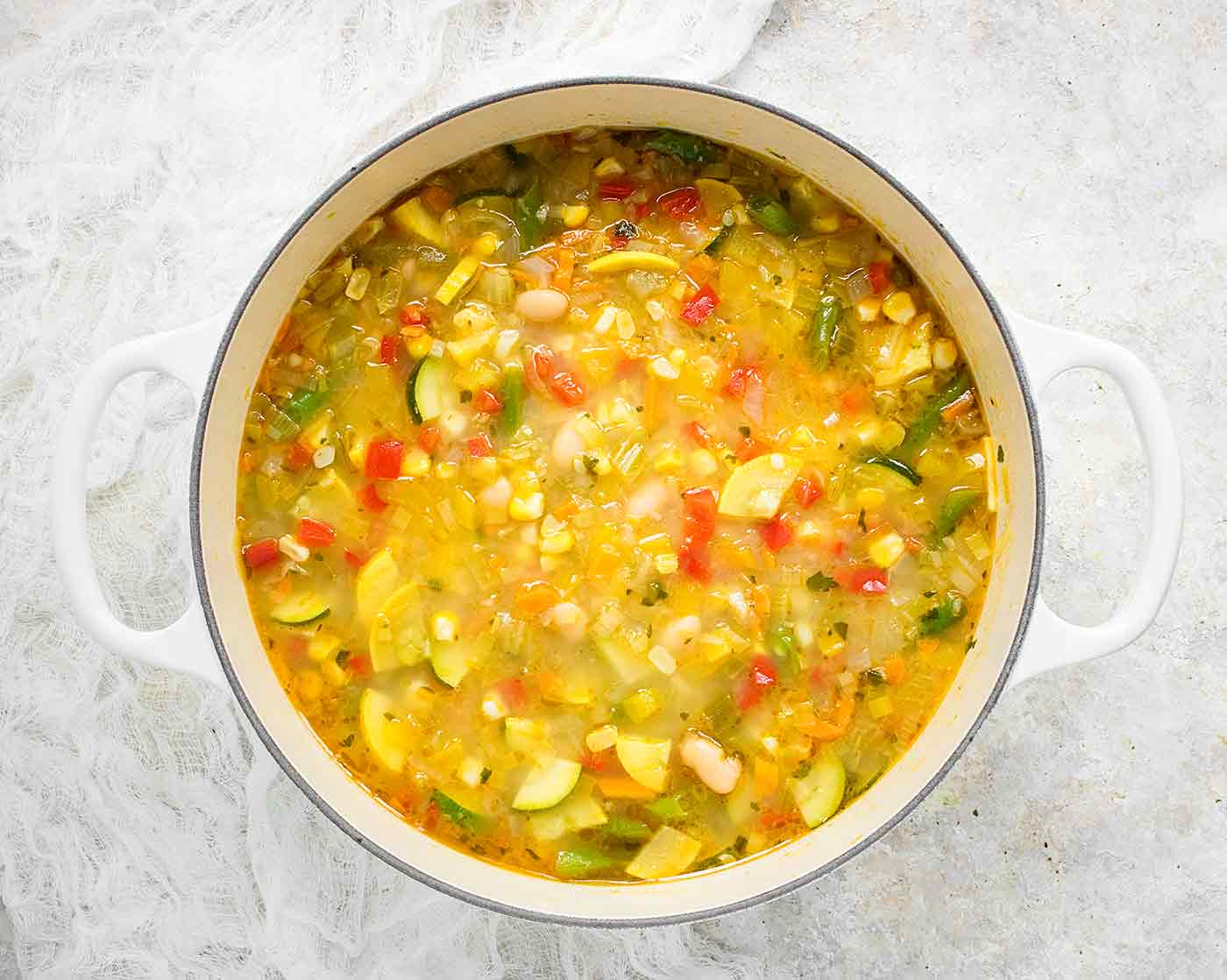 The beautiful thing about soup — and why it's the world's most perfect food — is that it can be whatever you want it to be: easy, complex, fast or an afternoon project, light, comforting, thick, brothy, smooth, chunky, cold, hot.
Cooked on the stove, in the oven, in a slow cooker, in the pressure cooker. Simmered for hours or made on the run.
Whatever you're in the mood for, whatever shape dinner needs to take, soup will come through for you. I've made literally thousands of pots of soups — starting from a wee beginner with my mom to soup-addicted adult expert — and am excited to share the tricks of the trade to help you make great soup every time!
This is a six-part series that reveals the secrets for leveling up your soup-making and creative mastery of flavors and textures. Each section thoroughly covers everything you need to know, and how to apply to it your soup-making:
Aromatic Vegetables – the foundational flavors of almost all soups, these vegetables are sauteed in liquid early in the cook to extract their flavors and create a savory base for the rest of the soup. Learn all about the wide variety of options and how to best release their magic into the soup.
Umami – flavor enhancers that make your soups pop. It's probably safe to say that most cooks have created a soup that smelled absolutely intoxicating … but then tasted disappointingly bland. Umami ingredients are part of the flavor layering that makes a really great soup stand out.
Stocks and Broths – the liquid base you use in your soup sets the overall tone for flavor. Learn all about the differences between flavors, as well as stocks vs. broths vs. bouillon.
Fat & Acid

– although they're often "last minute" ingredients, fats and acids, such as butter & cream, vinegar & lemon juice, are important texture and flavor enhancers. Fats add a creamy richness to a soup, even when used in small amounts (such as a pat of butter on top at the end of cooking). Acids add flavor punch, as their sour sharpness counterbalance and brighten the overall palate of the soup. Sometimes all a bland vegetable soup needs is a quick pour of apple cider vinegar or a squeeze of lemon to turn things around.

Seasonings – This goes way beyond simple salt and pepper. From herbs and spices to special blends, learn which seasonings do what, how and when to add them to your soup for maximum flavor, and how to stock your pantry for great soup any time.
Texture – The texture of your soup is every bit as important as any flavor-focused ingredient in the recipe. Whether smooth or chunky, thick or brothy, or somewhere in between, texture enhances the eating experience of the soup. Learn how to control it.
Goals for This Series
As an avid cook and food blogger, I spend a lot of time researching, planning, and coming up with original recipes — or unique twists on the classics — and testing them. It's fantastic fun, but it's not the only kind of cooking that I do.
I also cook to feed people, just like you do. And sometimes that means that I turn to soup recipes that others have created and shared with the world.
Whether you're creating your own recipe, tweaking someone else's — or opening a can of commercial soup that could use some finessing, for that matter — you'll benefit from knowing how to layer flavors and control texture.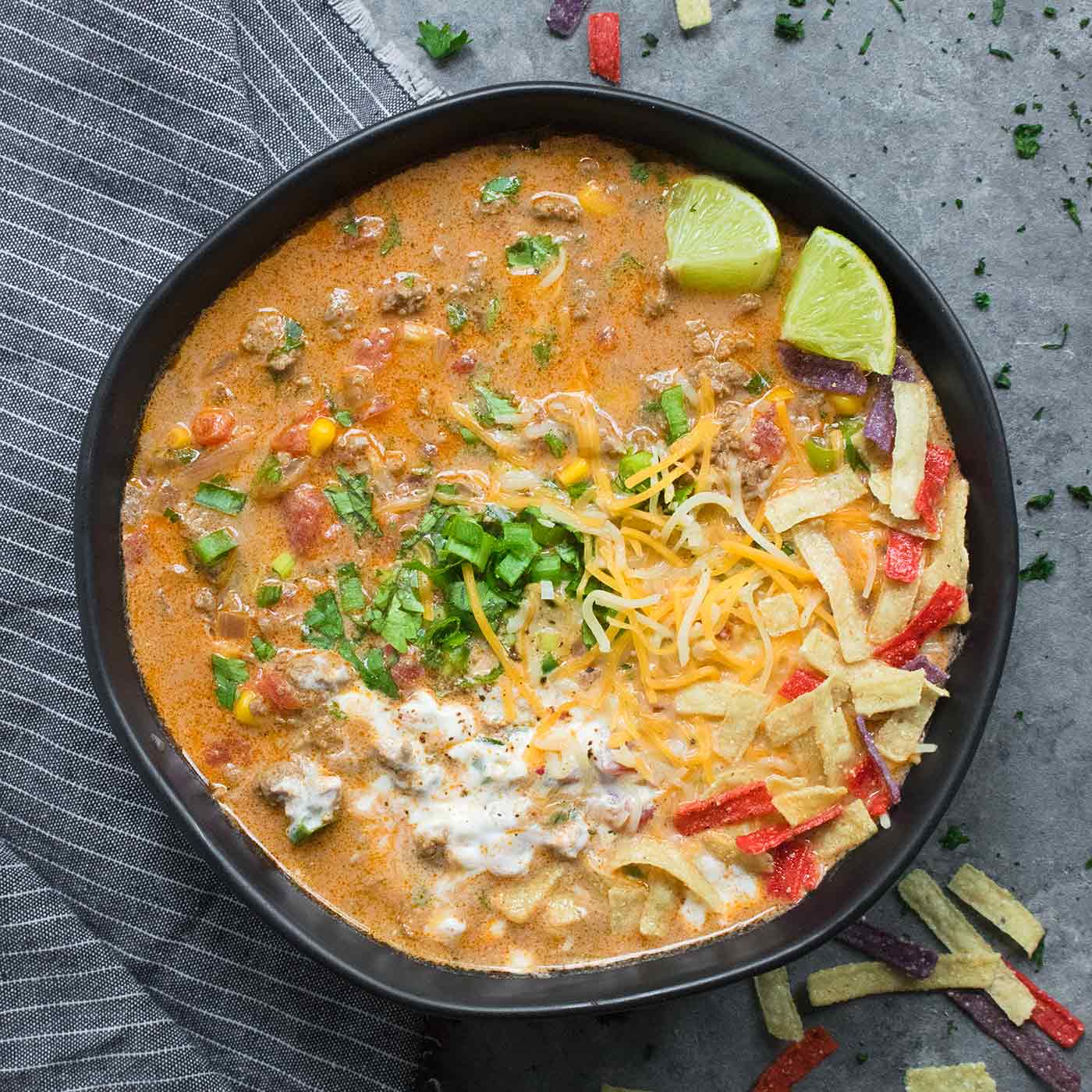 Goal #1: Creating Your Own Soup Recipes
This is actually a little more challenging than it sounds. Not the actual cooking itself, but when you're new to it, sometimes things don't always turn out the way you planned. No need to be embarrassed; we all started there!
Probably the biggest mistake that cooks make is under- or over-salting their soup. I'll go into lots of detail about this in the Seasoning section, but have you ever noticed how most commercial cans of brothy soup (say, chicken and rice) leave that almost electrified sensation on the sides of your tongue and throat?
That's over-salting. Unfortunately, brands turn to salt to economically boost the flavors in their otherwise ingredient-lite soups (there's never enough chicken or pasta, right?).
And on the flip side, we've probably all made disappointingly bland soups that weren't salted nearly enough. The truth is that while salt plays a highly useful role in seasoning soups, it's not the only flavoring option.
If it were, your soups would end up tasting like the big brands' canned soups. This is why a solid knowledge of the full array of soup flavors will take your soup-making to professional levels.
Goal #2: Tweaking Any Soup Recipe to Suit Your Own Tastes
As a food blogger, my goal is to present soup recipes that are good to go as is. But if you're anything like me, you can't help but put your own fingerprint on a recipe.
And this is completely understandable: you know your own tastes and your family's preferences! I'm thrilled when someone leaves a comment to say that they took a different path to the recipe's end and came up with something they love.
That's the joy of being a cooking educator: the goal is to send cooks out into the world, armed with the knowledge and confidence to create dishes they'll make again and again.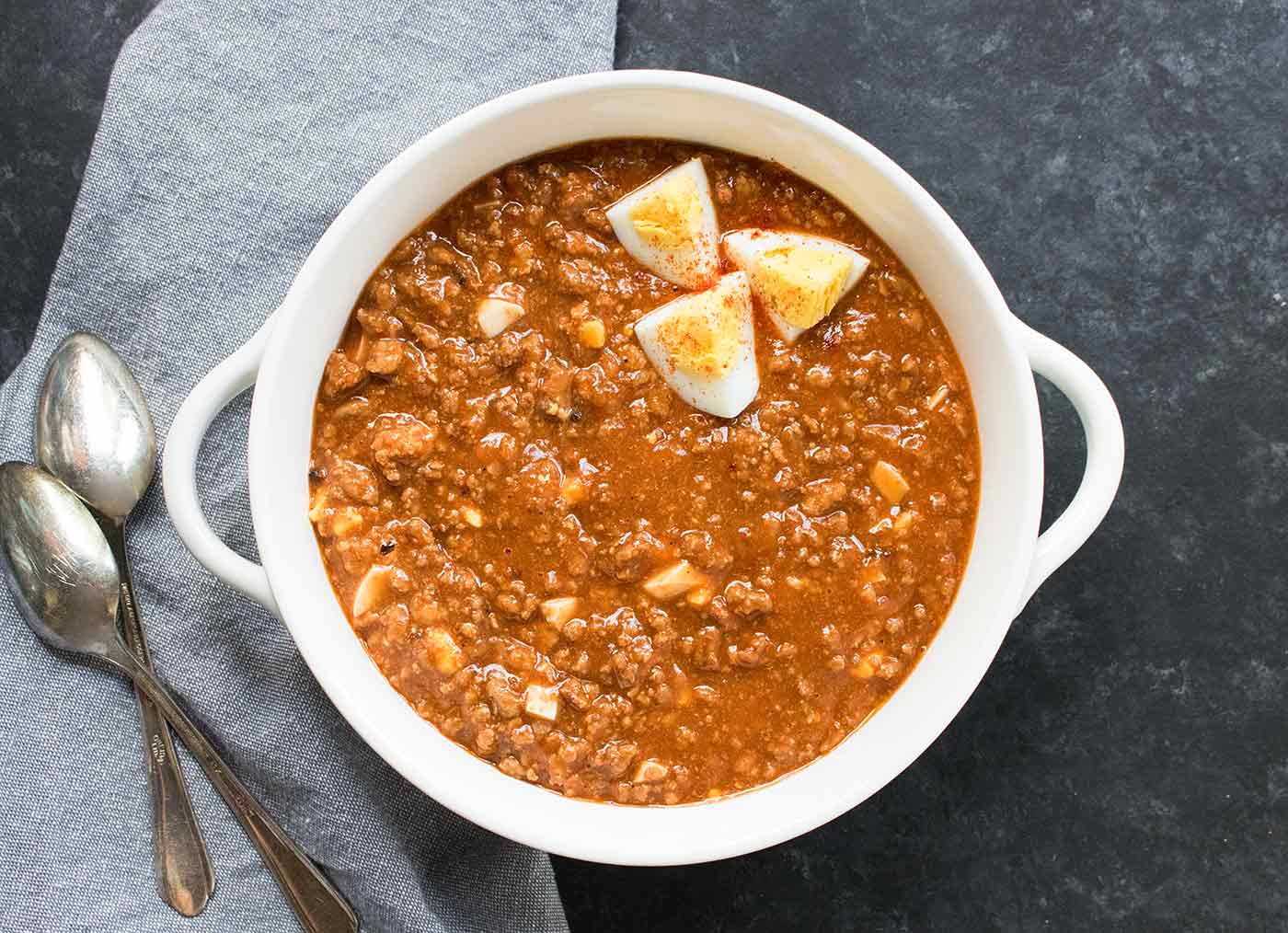 Learning these tips and techniques will help you do just that: make great soup, every time!
This series begins with Aromatics — the foundational layer of great soups, the ingredients that set up a flavorful base upon which to build your soup masterpiece.
I'll be rolling out this series over the next several weeks! Let's get started!