Looking for an elegant vegan meal for Meatless Monday? Try pan-seared tofu with avocado pomegranate salsa.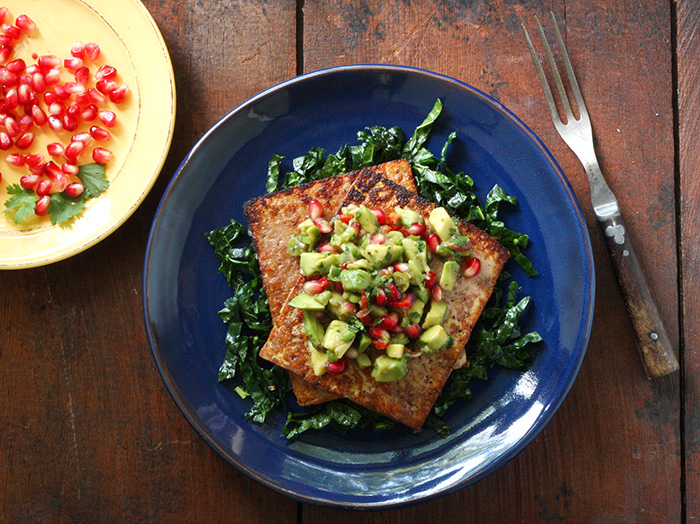 Are you a tofu hater? I have a definitely a like/dislike relationship with tofu. Early on, my first experience was with the soft, silken stuff, and wow, did I have a texture reaction to it. Yeeeuck. I couldn't get a grip what it was supposed to be — it wasn't Greek yogurt, it wasn't scrambled eggs. It was … yeeuck.
But then, thanks to the interwebs, I learned about extra firm tofu and how to cook the stuff so it's nice and firm and crispy. And that squeezing the tofu block to dry it out first, and then marinating it in something yummy makes all the difference.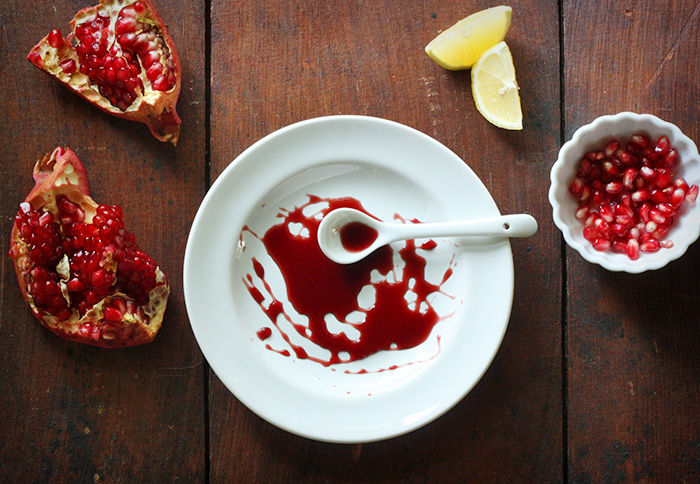 Speaking of yummy things: it's still pomegranate season (thank goodness). If you haven't tried pomegranate molasses, now's your chance. If you're lucky, you can find it jarred. But, if you're not (like me), at least it's super easy to make at home. It's sweet and tangy — the best of pomegranate essence (and it lasts a long time in the fridge).
The tofu pieces are marinated in the pomegranate molasses, and then quickly pan seared to crispy goodness. No weird texture problems there.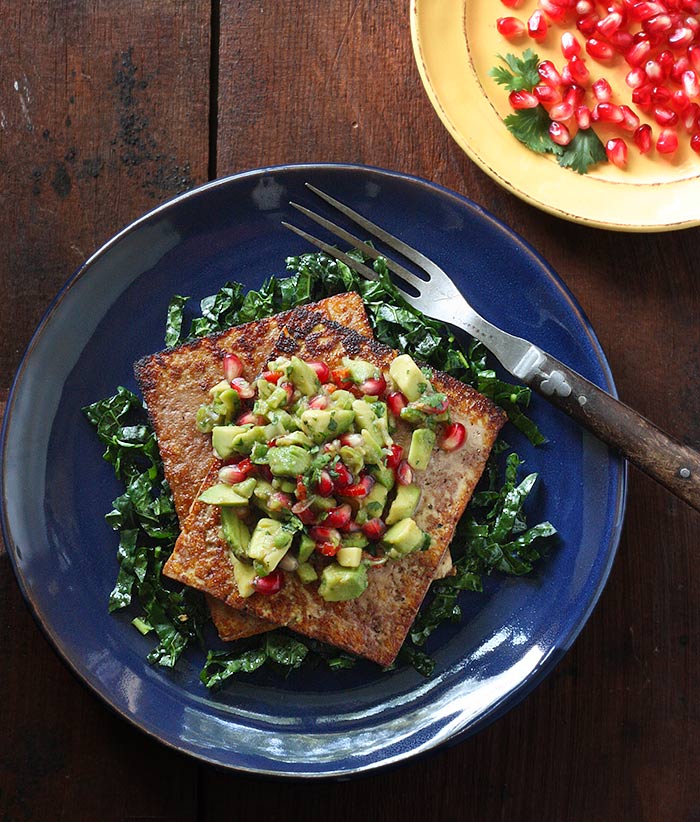 Finally, there's the avocado pomegranate salsa. Similar to my cranberry avocado salsa from December, pomegranate ariels add a unique, sweet-tart flavor that complements the creamy-rich avocado so well. Jalapeño peppers add a pop of spice (and a more than a little longing for summer, but I digress). All in all, a very delicious winter alternative to tomato salsa.
Karen xo
In 2017, I'll be donating a portion of SoupAddict's income each month to a non-profit whose works speak to my heart. April's proceeds will go to
La Soupe
, a Cincinnati non-profit working to relieve childhood hunger and tackle food waste in one swoop, using
soup
as the foundation for both. Founder and chef — and recent Jefferson Award winner — Suzy DeYoung has connected our city's best chefs and their kitchens with grocery store produce turnover — perfectly good fruits and vegetables that simply must be moved off the shelves — and the result is delicious, healthy soup that goes right into the bellies of our city's underfed children through schools and relief organizations. This summer, La Soupe is fundraising for their
Ladle Campaign
, which will provide a much-needed facility expansion to broaden their vegetable intake and sorting operations.
Learn more about their inspirational work
and
listen to Suzy
tell the story of La Soupe.
Pan Seared Tofu with Avocado Pomegranate Salsa
Tofu is best when you can squeeze as much liquid from it as possible, and give it plenty of time to marinade. If you can, prep the tofu the day before.
Ingredients
for the tofu
16 ounces extra firm tofu
1/4 cup freshly squeezed lemon juice
3 tablespoons. extra-virgin olive oil
1 tablespoon pomegranate molasses
Kosher salt and freshly ground black pepper
for the salsa
1 large lemon
seeds (ariels) from 1/2 of a medium pomegranate
2 small scallions, white and light-green parts only, thinly sliced
2 medium firm-ripe avocados (6 to 7 oz. each), pitted, peeled, and cut into 1/4-inch dice
2 tablespoons extra-virgin olive oil
2 teaspoons chopped fresh flat-leaf parsley
1 teaspoons finely diced seeded jalapeño (ribs and seeds removed)
1 teaspoon pomegranate molasses
Kosher salt
6 to 7 large leaves kale, massaged, and torn into chunks (optional, for serving)
Instructions
Squeeze as much liquid from the tofu as you can (if you have time, wrap the block with a thick pad of paper towels, place in a shallow dish and weight with something flat and heavy, like a small cast iron pan - leave for at least an hour).
Stand the block on end and, using a thin, very sharp paring knife, slice into 4 thin slabs.
Whisk together the lemon juice, olive oil, pomegranate molasses, salt and pepper, and pour into a shallow dish. Add the tofu slices, coating all sides with the marinade. Let soak at least an hour in the fridge (up to overnight).
Meanwhile, make the salsa. Finely grate the zest from the lemon and then squeeze 1 tablespoon of juice into a bowl. Add the pomegranate ariels, scallions, avocado, olive oil, parsley, jalapeño, pomegranate molasses, and 1/2 teaspoon salt. Fold gently with a rubber spatula. Season to taste with more salt.
Lightly coat the bottom of large skillet with oil, and heat over medium until the oil shimmers. Add the tofu and cook on both sides until well-seared and lightly golden.
To serve, line 2 plates with a thin layer of massaged kale. Arrange 2 pieces of the tofu on the kale, and spoon the avocado pomengranate salsa on top. (For 4 appetizer-sized portions, use one piece of tofu per plate.)
adapted from finecooking.com