Bright and cheery mixed oranges, pomegranate ariels, avocados, and creamy burrata top this winter citrus salad.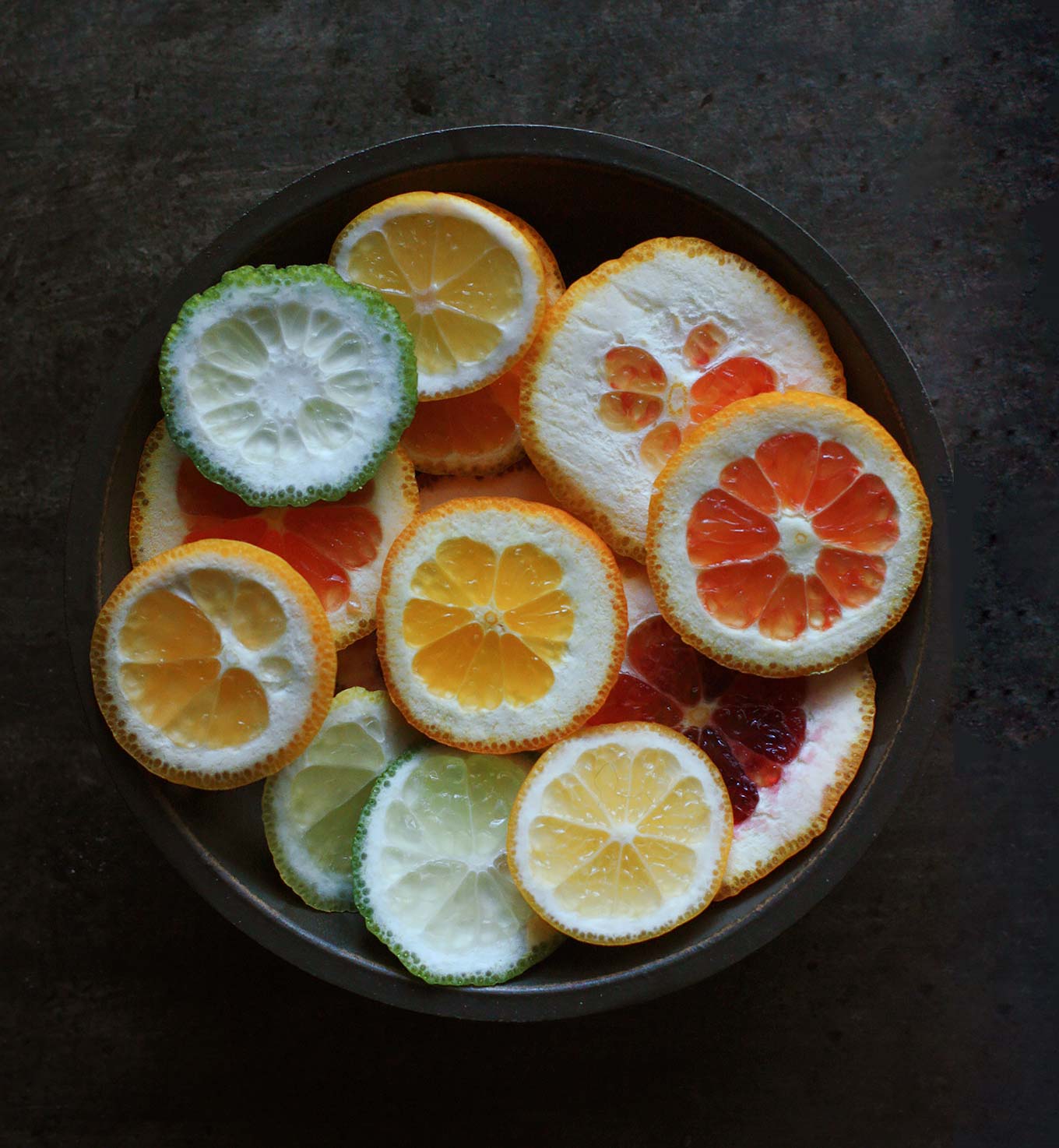 Winter can be a challenging time for this summer girl. If anyone were a candidate for seasonal affective disorder, it's me. All the gloom. And if it were possible (or reasonable) for humans to hibernate like bears, I'd be all over that. Toodles, January. Hello, mid-March.
I'm sure a good deal of it is because of my passion for gardening, and watching my garden crushes — sweet, sweet tomatoes — ripen so perfectly under the hot summer sun. I have a winter garden that (miraculously, in my view) produces lovely soup staples such as carrots, kale, leeks, parsnips, and thyme, but, ya know, it's not the same. Fetching carrots — which are somehow super sweet, even in the dead of February — usually means lacing up the snow boots, snatching a long-bladed hand shovel from the shed, and trudging out in the yard to free a long root from the rock-hard ground.
Not the same.
But merciful Mother Nature has seen fit to throw people like me a bone. It might be cloudy and dreary most hours, month after month, but when I stroll through the produce aisle at the grocery store and see those magical pyramids of citrus, beaming in all shades of yellow and orange and green like shining beacons of summer hope, well, even I, the original winter grump, get a little skip in my step.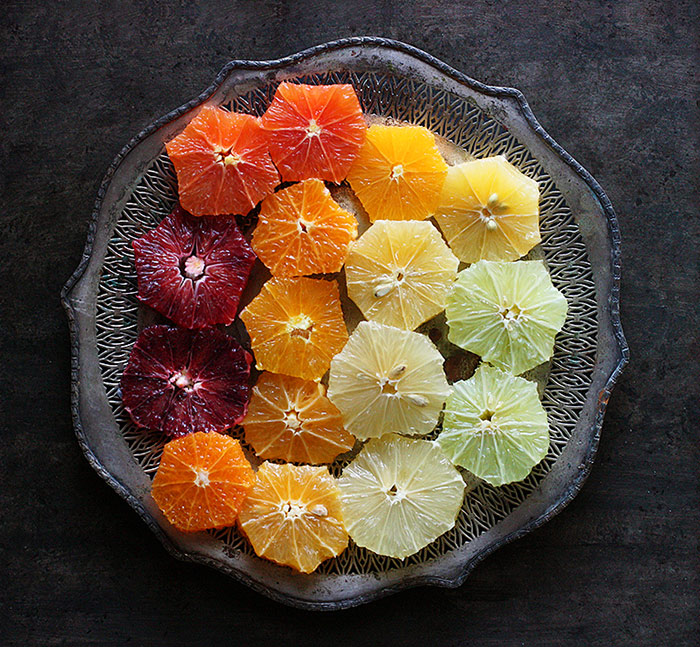 Citrus makes me so happy.
Lemons and limes. Cara Cara oranges. Grisly-named but super tasty blood oranges. Wonderfully peelable ugli fruit (a grapefruit/orange/tangerine hybrid that has bumpy green and yellow skin, but a peachy pink interior with a sweet grapefruit flavor). And my favorites, the sumo mandarins with their little Buddha bellies.
And when you slice open these beauties and release their bright fragrances … it's like summer in the kitchen, no matter the weather outside.
In a season of brown foods, citrus is a gift to summer people like me. And gifts to all of us, really, as they're loaded with vitamins that keep our immune systems as strong as possible during cold and flu season. Mother Nature is one smart cookie.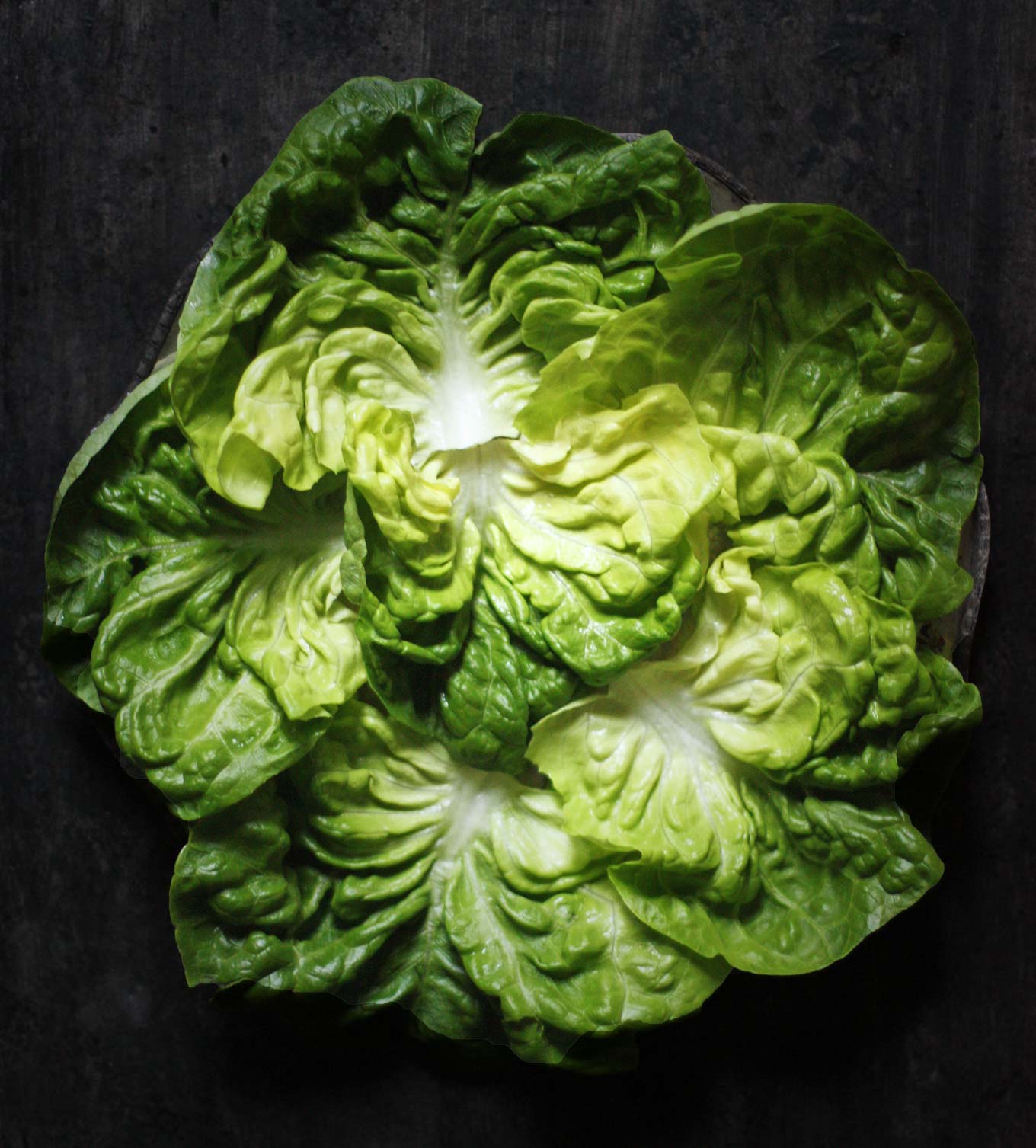 Citrus lives happily in many recipes, but perhaps my favorite – aside from eating them right out of hand – is in a simple winter citrus salad. Here, I've combined my favorite oranges and Boston lettuce (so pretty in its ombré greenness) with pomegranate ariels (for a crunchy burst of sweet-tart), avocados for yummy smoothness, and burrata, which is just irresistible anyway you look at it. It's a visually beautiful salad that positively shoos away the dark winter blahs.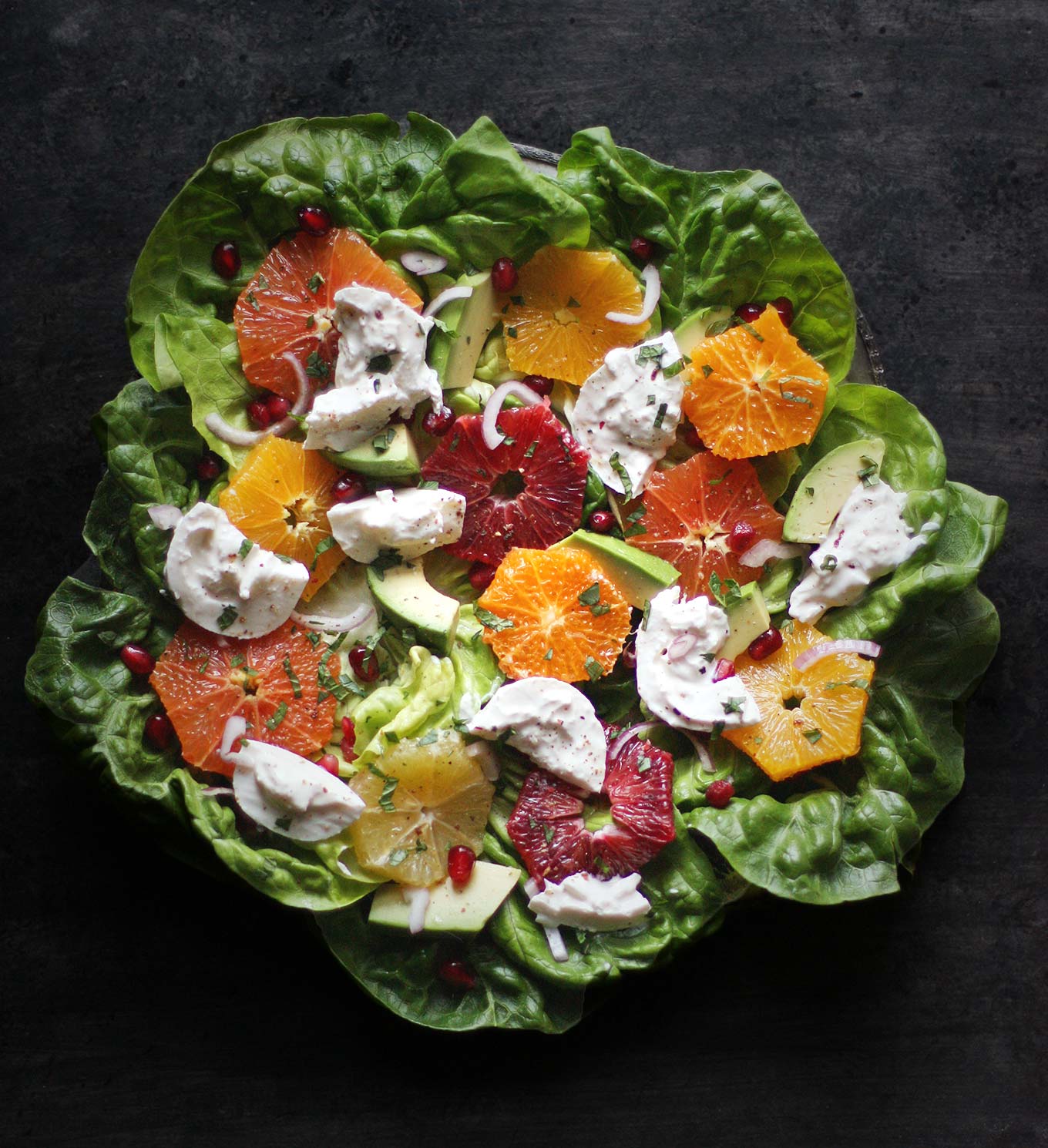 Top with a light citrus vinaigrette (or, for extra rich flavor, a nice poppyseed dressing), and pair the salad with a carrot ginger soup for a lovely meal that makes you believe that summer is really, truly possible.
Karen xo
In 2017, I'll be donating a portion of SoupAddict's income each month to a non-profit whose works speak to my heart. April's proceeds will go to
La Soupe
, a Cincinnati non-profit working to relieve childhood hunger and tackle food waste in one swoop, using
soup
as the foundation for both. Founder and chef — and recent Jefferson Award winner — Suzy DeYoung has connected our city's best chefs and their kitchens with grocery store produce turnover — perfectly good fruits and vegetables that simply must be moved off the shelves — and the result is delicious, healthy soup that goes right into the bellies of our city's underfed children through schools and relief organizations. This summer, La Soupe is fundraising for their
Ladle Campaign
, which will provide a much-needed facility expansion to broaden their vegetable intake and sorting operations.
Learn more about their inspirational work
and
listen to Suzy
tell the story of La Soupe.
Winter Citrus Salad with Burrata
Ingredients
for the orange honey vinaigrette
2 tablespoons orange juice
1 tablespoon honey
1 tablespoon white wine vinegar
1 tablespoon extra virgin olive oil
1 teaspoon dijon mustard
1 teaspoon minced fresh tarragon
fine sea salt
for the salad
1 head Boston lettuce, leaves separated (and chopped, optional)
4 to 5 oranges, peeled and sliced (for color, use a variety: blood orange, cara cara, honeybell, minneola, navel)
1 avocado, sliced
2 tablespoons pomengranate seeds
1 tablespoon sliced shallot
1 burrata ball, sliced
2 teaspoons minced fresh tarragon
2 teaspoons minced fresh mint
Instructions
prepare the vinaigrette
Combine the juice, honey, vinegar, olive oil, mustard, tarragon, and 1/4 teaspoon salt in a large with a tight fitting lid. Shake until thoroughly combined. Taste and add more salt as necessary. Set aside.
prepare the salad
Spread the leaves on a platter or in a bowl. Layer with orange and avocado slices. Spread pomegranate seeds and shallot slices over the salad. Arrange the burrata on top, taking care to keep the cream with the slices. Sprinkle the herbs over the salad, and dress with the orange honey vinaigrette before serving.