People, it's supposed to reach 95°F this weekend here in the Ohio Valley. And not just for one freaky day, but 90's for the entire long weekend.
Makes me swoon.
And it means that I'll be out in the garden Saturday morning pulling radishes and picking sugar snaps for freezing, just in case the weather signals the premature end to the spring garden (the arugula is already beginning to bolt). It could also bring an abrupt end to strawberry season, so I'll be buying extra this weekend.
Last weekend was a wild whirlwind of cooking and baking. A four-day break from work had me moving between garden and kitchen all day long. The weather was perfect every day, and I got sunburned in all those tender spots (back of the neck, behind the knees, tops of the feet).
It's a joy to catch up on bookmarked recipes — so many things out there I want to try, but there never seems to be enough time to get to them. I have a pastry recipe to share with you next week that … omg … I have fallen head-over-heals in love with. It's no run-of-the-mill pastry, either. It's Moroccan and it's crazy wonderful and … well, you'll see. 🙂
Today, I have other things to share. Not just the sparkly spritzers, but also almond milk and scones and the most amazing strawberry jam. These are recipes I normally wouldn't blog about because they've already been done (and done well) by others. But I wanted you to see how awesome they turned out. Sunday brunch was delicious!
And it all starts with Spring's darling, the strawberry.
I'll be doing mostly small batch canning this year, thanks to tips from foodinjars.com. Although I love the result, the actual doing of the canning is a fairly miserable experience. At the height of summer heat, you're running all burners on the stove on High with multiple pots (ridiculously huge pots, at that) of liquids boiling away, steaming all the windows in an already unbearable kitchen.
I feel wilted just thinking about it.
But this summer the plan will be to divide and conquer: one or two pints of tomato sauce at a time sounds like a winner to me, and with my little 4th burner pot
(shown in the picture above next to the strawberries), I will be able to can whenever there's just enough produce to fill a pint or half pint jar, instead waiting for a large harvest. (And, honestly, I think this will bring back some of the fun of canning. The strawberry jam experience was entirely enjoyable — and the house smelled amazing.)
I've been wanting to make homemade almond milk for ages, but just kept forgetting to soak the almonds. It became a vicious circle: forgot the almonds, so buy almond milk at the store. Now must use up store-bought almond milk. Out of almond milk, but forgot to the soak the almonds again. Sigh. But Jupiter finally aligned with Mars and lo and behold, I had homemade almond milk.
And the result: amazing, wonderful. A little honey, a little vanilla. It's the cat's meow. (Thanks, Cher! You're the cat's meow, too.)
Now, as for those scones … I've said before, I'm a bit addicted to scones these days — I adore their crumbly texture, savory-sweetness and endless variations. And right in the middle of it all, my friend at writes4food.com posts a recipe for scones containing some of my favorite baking ingredients in the world: almonds, oats and buttermilk. There was no question it was going to happen, and when I unloaded my haul of jam-earmarked strawberries on Saturday, it became clear that the when was right now. Topped with a little jam, it was the kind of thing you take in small bites because you just don't want it to end.
Here are the links to the recipes for these yummies:
Small Batch Strawberry Vanilla Jam
Almond Milk
Almond Oat Buttermilk Scones
And now, on to strawberries with alcohol…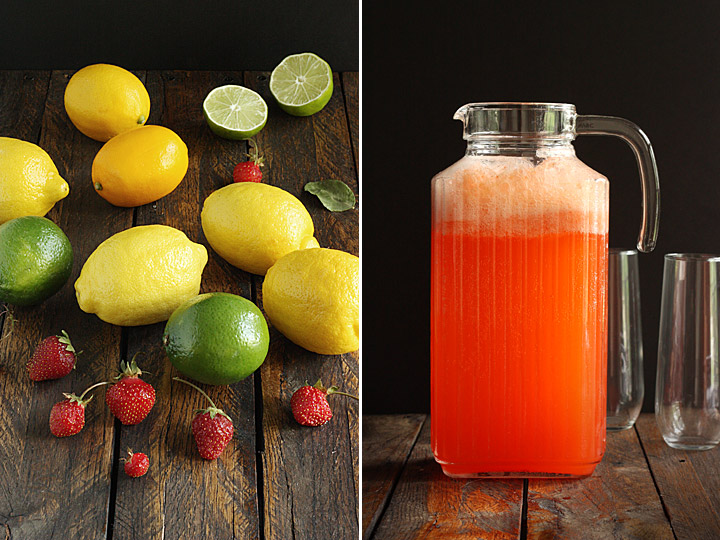 This recipe nearly became spritzer-free. The bottle of seltzer water had been sitting on the floor for days, undisturbed. I picked it up, wedged it under my left arm … and twisted the cap.
Holy Mt. Vesuvius.
The question of whether the seltzer was flat was answered. With force majeure.
Luckily, it was a two liter, otherwise I'd be ringing out the floor mop over the pitcher to get the three measly cups.
Anyhoo … happily, this recipe makes about a quart and keeps fairly well in the fridge (although perhaps with decreasing fizz). The seltzer clean-up was a long affair (it. got. every. where.) and a little spiky refreshment was just the ticket at the end of it all.
I'll be trying this again over the holiday weekend with light rum (and a towel held over the seltzer bottle cap).
Karen xo
Spiked Strawberry Limonade Spritzers
Ingredients:
1 cup sugar
1 cup water
1 heaping cup strawberries, hulled and chopped (measure after chopping)
1 cup freshly squeezed lemon juice (from 4 to 5 lemons)
1/2 cup freshly squeezed lime juice (from 2 to 3 limes)
1 cup vodka (more or less, to your preferred level of spikiness)
3 cups cold seltzer water
Instructions:
1. Make a simple syrup by bringing the sugar and 1 cup (plain) water to a boil in a small pot. Stir until the sugar is dissolved. Remove from heat and allow to cool.
2. Add the strawberries, cooled simple syrup, juices, and vodka to a blender and process on high until smooth. Pour through a fine-mesh strainer to catch the strawberry seeds.
3. Stir together the strawberry limonade puree and cold seltzer water in a large pitcher. Serve immediately, neat or over crushed ice.