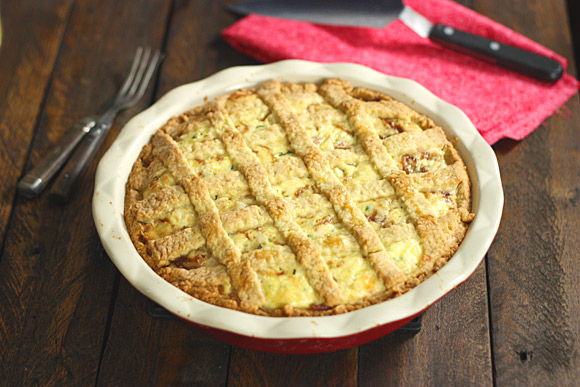 Every once in a while, life hands you a reminder that you're just not all that. My reminder usually comes in the form of karmic revenge — a topic not for this post (nor this blog) — but now and then, it jumps me in the kitchen.
I have more knife scars than I can count (no doubt in payment for my knife-skills pride). And just when I become emotionally attached to a kitchen tool — usually a spatula or scraper — I manage to burn or melt the handle (totally true – I have an entire collection).
So, when the recipe for pizza rustica came on the schedule for Tuesdays with Dorie, I wasn't worried in the least. Pie dough, simple, cheesy fillings with a little prosciutto, made fluffy with eggs. Piece of cake. Er, pie. Pizza pie.
Anyway.
I should've known something was coming. The Universe loves a good blind-sided smack-down.
But first, here's the thing that did go right — really, really right: the ricotta for the filling.
Homemade herb ricotta. Sweet holy moly, this stuff is heaven on a cracker.
If it looks good enough to eat with a spoon, that's because it is. You know, theoretically. Not that I've actually tried it that way. No, sir. Not straight out of the bowl. With a spoon.
Nor did I make extra just so I could do that. Uh. Uh. No.
(Full recipe and technique tomorrow!)
Now, this pizza thing wasn't a full-on disaster, but the photo above does show the source of the day's headache: the dough. OMG, the dough (back-of-hand to forehead, swoon).
It came together beautifully. It chilled beautifully. And then it turned on me.
Or, to be accurate about it, the weather turned on me.
You've heard me prattle on and on about our warm Spring. Really warm Spring. A week's worth of days in the 80's. Including the weekend I made this recipe.
Hot and muggy days mean air conditioning. But it's March, people! There shouldn't have to be air conditioning in March in Ohio. Last year at this time, there was still snow on the ground, fer pete's sake. I was just not going to do it, even though the kitchen was edging up towards 85°F.
Fast forward to rolling out the dough. Man, disaster. The dough practically melted on the board. Actually, the word I really want to use is curdled. See how pebbly rough the dough pieces are? The lattice strips were even worse.
Dinner late, if not ruined. Sigh. The dough needed frequent rechilling in my jungle kitchen, but there just wasn't time. I had to power on.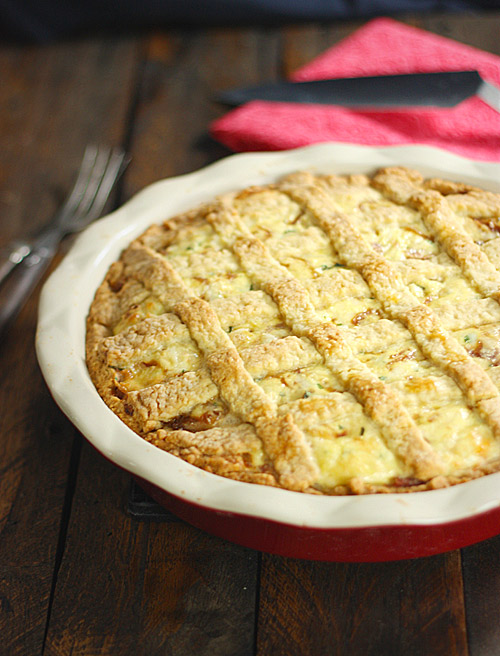 Shockingly, the thing actually baked up halfway decent. The pieced-together dough hunkered down and fused together in the heat of the oven, and still managed to come out light and flaky.
I'd say that's a pretty amazing pie dough. The pizza itself was a bit on the quichey side because of the eggs, but all around quite tasty.
Next time, when the kitchen hits the mid-80's, I'm turning on the air conditioning, dammit. I don't care if it's the middle of winter.
No sense tempting the Universe again with an obvious "duh."
(And the ricotta? The best part of the whole thing, by far. Oh! And I totally keep forgetting: I added red wine onion jam to the mixture. No way I was going to do this dish without onions, so I caramelized them on a whim.)
This post is part of Tuesdays with Dorie, an online baking group working its way through "Baking with Julia," by Dorie Greenspan. The pizza rustica project is hosted this week by Emily of Capital Region Dining Blog and Raelynn of The Place They Call Home. You'll find the full recipe and instructions on their sites. Also check out Tuesdays with Dorie to see how the other bakers' quichey creations turned out.