An amazing appetizer, figs prosciutto is sweet, salty, and smoky, all in one bite.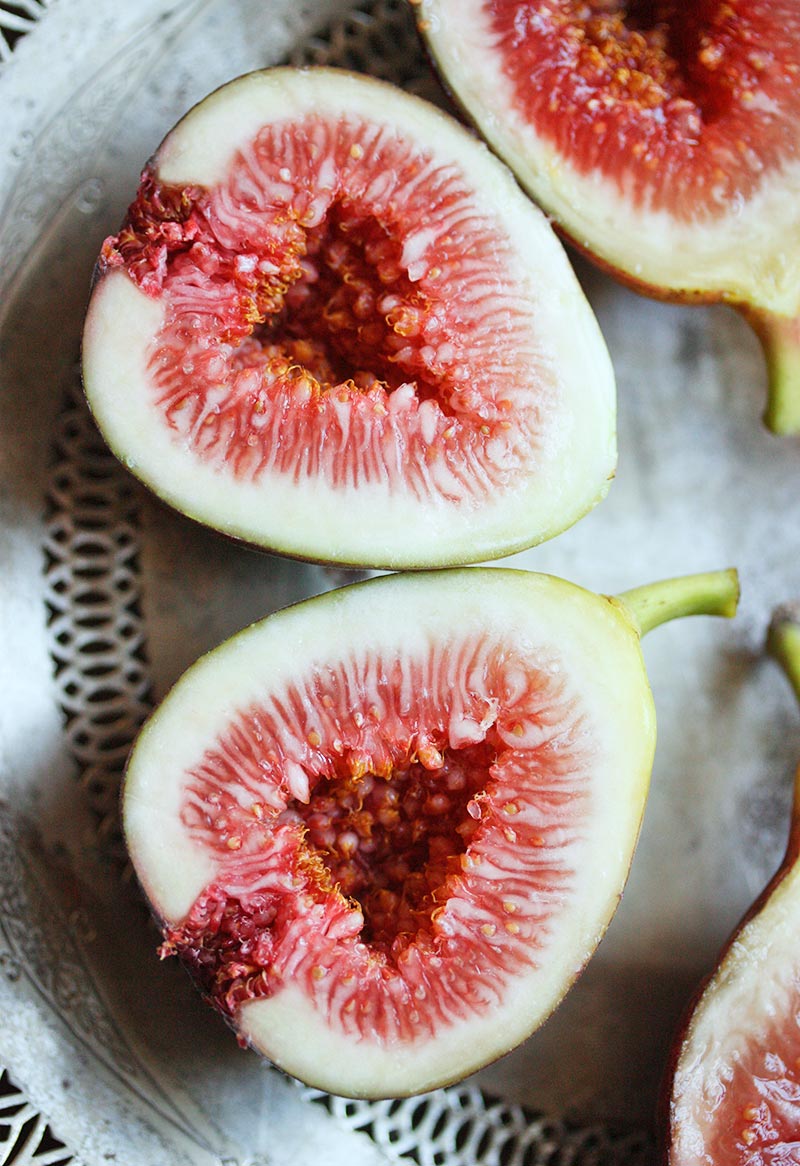 Awkward foodie confession time, guys: I've never had a fresh fig before. That's right. If you were wondering who in the U.S., south of the wild Alaskan tundra, could possibly have never tasted a fresh fig before October 2012, well, that would be moi.
Dried figs, you bet. Fresh, not so much.
It's not for a lack of wanting, believe me. They're really, really hard to find in my area. Not even my Kroger — which regularly stocks Asian rambutans and dragon fruit, fer cryin' out loud — does not carry good old American fresh figs.
Every now and then, some "friend" will tell me, 'oh, hey, so-and-so has fresh figs,' and I will drop everything, shove old ladies and strollers the hell out of my way, outrun the coppers in my zippy Cougar, and blast through the front doors of whatever store is rumored to have them, squealing and arm-waving, only to find (a) no figs, and (b) no sign that there ever were figs (i.e., not even an empty slot in the produce aisle).
(After a while, one must start to suspect that the peeps are messing with her for the sheer entertainment value of it all.)
So, gobsmacked was I, strolling the farmers' market just 5 minutes from my house, minding my own beeswax with spaghetti squash and decorative gourds in tow, when I came across a table lined with Black Mission figs. In the flesh, so to speak. Honest to goodness fresh figs, picked that morning, dark purple tinged with green.
I just knew that people in Ohio had to be holding out on me, growing figs on their property and not sharing. I knew it!
I lunged.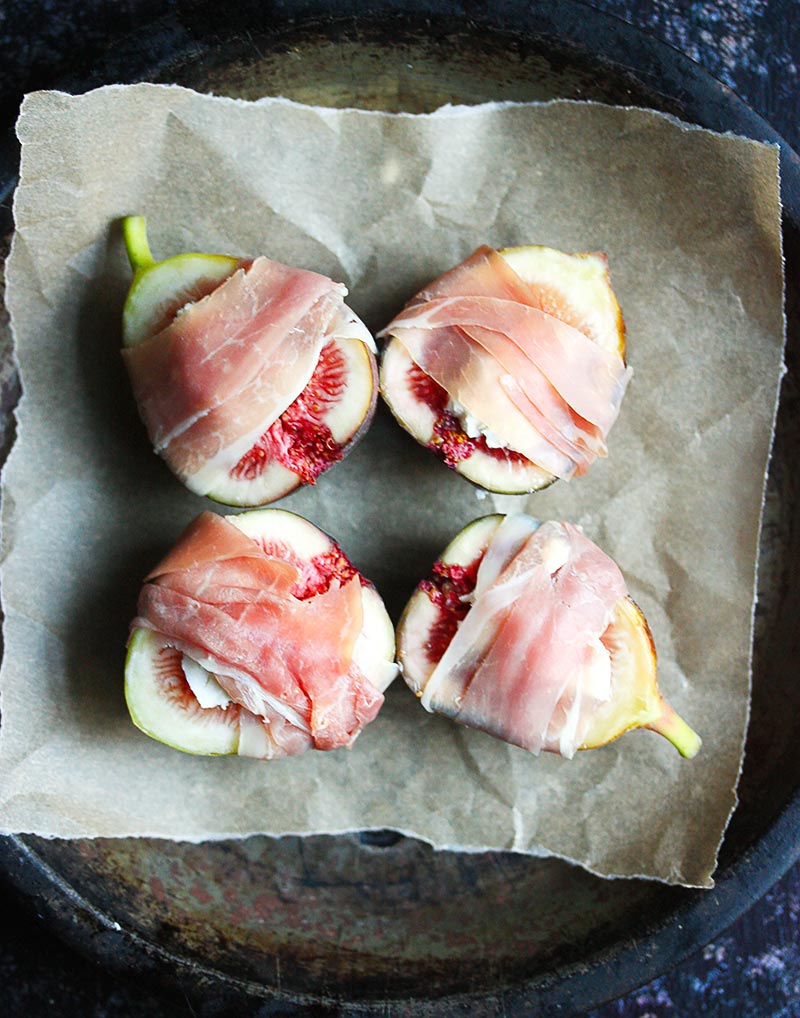 Peeps, this is the appetizer that has haunted my dreams: sweet local figs, stuffed with briny cheese, wrapped in prosciutto, and baked until tender.
Ground-breaking recipe? Of course not — you lucky fresh-fig-eatin' ducks have had this many times. (In fact, right now, as you're reading this post, you're probably eating from a large plate of cheesy figs prosciutto, handing out platefuls to neighbors, and — satiated to the point of bursting — dumping the enormous amounts of leftovers in the trash can, which you could only reach by nudging aside ankle-high piles of fresh figs to clear a path.)
Me, this was my first, and I had to prolong the torture of waiting for a taste-test by photographing the whole thing, lest the figs were a one-time fluke. (Please, oh, please don't be a one-time fluke.)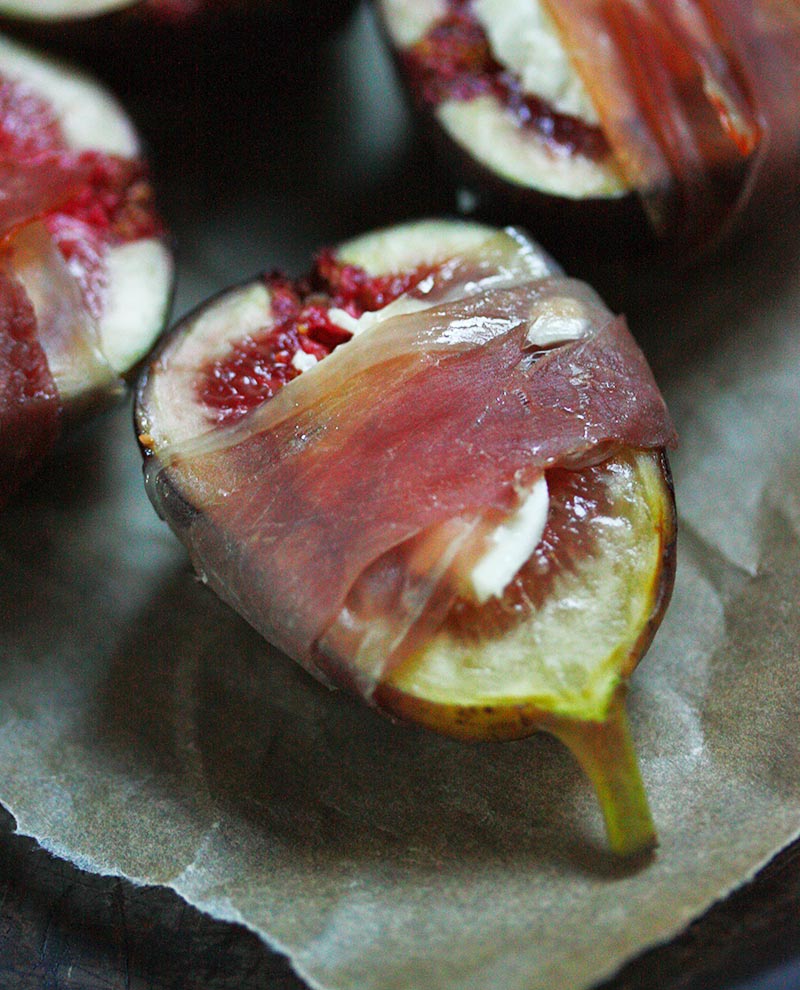 They were everything I had hoped for, and more. Fig season is nearly over now, but one thing's for certain: that farmer made a tactical error in selling figs that fateful day at the market. I know where he farms, and I'm not above ringing the doorbell with basket in hand.
Karen xo
In 2017, I'll be donating a portion of SoupAddict's income each month to a non-profit whose works speak to my heart. April's proceeds will go to
La Soupe
, a Cincinnati non-profit working to relieve childhood hunger and tackle food waste in one swoop, using
soup
as the foundation for both. Founder and chef — and recent Jefferson Award winner — Suzy DeYoung has connected our city's best chefs and their kitchens with grocery store produce turnover — perfectly good fruits and vegetables that simply must be moved off the shelves — and the result is delicious, healthy soup that goes right into the bellies of our city's underfed children through schools and relief organizations. This summer, La Soupe is fundraising for their
Ladle Campaign
, which will provide a much-needed facility expansion to broaden their vegetable intake and sorting operations.
Learn more about their inspirational work
and
listen to Suzy
tell the story of La Soupe.
Figs Prosciutto
Serves:
2 servings per fig
Ingredients
fresh figs, sliced in half
soft, flavorful cheese, such as gorgonzola dolce, goat or brie
prosciutto, thinly sliced
honey, for drizzling
coarse sea salt
Instructions
Preheat the oven to 350°F
Stuff a small ball of cheese into the center of each fig half.
Wrap the fig halves with narrow strips of prosciutto. The prosciutto will easily stick to itself, so no need to be perfect.
Place the fig halves on a baking sheet and bake for about 10 minutes. Remove and allow to cool slightly. Plate, and drizzle with honey and a light sprinkling of sea salt.