This recipe falls under one of those forehead-slapping "duh" categories. As in, why-didn't-I-think-of-this-myself.
Duh.
I was channel surfing one dark and stormy, late summer night, when I landed on a PBS station with Jacques Pépin frying eggs. He's one cool dude, that Jacques. I love that he's still cooking, his crooked, arthritic hands maneuvering bowls and pans swiftly around the kitchen, fluidly, and with a skill that I'm far from mastering. (His birthday's tomorrow, by the way: he'll be 77.)
Anyway, he was frying eggs. But not just any egg — hard boiled eggs. He was frying hard boiled eggs. Deviled eggs, actually, stuffed with simply seasoned egg yolks. He plated the eggs, and then drizzled them with a vinaigrette. Beautiful.
I grabbed my laptop and hit the Googs.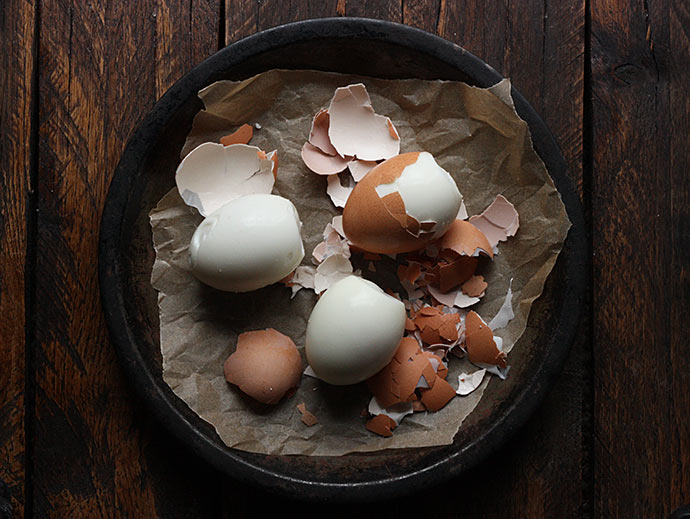 I had missed the beginning of the show — and the recipe, natch — but a search quickly turned it up. A dish from his childhood, Pépin credits his mother, Jeanette, with inventing the recipe.
So easy, so clever. And, as I found out the very next day, so delicious.

If you're hosting a small holiday party, this would be a perfect, elegant alternative to traditional deviled eggs. You can boil and stuff the eggs and prepare the dressing ahead of time, and then fry them up close to party time — it takes just minutes. Oh! And I also recommend adding fresh tarragon to the egg yolk seasoning.
Karen xo