Starry starry night cookies
When doing my all-too-infrequent freezer clean-out last month, I came across a bag of little chocolate nuggets that made me pause, searching my memory for what the heck these could be.
I took one out of the bag and inspected it more closely — black with dark chocolate, coated heavily in bright sugar crystals, they were adorable, button-sized, and unblemished by freezer frost.
Finally, in that weird, mysterious way the mind works to retrieve long forgotten info — the round-about word association game … starts with … sounds like … followed by the sudden burst of memory — I remembered: starry starry night cookies, delectable little freezer-friendly chocolate-chocolate, almond flour cookies.
I had no idea how long they had been in there, as they had worked their way to the back wall of the freezer, but it was worth a shot, baking them up to see what happened.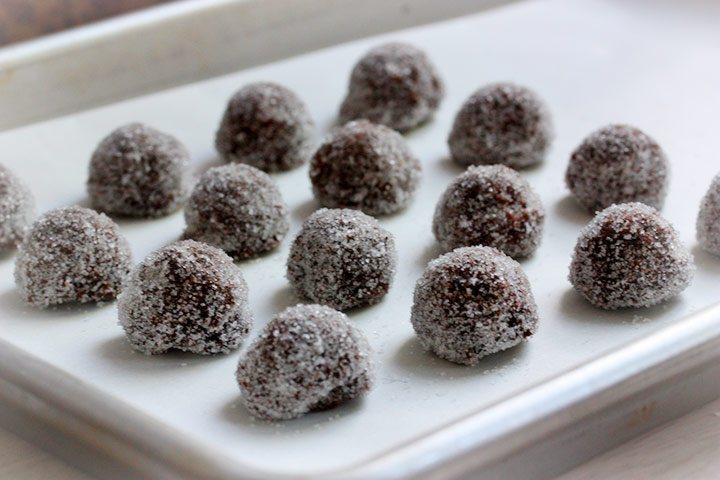 As I'm certain you can guess from the fact that I decided to post about them, the results were amazing.
It's not a quick recipe. It's not an add-water-eggs-and-shove-in-the-oven kind of thing. And I failed this recipe not once, but twice. But it's worth the effort. It's worth it.
My failures came from, I'm guessing, the brand of chocolate. The key to producing round chocolate drops, as opposed to super-flat chocolate disks, is that the cookie dough must freeze solid before going into the oven.
The recipe author warns to use only Callebaut, but on the first two tries, I stubbornly used Valhrona, an equally high-quality chocolate that apparently is resistant to freezing solid (and the cookie dough did not). Both times, they came out of the oven flatter than a pancake. Delicious — still totally delicious — but wafer-thin. (And, humorously, if you google these cookies, you will see plenty of pictures of perfectly flat cookies — I wasn't alone in having chocolate issues.)
However, purchasing Callebaut solved the problem, and the results were these wonderful little, gluten-free chocolate-chocolate morsels. It was a recipe worth conquering — everyone who has tried them has loved them unconditionally.
An unexpected benefit: keeping a bag in the freezer means chocolate decadence is only 10 minutes away. Unannounced company standing on your doorstep? No problem. Crank up the oven and let them in. You will blow their minds.
"These are brilliant, you say? Why, I just threw them together."
It'll be our happy little secret.
Karen xo