The classic favorite gets a boost of flavor and texture in this rich and creamy tomato tortellini soup.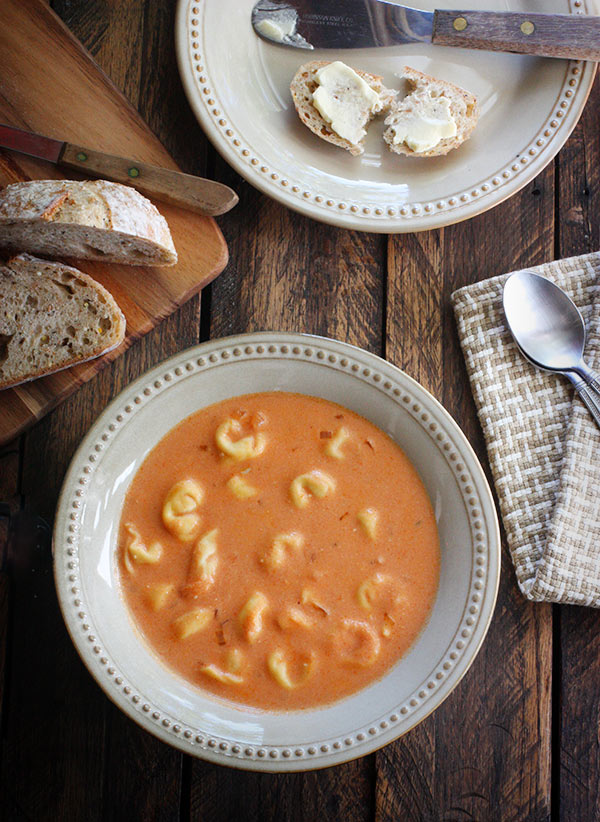 There are many soups that I love and adore and rank as favorites — mulligatawny, chicken and dumpling, West African peanut soup among them — but if I had to pick just one soup that I return to faithfully, consistently, as comfort food, it would be creamy tomato soup.
Maybe it's a remnant from my childhood tomato-soup-and-grilled-cheese days, but whatever the cause, creamy tomato soup is a hug of warmth. With each bite, my shoulders scrunch up contentedly like I'm in the grips of a big bear hug.
The day I dumped some good-God-I-must-clean-out-this-ridiculous-refrigerator leftover tortellini into the pot, however, was a revelation: creamy tomato soup became creamy tomato tortellini soup, which is an extra large fuzzy blanket of comfort wrapped in a hearty, satisfying meal.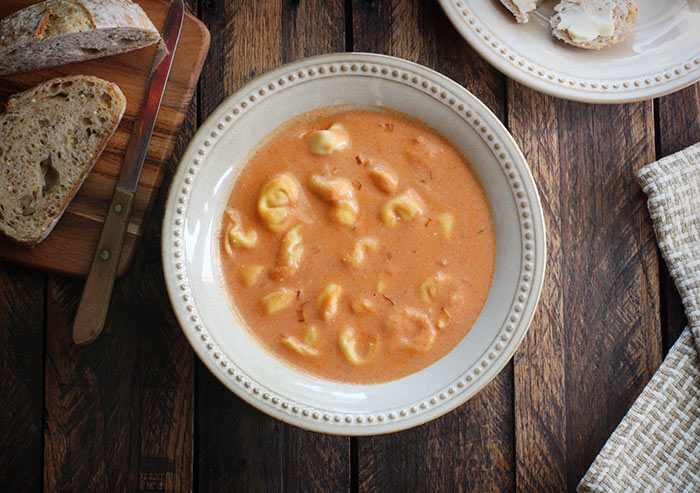 And it's so easy! Of course, you can use prepared tomato soup (Pacific is an organic brand I like) but it's so easy to pull together with fresh ingredients — especially if you've canned your own tomato sauce from your homegrown (or farmers' market) tomatoes — that it won't make you the least bit grumpy to make the soup base from scratch.
The tortellini … well, I readily and happily purchase packaged tortellinis. Homemade pasta is a breeze, but filling and shaping dozens of little tortellinis is saved for special occasions. ("Special occasions" being those days when malformed tortellinis flattened by my clutzy fingers won't push me into madness. A Tuesday night at 6:30pm is not one of those special occasions. Packaged tortellinis, it is.)
This soup is prepared a lot at Casa SoupAddict, so it's kind of shame-on-me that I'm only sharing it now, because, seriously, I bet half of the soups I've created on this site were dreamed up while I was spooning this creamy tomato tortellini soup into my gob. It just never occurred to me to post it on the blog. Duh!
This is pasta lover's tomato soup, plain and simple. Enjoy!
And Happy Thanksgiving, Everyone! May your day be filled with excellent company and delicious food!
Karen xo
In 2017, I'll be donating a portion of SoupAddict's income each month to a non-profit whose works speak to my heart. April's proceeds will go to
La Soupe
, a Cincinnati non-profit working to relieve childhood hunger and tackle food waste in one swoop, using
soup
as the foundation for both. Founder and chef — and recent Jefferson Award winner — Suzy DeYoung has connected our city's best chefs and their kitchens with grocery store produce turnover — perfectly good fruits and vegetables that simply must be moved off the shelves — and the result is delicious, healthy soup that goes right into the bellies of our city's underfed children through schools and relief organizations. This summer, La Soupe is fundraising for their
Ladle Campaign
, which will provide a much-needed facility expansion to broaden their vegetable intake and sorting operations.
Learn more about their inspirational work
and
listen to Suzy
tell the story of La Soupe.
Creamy Tomato Tortellini Soup
Ingredients
1 tablespoon olive oil
1/2 medium onion, diced
1 clove garlic, minced
1/2 teaspoon pimenton (smoked paprika)
1 15 ounce can tomato sauce
2 cups chicken or vegetable broth
3/4 cup heavy cream or half-and-half
1 tablespoon all-purpose flour
10 ounces cheese-filled tortellini, uncooked (or, use 3 cups cooked)
salt and freshly ground black pepper
Instructions
Heat the oil in a 4-5 quart dutch oven or stock pot over medium until shimmering. Sautee the onions until soft, about 5 minutes, then stir in the garlic and pimenton until the garlic is fragrant (just a minute or so). Add the tomato sauce and broth and stir well to combine. Increase heat and bring to a light boil, then reduce heat to medium-low and maintain a very gentle simmer for 10 minutes.
Meanwhile, whisk the heavy cream and flour together in a small bowl. Add to the tomato soup, stirring until combined. Add the tortellini, and cook for the time indicated on the package directions (if using cooked). Don't bring the soup back to a boil - the tortellini will cook (or warm, if using pre-cooked) just fine in the now very-hot soup. Taste, and a few grinds of black pepper and more salt, if necessary.