Homemade sausage meatballs with lots of creamy ricotta are the stars of this satisfying soup. Don't let the "homemade" part fool you — they're so easy to make and add tons of flavor to ricotta meatball soup.
I don't have a lot of slow cooker recipes on this site, and there's a good reason for that: I really, really like the process of making a super-flavorful, ultra-comforting pot of soup. Seriously, love.
Sauteing the aromatics, searing the proteins, simmering the liquids, and generally watching the whole thing come together until I'm just about mad from the anticipation of a big bowlful of soup goodness.
You don't get that from a slow cooker. There's a time and place for dump-and-cover, but a slow-paced, chilly fall weekend or a cold winter day sheltered against the brutal wind and snow isn't that time.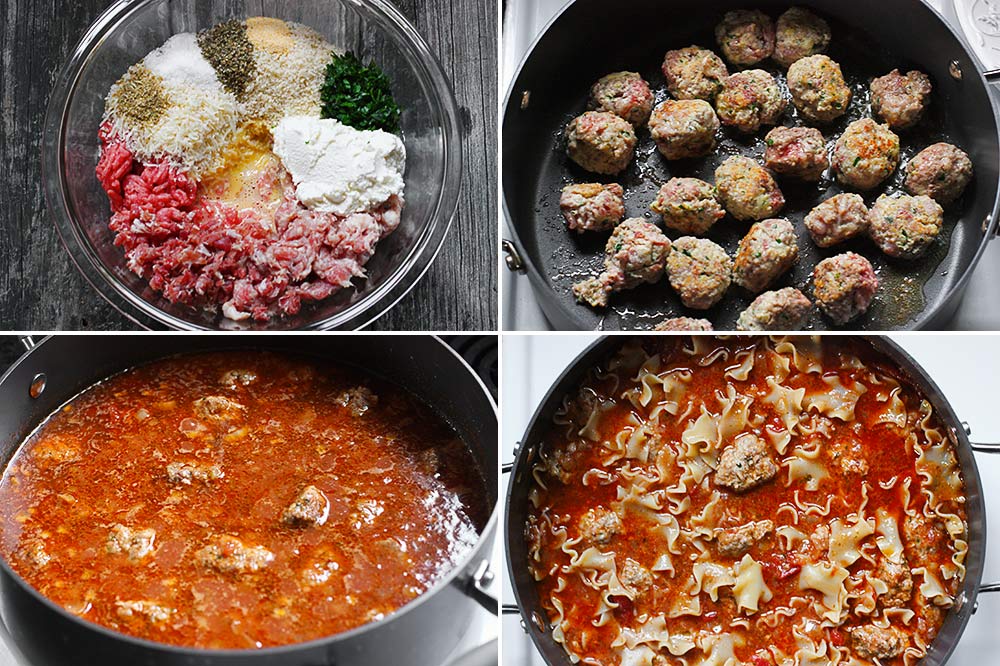 Chilly fall weekends were made for hands-on, homemade soup, and all the little details that make soup so special, like homemade meatballs.
Now, I'm not going to fall completely off the edge of reality and say that making homemade meatballs is the only way to go. I mean, I have spaghetti a lot during the winter, and if I made homemade meatballs every time — we're talking multiple times a week — I'd be doing little else than making meatballs.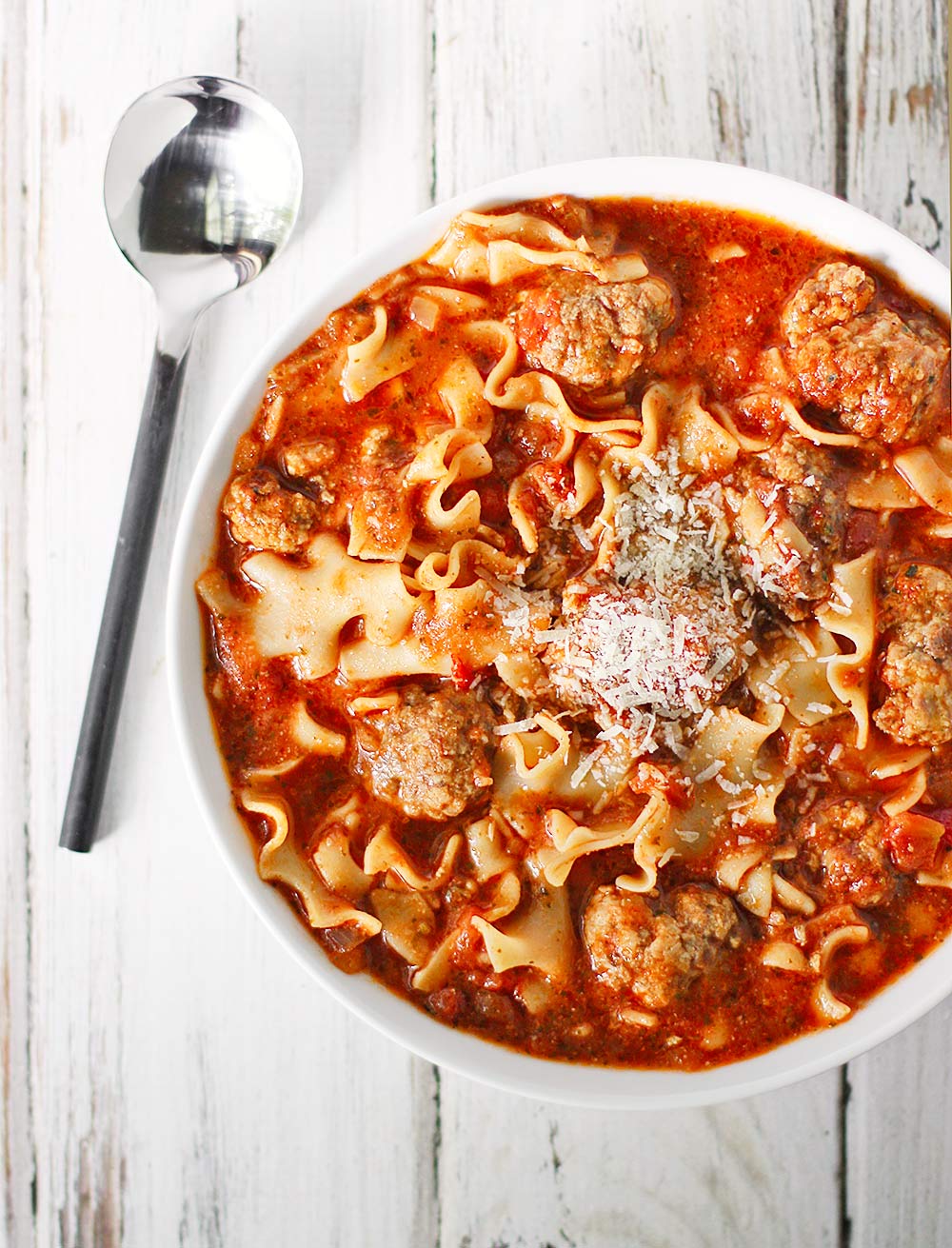 But for special dishes, like today's ricotta meatball soup, it's so worth it to make them by hand, incorporating all the seasonings that go so well in beef and pork sausage meatballs, plus a generous dose of ricotta cheese that takes the whole batch right over the top. Seared with onions and then simmered in a tomato-beef broth base, the meatballs become extra flavorful, and so tender.
Plus, it's just fun and therapeutic to make meatballs. Squooooosh and squeeeeze the ingredients together. Scoop up a palmful, roll-roll-roll, and, ta-da! Meatballs!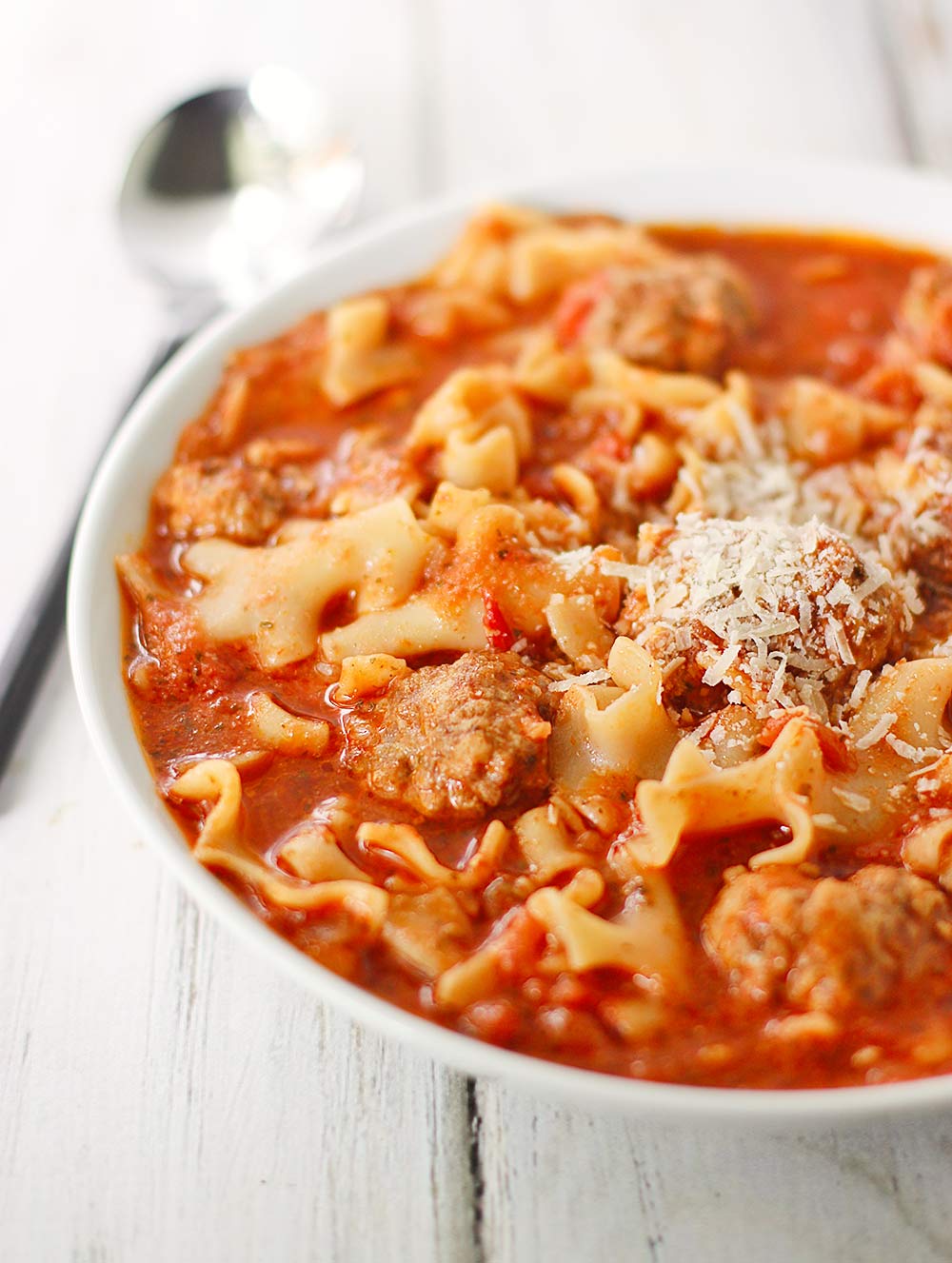 And to make the ricotta meatball soup a substantial meal rather than a brothy soup, add ruffly little mini-lasagne noodles.
I cooked this up on the evening of our first sub-50°F night, and we chowed down in front of an NFL game, clutching the bowls in our hands, and it felt like the best of fall had finally arrived.
Get outside this coming weekend, enjoy the changing leaves, blue skies, and clean, brisk breezes. Then head on home and make some homemade ricotta meatball soup. I'll be doing the same. 🙂
Karen xo
In 2017, I'll be donating a portion of SoupAddict's income each month to a non-profit whose works speak to my heart. April's proceeds will go to
La Soupe
, a Cincinnati non-profit working to relieve childhood hunger and tackle food waste in one swoop, using
soup
as the foundation for both. Founder and chef — and recent Jefferson Award winner — Suzy DeYoung has connected our city's best chefs and their kitchens with grocery store produce turnover — perfectly good fruits and vegetables that simply must be moved off the shelves — and the result is delicious, healthy soup that goes right into the bellies of our city's underfed children through schools and relief organizations. This summer, La Soupe is fundraising for their
Ladle Campaign
, which will provide a much-needed facility expansion to broaden their vegetable intake and sorting operations.
Learn more about their inspirational work
and
listen to Suzy
tell the story of La Soupe.
Ricotta Meatball Soup
I call for Italian sausage as a shortcut to extra flavor, but you can absolutely substitute ground pork instead. I would recommend adding a 1 teaspoon of a dried Italian herb blend in that case.
Ingredients
for the meatballs
3/4 pound ground chuck
1/2 pound sweet Italian sausage, removed from the skin and crumbled
1 ounce prosciutto, finely chopped
1/2 cup ricotta cheese
1/3 cup panko bread crumbs
1/4 cup grated Parmesan cheese
1/4 chopped parsley
1 large egg, lightly beaten
1 teaspoon Kosher salt
1 teaspoon crushed dried oregano
1/2 teaspoon fennel seeds, crushed or ground
1/2 teaspoon garlic powder
for the soup
8-10 ounces ruffly egg noodles or mini lasagna noodles
1 tablespoon olive oil
meatballs (above)
1/2 medium/large onion, chopped
2 cups marinara sauce (or tomato puree)
2 cups beef broth
Instructions
make the meatballs
Place all of the meatball ingredients in a large mixing bowl and, using your hands, combine until the ingredients are more or less evenly distributed. Break off about 1 tablespoon of the meat mixture and roll into a ball between your palms. Make sure they're small enough to sit comfortably on a soup spoon. Set aside. Continue with the remaining mixture. You'll have approximately 32 meatballs. You can make the meatballs ahead and refrigerate them, covered, at this point, if desired.
make the soup
Heat a tablespoon of oil in a large, deep, wide-based, non-stick skillet or pot. Add the meatballs, leaving enough space between each so you can easily turn them. Depending on the size of your pan, you might need to do this in batches. Sear the meatballs on one side, then flip and sear on another side. Turn and sear the meatballs twice more so that they are mostly browned on the outside.
Add the chopped onions and mix with the meatballs, cooking until the onions are translucent. Pour in the marinara sauce and beef broth. Increase heat to medium-high and bring the soup to gentle boil, then reduce heat to medium-low to maintain a simmer.
While the soup is coming up to heat, bring a large pot of well-salted water to a boil, and cook the pasta according to the directions, minus 2 minutes of cooking time. (So, if instructions say to cook them for 7 minutes, cook for just 5.) Transfer drained noodles to the soup and turn heat to low. Let the soup rest for 5 minutes to finish cooking the noodles and to let them absorb the tomato broth.
To serve, ladle into bowls and top with additional parmesan cheese, if desired.