Seasoned with the classic Moroccan spice ras el hanout and plenty of preserved lemons, Moroccan Chicken Soup is a unique and tasty warming soup.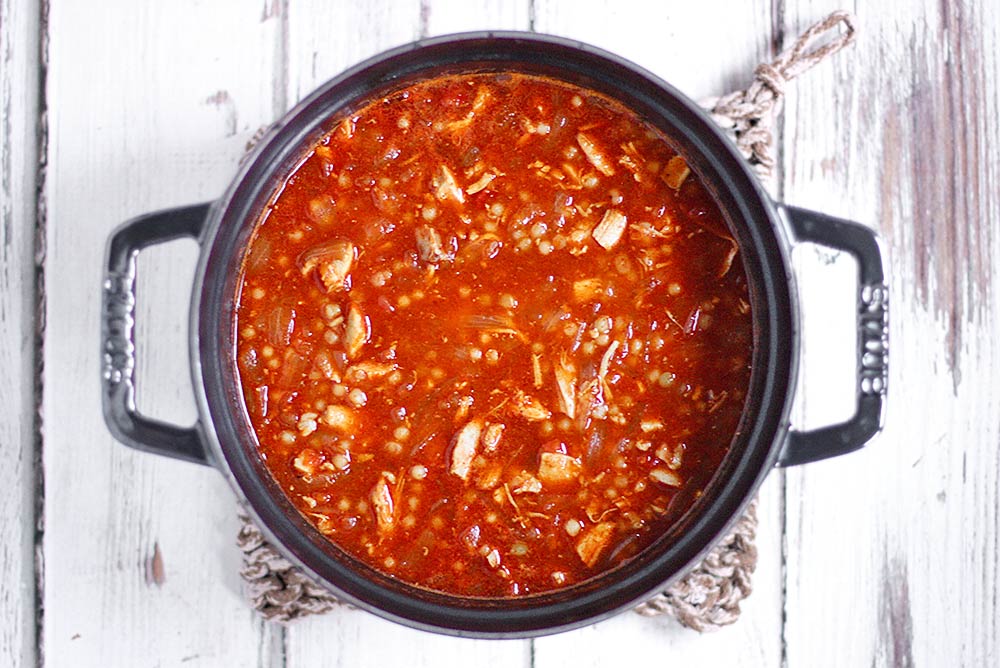 If you read my last post, you know I promised a use for those luscious caramelized tomatoes and onions. And today's yummy soup is it, my friends.
The idea for caramelized tomatoes and onions came about at exactly the same time as this soup. Both recipes unraveled through circumstance — I love when that happens! — and merged to create a simple, delicious meal with tons of personality and flavor.
The Moroccan Chicken Soup evolved when I found a mason jar full of pearl couscous in my pantry, and a dusty jar of ras el hanout spice that had sadly lost its magical scent — time to make some more!
If you've never tried ras el hanout, I hope you'll seek it out, or make a fresh batch at home yourself (I use this ras el hanout recipe, with the non-traditional addition of smoke paprika). No two households make ras el hanout using the same spices, so don't worry if you don't have all the spices on hand because it will all be good no matter what.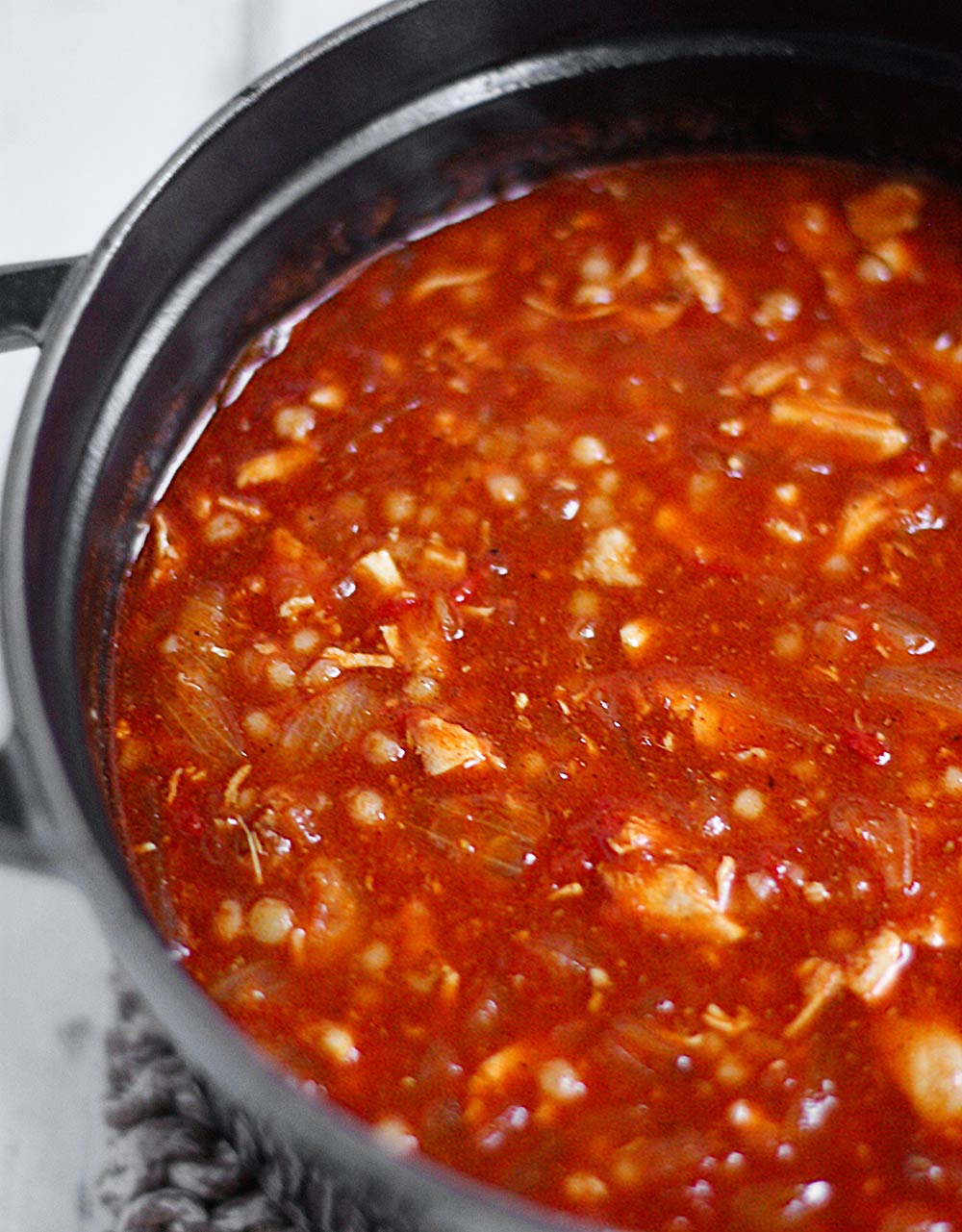 Once I had the idea in my head to make a Moroccan-inspired soup, I was really psyched to have another opportunity to use my super delicious preserved lemons. I really can't give enough cheers for this long-storing, bright and complex salty lemon magic. If you've never made homemade preserved lemons, bookmark this recipe for December when Meyer lemons come into season in the U.S. — hands down, they make the best preserved lemons.
My two favorite uses for preserved lemons are homemade vinaigrettes … and soups, like Moroccan chicken soup! Their deeply savory-puckery flavor brighten the spices and tomatoes in this soup, and take it right over the top.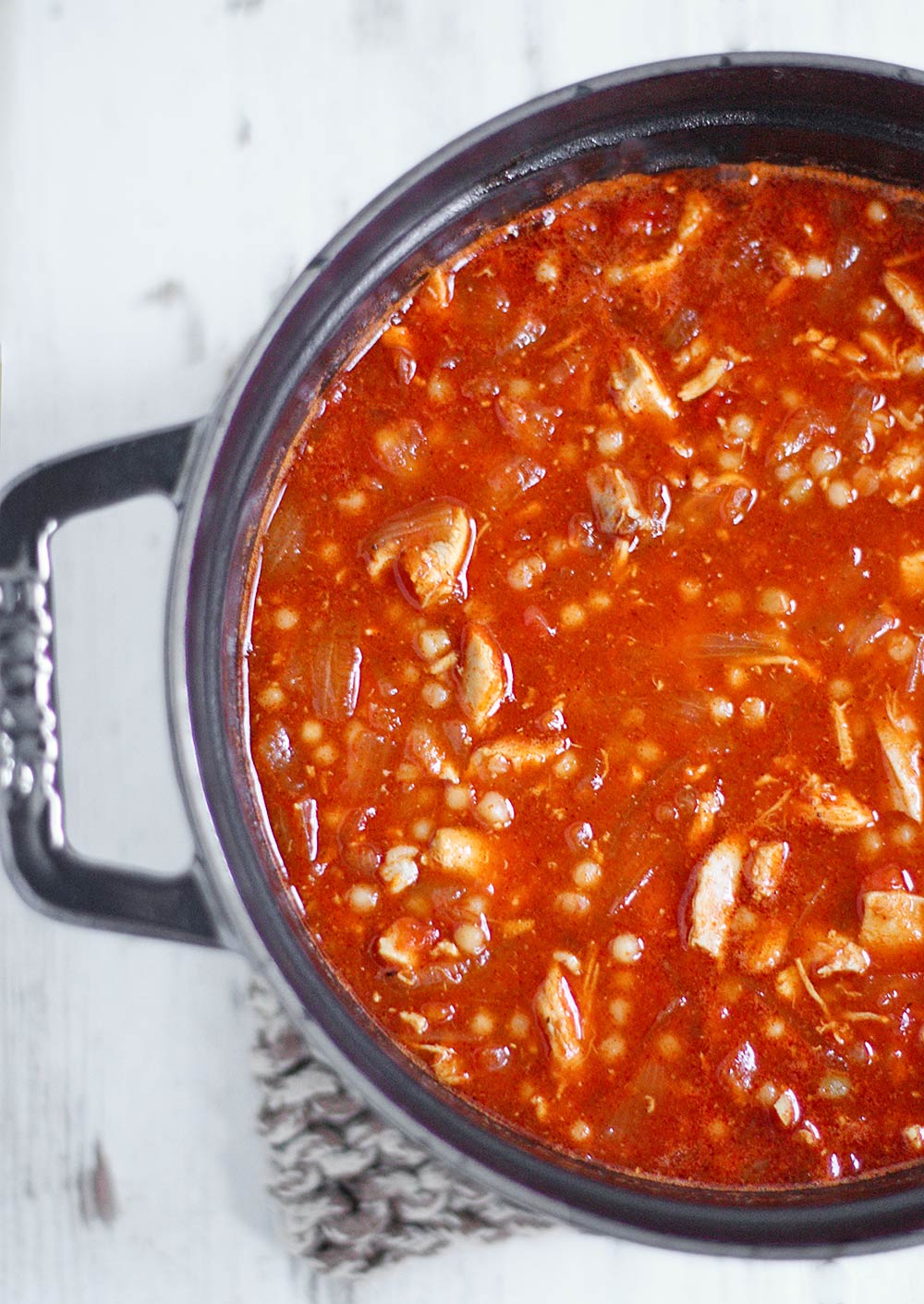 The holidays are nearly upon us, and I wanted to give you a heads-up about my recipe schedule for the rest of year. Historically, SoupAddict is not a holiday blog because I don't post often about sweets, and I don't post about elaborate entertaining and dining.
This year, however, I have a collection of easy appetizers and side dishes, plus one-pot meals that are easy to pull together for a houseful of overnight guests, or are transportable to a potluck at the office or a friend's house. Coming up next: super tasty side dishes for Thanksgiving that won't tie up your stove or your oven and are … oh happy day … make-aheadable!
Meanwhile, my American peeps, y'all know what day has finally arrived. It's been a long, rocky road, but do get out and make sure your voice is heard, because no matter our differences, we are united in our right to vote.
See you on the other side. 😉
Karen xo
In 2017, I'll be donating a portion of SoupAddict's income each month to a non-profit whose works speak to my heart. April's proceeds will go to
La Soupe
, a Cincinnati non-profit working to relieve childhood hunger and tackle food waste in one swoop, using
soup
as the foundation for both. Founder and chef — and recent Jefferson Award winner — Suzy DeYoung has connected our city's best chefs and their kitchens with grocery store produce turnover — perfectly good fruits and vegetables that simply must be moved off the shelves — and the result is delicious, healthy soup that goes right into the bellies of our city's underfed children through schools and relief organizations. This summer, La Soupe is fundraising for their
Ladle Campaign
, which will provide a much-needed facility expansion to broaden their vegetable intake and sorting operations.
Learn more about their inspirational work
and
listen to Suzy
tell the story of La Soupe.
Moroccan Chicken Soup
Note that the caramelized tomatoes and onions can be made a day or two ahead and kept in the fridge.
Serves:
4 generous servings
Ingredients
6 boneless, skinless chicken thighs, trimmed
1 teaspoon + 1 tablespoon ras el hanout (recipe below)
2 tablespoons olive or coconut oil
1 teaspoon smoked paprika
3 cloves garlic, minced
1 1/2 cups caramelized tomatoes and onions (recipe here)
1/2 preserved lemon, chopped (optional)
3 cups chicken broth
1/2 cup Israeli/pearl couscous
1 tablespoon lemon juice (optional if using preserved lemon)
kosher salt
Instructions
Prepare the caramelized tomatoes and onions as instructed here: http://soupaddict.com/2016/11/caramelized-tomatoes-onions-yum-yum/
When then tomatoes and onions have finished caramelizing, season both sides of all of the chicken thighs with 1 teaspoon of the ras el hanout and a pinch of Kosher salt.
Heat 1 tablespoon oil in a roomy 4-5 quart Dutch oven or stock pot until shimmering. Place the chicken thighs in the oil and sear both sides (about 8 minutes). Remove from the both and set aside to cool.
Add the remaining oil to the pan and bring to a shimmer. Sprinkle the remaining 1 tablespoon of ras el hanout, smoked paprika, and garlic over the oil and stir to create a fragrant paste. This will just take a minute -- don't let the spices burn!
Add the tomatoes and onions to the soup pot, along with the preserved lemons and 1 cup of the chicken broth, and stir to combine thoroughly.
Slice or pull the chicken thighs into bite sized pieces and add to the soup pot, plus the remaining chicken broth and a big pinch of salt. Increase heat to medium-high and bring the soup to a light boil.
Add the couscous, and reduce heat to medium-low, retaining a gentle simmer. Cook for 10 minutes. If foam from the spices rises to the surface, skim off with a spoon. Add the lemon juice (optional), and taste the soup, adding more salt as necessary.