With unofficial summer just weeks away, this is the time of year when eggs become a true mealtime friend. Any meal. All meals.
With farm fresh eggs with the big, beautifully golden yolks just a quick 5 minute drive away at the local farmers' market, I'd be crazy not to take advantage of the season's edible bounty.
I learned only recently that the frittata was a dish traditionally prepared in Italy using leftover pasta. Brilliant! Any excuse to add ramen noodles to something (even if they're not, technically, leftovers), I'm all over that.
The frittata is a favorite quick weeknight dinner. You can prepare a frittata a hundred different ways to Sunday so that you never get bored. But there's just one little problem with the frittata: sometimes they're … well, bland.
Scrambled eggs are delicate and creamy. Sunny-side-up eggs have that amazing yolk. Poached eggs are just pure egg awesomeness all in one: creamy, yolky, smooth.
But once you cook those eggs up in a pan and bake them in the oven, they lose a little something. Frittatas benefit from a little extra seasoning love.
So, I like to use strong flavors in my frittatas. And that's where this BLT frittata came from. Bacon (in my case, uncured turkey bacon), spinach sliced chiffonade, and tomatoes (petite diced from a can today, but very soon — fingers crossed — fresh from the garden).
BLT and eggs, seasoned with onions and garlic and fresh herbs, and bulked up with ramen noodles. It really just doesn't get much better than that in my book.
Oh, and did I mention 30 minutes and done?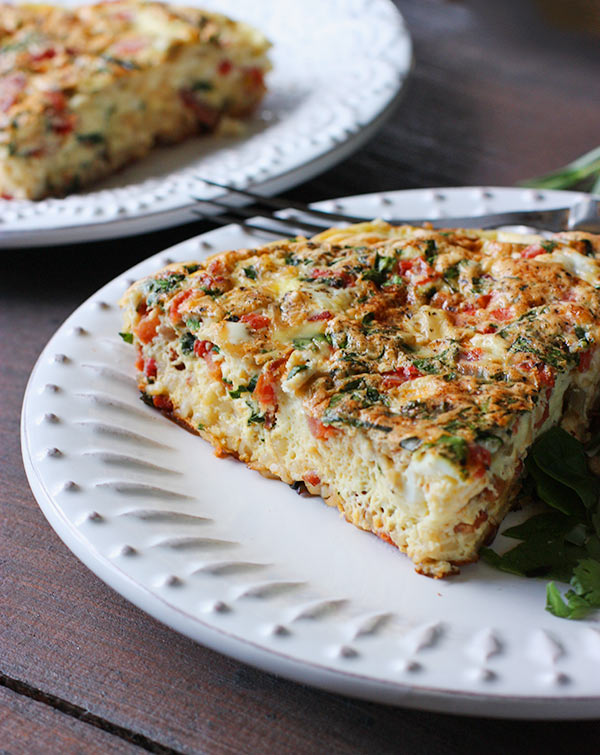 Of all the frittatas I've had and loved, the BLT frittata has been my favorite. So flavorful, stuffed with greens and veggies and savory bacon. (Vegetarians: I've made this with fakin' bacon – still really good.)
Summer eggs from happy, grass-pastured chickies, you belong in this BLT frittata with ramen noodles. Serve with a crisp, green salad for the perfect warm-weather meal.
Karen xo
Print Recipe
BLT Frittata with Ramen Noodles
Share via Text
Ingredients
6

large eggs

1

splash milk or half and half

1/4

teaspoon

baking powder

6

strips uncooked bacon

pork, turkey, or vegetarian, chopped

1/3

cup

small diced red onions

1

large

or 2 small cloves garlic, minced

3

ounces

ramen

2

cups

loosely packed spinach or arugula

sliced chiffonade

1

can diced tomatoes

15 ounces, drained

1

tablespoon

chopped fresh tarragon

1

tablespoon

chopped fresh cilantro

Kosher salt and freshly ground black pepper
Instructions
Preheat the oven to 400°F and position a rack in the center position. Whisk the eggs, dairy, and baking powder until smooth. Set aside.

Generously grease a large, oven-proof skillet, including the sides, with coconut or peanut oil. Add the bacon to the cold pan and place on a burner turned to medium. Cook the chopped bacon until the edges begin to brown, 5-10 minutes. Add the onions and garlic, and cook until soft.

While the onions cook, set a medium pot of water to boil. Add the ramen and cook according to package directions. Drain.

Add the greens, tomatoes, and a big pinch of tarragon and cilantro to the bacon mixture. Stir until the greens begin to wilt. Add the ramen noodles. Stir, level, and even out all of the ingredients of the bacon mixture. Slowly pour the eggs into the skillet and sprinkle the remaining herbs over the top. Cook, without disturbing, until the edges are set.

Transfer the pan to the oven, and bake until the top begins to puff, but is not fully set. Turn off the bake setting, and turn on the broiler (if you have a choice, select High). Leave the frittata under the broiler (still on the center-positioned rack) until the top sets and begins to turn golden. Remove from oven, taking care with the handle - it's super hot!

Use a thin metal spatula or knife to slice the frittata into 6ths. Then use the edge of the spatula or knife to loosen the frittata from the edge of the pan (this will be easy if the sides were sufficiently greased). Lift the slices from the pan and serve.
Nutritional information, if shown, is provided as a courtesy only, and is not to be taken as medical information or advice. The nutritional values of your preparation of this recipe are impacted by several factors, including, but not limited to, the ingredient brands you use, any substitutions or measurement changes you make, and measuring accuracy.