Traditional chickpea falafels get an extra protein boost with the addition of yellow split peas. The flavors and textures of these two legumes combine to create a tender, crispy falafel that the whole family will enjoy.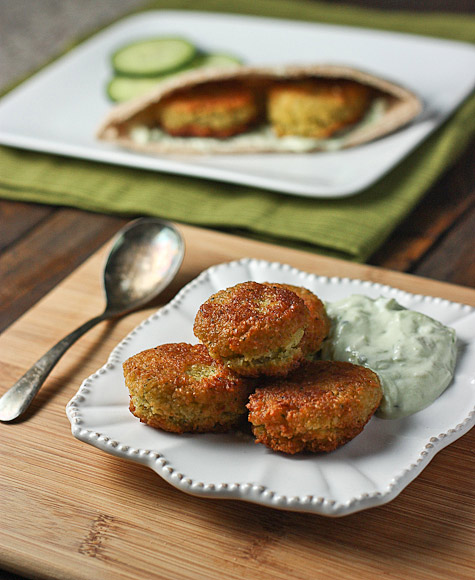 Oh, falafel. I do [heart] you so. It's fried food that's healthy! Yaaay! Woo-woot!
[awkward silence]
Okay, you caught me in a frenzy of denial. Fried food isn't really healthy. But, as fried food goes, falafels are probably healthier than, say, your average french fry.
Loaded with protein, thanks to chickpeas and my own addition of split peas — one of my favorite legumes — falafels are filling, economical and oh-so-tasty. And they're vegetarian without being in-yo-face vegetarian.
When your family sighs and slumps at the thought of Meatless Mondays, feed them falafels.
I love the combo of chickpeas and split peas – each brings their own flavor and texture, and come together to create a tender-crispy little falafel that's crave-worthy and crowd-pleasing.
Falafels are Make-ahead Easy!
A quick whirl in the food processor is all that's needed to whip up a batch for frying. Filling, economical, and super easy. Score!
For a fast weeknight dinner, set the chickpeas and split peas to soak the night the before. Mix the ingredients and store in the fridge the next morning.
Then fry them up when you get home from work. (Split peas don't actually require a full overnight soaking, but it won't hurt them to do so.)
Served stuffed in pita bread with your favorite veggies, or as appetizers to dip into traditional tahini sauce or (my favorite) vegan tzatziki.
Karen xo
Print Recipe
Chickpea & Split Pea Falafels
Everyone loves falafels!
Ingredients
3/4

cup

dried chickpeas

(garbanzo beans)

1/4

cup

dried yellow or green split peas

1/2

large onion

, roughly chopped

2

tablespoons

chopped fresh parsley

2

tablespoons

chopped fresh cilantro

1

teaspoon

salt

1/2

teaspoon

dried hot red pepper

2

cloves

of garlic

, peeled and chopped

1

teaspoon

cumin

1

teaspoon

coriander

1

teaspoon

baking powder

4-6

tablespoons

flour

Peanut or vegetable oil for frying

Pita bread
Instructions
Place the chickpeas in a large bowl and add enough cold water to cover them by at least 2 inches. Let soak overnight (or 8 hours). (You can use canned chickpeas, drained, rinsed and patted dry, in a pinch and skip the soaking, but dried are noticeably better.)

An hour before you're ready to start, place the split peas in a medium bowl and cover with water to soak. (Or, if there's room, you can add them to the chickpea soaking bowl and top off with water.)

Drain the uncooked chickpeas and split peas and place in the bowl of a food processor fitted with the steel blade. Add onions, parsley, cilantro, salt, hot pepper, garlic, cumin and coriander. Pulse until blended but not pureed — the bulkier ingredients should still be very lumpy.

Sprinkle the baking powder and 4 tablespoons of the flour over the mixture, and pulse. Scrape down the bowl as necessary. You want to add enough flour so that the dough forms a small ball and no longer sticks to your hands. I find this usually takes the full 6 tablespoons of flour. Don't overprocess to the point of puree — the final texture should be very grainy, even if it's still slightly sticky. Turn into a bowl and refrigerate, covered, for several hours.

Form the chickpea mixture into balls about the size of walnuts. I like to flatten them slightly so they'll fit better in the pita pocket.

Heat 1 inch of oil to 375 degrees F in a deep pot or dutch oven. Fry the falafel balls in batches, leaving at least an inch of space in between. It should take only a few minutes per side to reach a golden brown. Remove to a paper towel lined plate to drain while you continue frying the remaining.

To serve, stuff half a pita with falafel balls and top with your favorite sauce (tzatziki is particularly nice, as is tahina) and chopped vegetables.
Nutrition
Nutritional information, if shown, is provided as a courtesy only, and is not to be taken as medical information or advice. The nutritional values of your preparation of this recipe are impacted by several factors, including, but not limited to, the ingredient brands you use, any substitutions or measurement changes you make, and measuring accuracy.