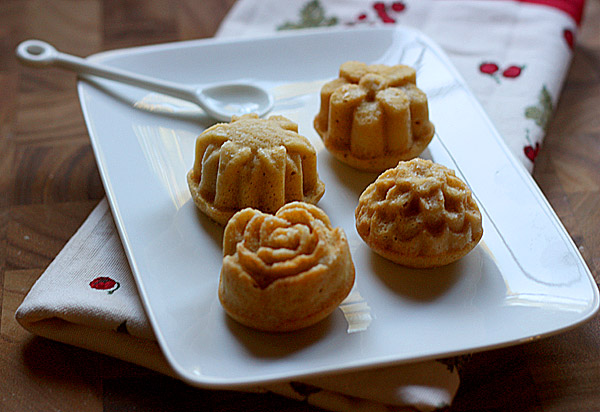 After a summer away from French Fridays with Dorie, I've re-upped, just in time to make madeleines. It's been a tough week — some time in the kitchen with sugar and cinnamon and honey is just what this girl needed.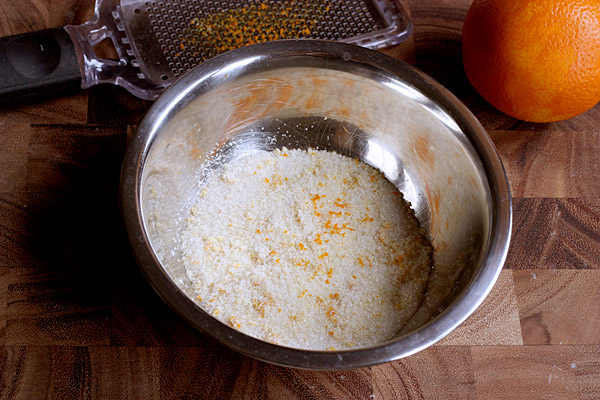 Orange-scented sugar — it completely filled the kitchen with a sweet, citrus scent. If SoupAddict could bottle that scent, she'd be a millionaire and would spend the next year writing a soup-a-day calendar.
SoupAddict doesn't own a madeleine pan, so she had to improvise with a tea cake pan, with her Nordic Ware Petit Fours pan — its spring flower designs can cheer even the most gray, drizzly day.
Curious as to whether the famous madeleine "hump" would form, I filled each cup all the way to the top (which you wouldn't do for regular tea cakes). They came out perfectly — little round cakes, flower-molded on one side.

Madeleines are known for their dry texture, but I found these to be quite delicate and yummy. Which means SoupAddict probably screwed up somewhere along the line.
But if these were wrong, I don't ever want to be right.
Karen xo
Honey Spiced Tea Cakes
from Around My French Table
Makes 12 large or more than 36 mini madeleines
3/4 cup all-purpose flour
1/2 teaspoon double-acting baking powder
1/2 teaspoon ginger
1/4 teaspoon cinnamon
1/8 teaspoon ground cloves (or a little less, if you prefer)
Pinch of salt
Pinch of freshly ground black pepper
1/3 cup sugar
Grated zest of 1/2 orange
2 large eggs, at room temperature
2 tablespoons honey
1 teaspoon pure vanilla extract
6 tablespoons (3 ounces) unsalted butter, melted and cooled
Whisk together the flour, baking powder, spices, salt and pepper and keep at hand.
Working in a mixer bowl, rub the sugar and orange zest together with your fingertips until the sugar is moist and fragrant. Fit the mixer with the whisk attachment (you can make this batter easily with a handheld mixer or just a whisk, if you prefer), add the eggs to the bowl and beat until the mixture is light, fluffy and thickened, about 2 minutes; beat in the honey, then the vanilla. Switch to a rubber spatula and very gently fold in the dry ingredients followed by the melted butter.
You may use the batter now, but it's better if you can give it a little rest. Press a piece of plastic wrap against the surface of the batter and chill for 3 hours or, if you have the time, overnight. (For real convenience, you can spoon the batter into buttered-and-floured madeleine molds, cover, chill, then bake the cookies directly from the fridge. See below for instructions on prepping the pans.)
Getting ready to bake: Center a rack in the oven and preheat the oven to 400 degrees F. Butter 12 full-size madeleine molds (or 36 mini-molds), dust the insides with flour and tap out the excess. If you have a nonstick madeleine mold, butter and flour it or give it a light coating of vegetable cooking spray. (If your pan is silicone, you can leave it as is.) Place the pan on a baking sheet.
Spoon the batter into the molds, filling each one. Bake the large madeleines for 11 to 13 minutes and the minis for 8 to 10 minutes, or until the madeleines are golden and the tops spring back when prodded gently. Remove the pan from the oven and release the madeleines from the molds by rapping the edge of the pan against the counter. Gently pry any recalcitrant madeleines from the pan using your fingers or a butter knife. Transfer the cookies to a rack to cool to just-warm or room temperature.
Subscribe to the SoupAddict Weekly Digest and get new soups and other delish foods in bowls in your inbox!