A delightfully warming stew, simmered with rich, earthy paprika, Hungarian Winter Stew (aka, Hungarian Goulash) is a comforting winter meal that's wonderful to cook at home on a snowy weekend afternoon.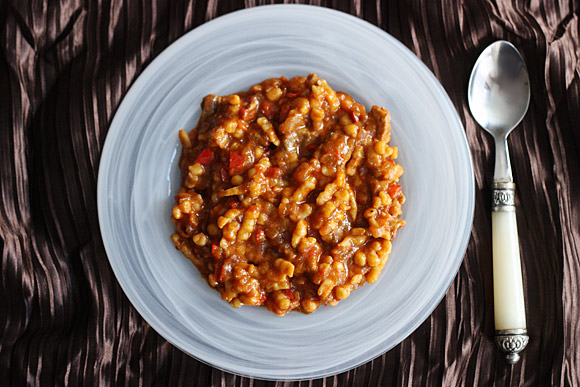 Although the winter has been unbelievably, wonderfully mild in my little dot on the midwestern U.S. map, my comfort food cravings remain rooted in warming spices — Indian cuisine, Mexican, Moroccan, Hungarian. Curry spice blends, dried peppers toasted and freshly ground, sriracha, harissa, harrisa and more harissa. And paprika.
I've been in paprika heaven. This quirky little grocery store about a mile from my house carries the most amazing selection of international victuals. I'm positively spoiled.
And I nearly plotzed when, casually eyeing the sea salts one day, I spotted bright red tin cans of imported Hungarian paprika (both sweet and hot), neglected on the bottom shelf. Authentic versions, impossible to find except online.
I raced home that day and didn't even remove my coat before ripping off the seals, shaking some from both cans onto a plate and breathing deeply. Yes. That's the stuff. Deep, rusty red. Rich and peppery, catches in the back of your throat. A lingering scent of chilies picked fresh from the garden. Perfect.
From that one amazing find has sprung all manner of delicious, soul-warming dinners, including today's recipe.
Pepper-heavy, this stew contains both fresh peppers — a sweet bell and a hot Hungarian red wax — and a healthy dose of paprika. (Paprika spice is made from pimenton peppers that are picked from the fields, hung to dry and then ground into powder.)
Dried porcini mushrooms and a whopping two onions (large, please) round out the savory team. Don't be concerned about the onions: this stew is braised for nearly two hours, during which the onions will sweeten slightly and break down in the liquids.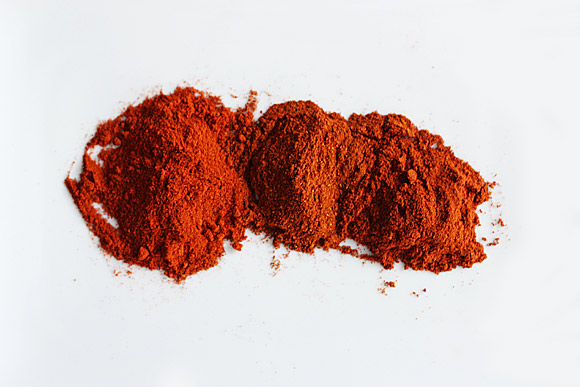 I toyed with the idea of calling this recipe, "Three Paprika Hungarian Stew," but while the three versions do create lovely levels of flavor, it's not necessary. I've made this with just sweet, and it was still wonderful and satisfying.
The paprika on the left, btw, is smoked paprika — Spanish in origin, not Hungarian, but is more than welcome in this stew. Hot paprika sits in the center, with sweet on the right.
Karen xo
Print Recipe
Hungarian Winter Stew (Hungarian Goulash)
I made several changes to Slater's recipe in both preparation and ingredients, but I hope the spirit remains intact. His use of porcini mushrooms — not a traditional ingredient in Hungarian cuisine — won me over. Porcinis, although pricey and sometimes hard to find, lend a rich, earthy essence to soups and stews. I serve this with spaetzle, but feel free to substitute egg noodles or pearl couscous.
Ingredients
1/2

ounce

dried porcini mushrooms

1

tablespoon

vegetable oil or lard

2

pounds

beef or pork

(or a mix of beef and pork), sliced into 3/4" cubes

2

large onions

, diced

1

large red bell pepper

, diced

1

hot chili pepper

(I used one hot Hungarian wax)

1/2

tablespoon

smoked paprika

1

tablespoon

sweet Hungarian paprika

1/2

tablespoon

hot Hungarian paprika

1

tablespoon

flour

1/4

cup

red wine

1 1/2

teaspoons

caraway seeds

(optional: toasted and crushed)

15 ounce

can

diced or crushed tomatoes

1

cup

beef stock

1/2

cup

sour cream

9

ounce

box of spaetzle

, cooked to package directions

salt

, to taste
Instructions
Soak mushrooms in 1 cup very, very hot water for a half hour.

Preheat oven to 275°F.

Heat oil or lard in a large 5 quart dutch oven or oven-proof stock pot over medium until shimmering. Add 1/2 of the meat, and brown on all sides (about 8 minutes). Remove to a bowl. Repeat with the remaining batch.

Add the onions and stir well, scraping any browned bits in the bottom of the pan. Allow to soften and turn slightly golden. Add the chile and the peppers, cook briefly until just softened. Add the paprika(and stir well to coat the vegetables, cooking for just one minute. Add the flour and stir to coat. Add the mushrooms and their soaking liquid, along with the wine. Stir well to mix.

Increase heat to medium-high. Add the tomatoes and caraway seeds. Stir well. Finally add the beef stock. Bring to, as Slater delightfully commands, an enthusiastic simmer. Salt generously, give it one last stir and cover with a lid.

Place in the oven and allow to cook undisturbed for 1 1/2 hours.

While the stew simmers in the oven, prepare the spaetzle, timing it so that it will be completed in synch with the stew.

When the stew is finished, remove from the oven and allow to rest for 10 minutes. Gently stir in the spaetzle (as much as you want; you might not use it all), then swirl in the sour cream. Or, add the sour cream, and serve the stew on top of the spaetzle.
Notes
adapted from Nigel Slater's amazing book, Tender
Nutrition
Nutritional information, if shown, is provided as a courtesy only, and is not to be taken as medical information or advice. The nutritional values of your preparation of this recipe are impacted by several factors, including, but not limited to, the ingredient brands you use, any substitutions or measurement changes you make, and measuring accuracy.
Subscribe to the SoupAddict Weekly Digest and get new soups and other delish foods in bowls in your inbox!