A delightfully spiced (spiced, not spicy hot) cranberry sauce fit to serve at your Thanksgiving celebration. Made ahead in the pressure cooker, it's the perfect sweet-tart side dish to complement that carb coma meal.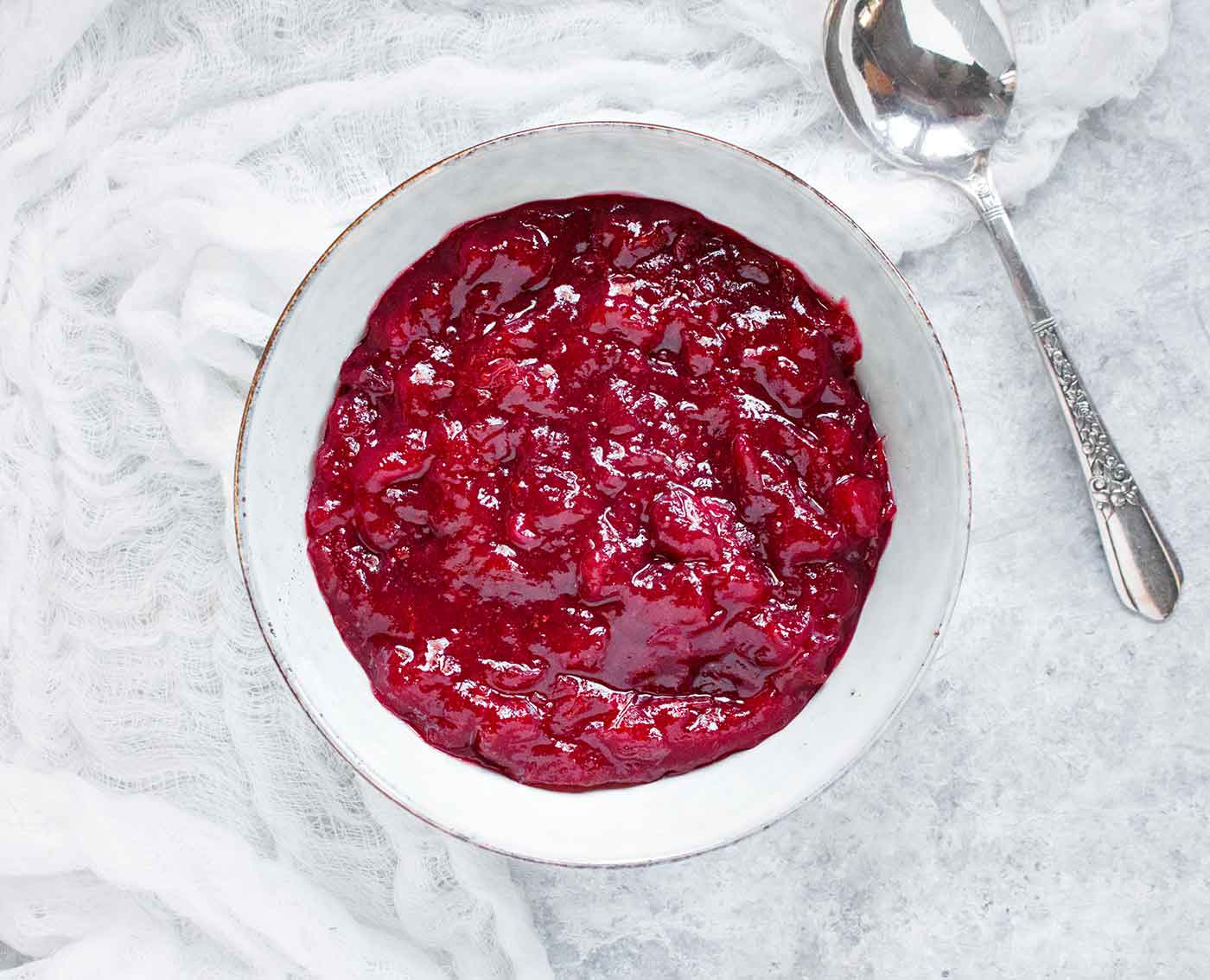 This is not your ordinary cranberry sauce, I need to alert you up front. Traditional cranberry sauce is certainly pretty in the bowl, but fairly one-dimensionsal: tart with mask of sweet. Often with a touch of orange. Nothing wrong with that — it's completely serviceable. And skippable.
But if you want to serve something extra special at your holiday feast, I hope you'll give this version a try. The orange burst is accompanied by the zing of ginger, and some surprising spices that create a flavor that you can't quite put your finger on, so you'll have no choice but to go back for spoonful after spoonful to see if you can nail it down.
This refreshing side dish is the perfect foil to Thanksgiving's heavy, carbtastic spread. Fragrant and fruity, Instant Pot Spiced Cranberry Sauce rounds out the meal with its bright, tart zing.
It's delightfully surprising, and you might just catch your guests sneaking seconds along with the turkey and stuffing.
And best of all, it's just so easy in the pressure cooker. This is literally a dump and set recipe: combine all of the ingredients in the Instant Pot, set the time. Go putter. No stirring. No hovering. The Instant Pot has your back.
One of my very favorite things out using the pressure cooker is that the cook time, including coming up to pressure, and release the pressure, is enough time to clean up the kitchen, and sit down with my feet up for a few minutes.
Then open the lid, stir. Smash a little, if you want to smooth things out a bit. And that's it!
Cranberry sauce is basically a jam, but you don't even have to worry about pectin, or how the sauce will thicken. The ingredients and the heat of the pressure cooker will take care of everything.
Did you know that cranberry sauce can be made ahead of time? Like, waaaay ahead of time? It's absolutely true. Homemade cranberry sauce will hold in the fridge for up to 2 weeks, and in the freezer much longer than that.
So, you could make this Instant Pot Spiced Cranberry Sauce this coming weekend or next, and cross one side dish off of your Thanksgiving Day cooking list. Done and done!
This Thanksgiving, don't reach for the can. Surprise the family with a fresh take on cranberry sauce, all the while making it easy on yourself by using the pressure cooker a few days in advance, and stashing it all in the fridge until the big day!
There is something to be said for cooking it the day of your celebration, though: your house will smell amazing. It's the one time to be happy that cooking odors cling to the sealing ring, lol.
Karen xo
Print Recipe
Instant Pot Spiced Cranberry Sauce
A delightfully spiced (not spicy hot!) cranberry sauce fit to serve at your most elegant -- or laid-back -- Thanksgiving dinner. The perfect sweet-tart side dish to complement a carb coma meal. See notes for doubling the recipe for a crowd.

Ingredients
12

ounce

bag fresh cranberries

1/2-3/4

cup

sugar*

1

orange

2

pods

star anise

1

heaping tablespoon

minced candied ginger

2

tablespoons

maple syrup

1

teaspoon

vanilla

1

pinch

ground cardamom**

1

pinch

fine sea salt
Instructions
Clean and pick over the cranberries for debris and damaged berries.

Zest the orange, and then squeeze all of the juice. You'll need two teaspoons of zest and you'll squeeze about 1/2 cup of juice.

Add all of the ingredients to the inner pot of your Instant Pot and stir to mix everything well.

Close the lid and seal the vent.

Set unit to pressure cook for 2 minutes***. When finished, let natural release for 10 minutes. If the valve hasn't dropped (it probably won't have), quick release the vent, taking care to protect yourself from the steam.

Open the lid away from you, watching out for the drips from the lid.

Find and discard the star anise pods.

Give the cranberry sauce a good stir.

Decide what kind of texture you want: for a smoother sauce, use a potato masher to smoosh the cranberries. Note that the sauce will be rather loose at this point.

Taste the sauce (let it cool on a spoon - it'll be hot!). If it's not quite sweet enough, you can add another tablespoon of sugar or maple syrup while the sauce still hot.

Let the sauce cool in the Instant Pot (it will continue cooking and begin gelling).

Transfer to a bowl, and store in the refrigerator for up to 14 days, or freeze for 2 months. It will finish setting up during its chill time.
Notes
* The typical cranberry sauce recipe uses up to 1 cup of sugar. One advantage of bold spices is that you don't need to use as much sugar. However, I wouldn't go lower than 1/2 cup, unless everyone at the meal loves tart. I prefer 3/4 cup.
** You can also take whole green cardamom pods, cut them open, and extract and grind the seeds inside. So fragrant! Use three or four pods.
*** If you're using a 6 or 8 quart Instant Pot, they'll take longer to come up to pressure than the 3 quart, which I used for this recipe, simply because of their larger volume. That means you'll need less actual cook time. I would suggest cooking for 1 minute, and then starting the quick release after 8 minutes of natural release.
To double the recipe: to make this cranberry sauce for a crowd, double the amount of cranberries, sugar, and orange juice, but increase the remaining spices only by about 75%. They're quite bold, and straight up doubling could be overpowering in the recipe.
Nutrition
Nutritional information, if shown, is provided as a courtesy only, and is not to be taken as medical information or advice. The nutritional values of your preparation of this recipe are impacted by several factors, including, but not limited to, the ingredient brands you use, any substitutions or measurement changes you make, and measuring accuracy.
Pin Instant Pot Spiced Cranberry Sauce recipe for later:
Pinterest fans, if you'd like to save this recipe for later, use these images (or any image above) to pin to your boards (they're small here, but thanks to the magic of the interwebs, they'll be full size when you pin them). Thanks for sharing, and most of all, thank you so much for reading this post! Blogging wouldn't be any fun without you!