A super easy weeknight meal, Mexican chili with orzo is gently spicy and full of vegetable and legume goodness, paired with the carby comfort of pasta.
Hello Chili-Lovin' Friends! I'll start off by saying that I don't know if "Mexican chili" is actually a thing, or if seeing the words "Mexican chili" makes Latinos everywhere simultaneously cringe and eyeroll.
But, I really hope the latter doesn't happen, because if Mexican chili isn't already a thing, I think it should absolutely be a thing. A thing that makes no one eyeroll or cringe because it's so tasty. So let's make it a thing, right here, right now! 😀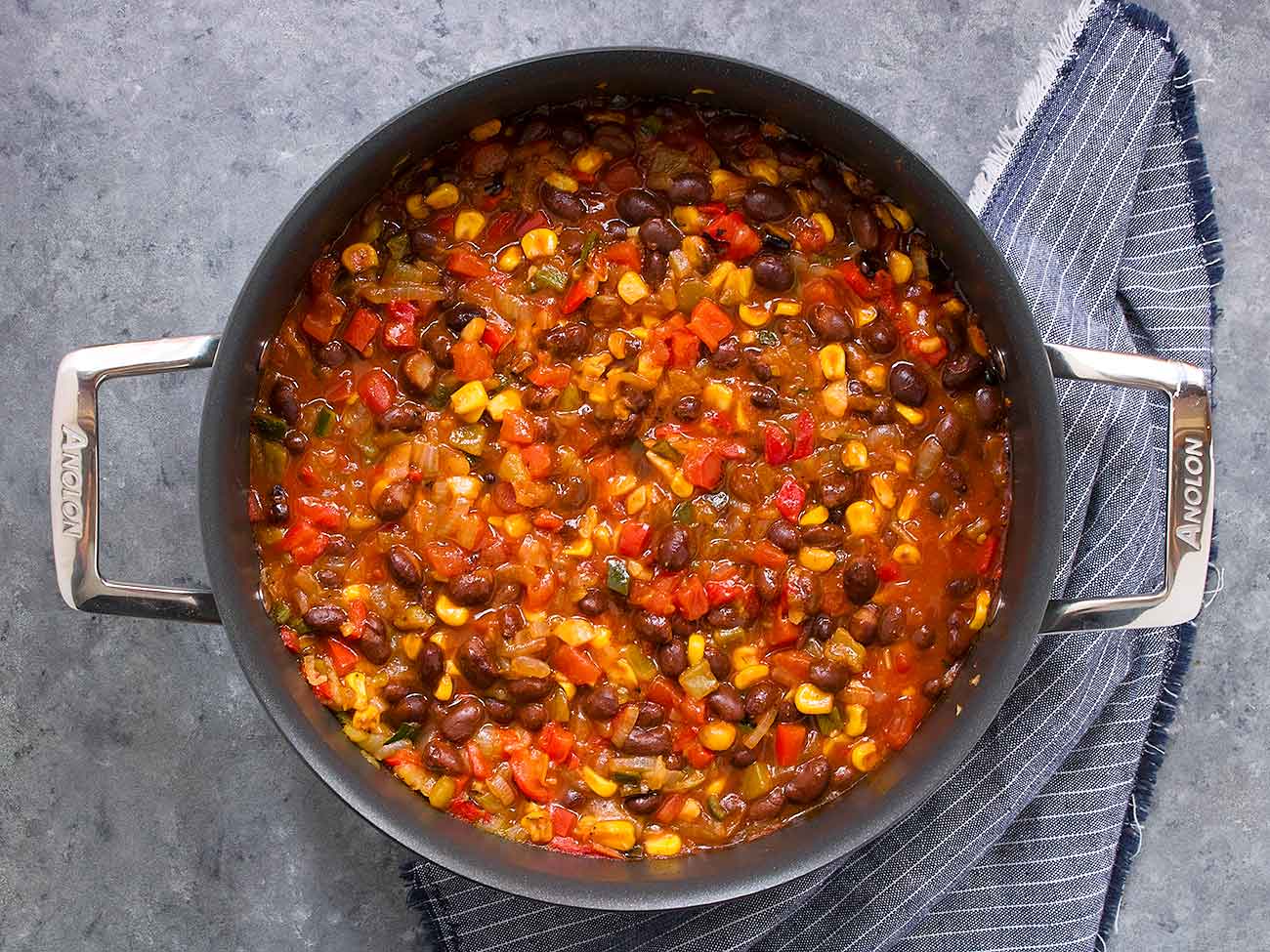 Because, this recipe is chock full of the yummiest vegetables and flavorful spices, and just enough black beans to make it a meal.
Oh, and don't forget the carby comfort of orzo pasta!
You can serve this over rice, natch, but back in early in October, when we had a strange stretch of un-October chilly temps, I looked into that beeeeyoootiful pot of Mexican chili vegetables and got the most intense urge to dump in a whole bunch of pasta.
But as I was digging through my pantry, I found a bag of orzo pasta … which sort of looks like rice … and, decision made!
Actually, this chili is hearty enough to serve without any grains at all, so if you're giving gluten the shade, this chili is for you!
And, to wrap up this recipe's goodness, Mexican chili is weeknight easy. It's the kind of thing where you can get home from work, do some lightweight vegetable chopping — don't forget, most grocery stores sell pre-chopped vegetables, either fresh or frozen — and from there, you're just opening a few cans, measuring some spices, and then letting the stove take it the rest of the way to dinner-on-the-table.
Mexican chili is naturally vegetarian, vegan, dairy-free, and nut-free ("naturally" means no scary substitutions!), and stuffed with healthy veggies, so not only is it damn delicious, but you can feel great about serving it to your loved ones.
My birthday was this past weekend, and each year, I choose something I want to do or accomplish. Not really a New Year's resolution, but more like a long-term, no-pressure goal that's doable without feeling miserable or guilty about falling short (example: not joining a gym, the classic gonna-fail New Year's resolution). Last birthday, the thing was eliminating/reducing dairy. Which sounds like a misery-inducing goal, but I've wanted to do it for years, with the barrier being finding dairy substitutes that weren't soy or tofu based. I've had a blast this year, in the way that only cooking nerds can, through weekly experiments with ingredients, combinations, and techniques. (My vegan tzatziki from October? That was one of the more rewarding efforts, for sure.)
Anyway, this birthday-year, I want to teach myself Spanish. I took a lot of Spanish in high school and left more or less travel and small-talk fluent. But in college, I studied German and Swedish, which, aside from the rare moments when I get to exhibit (read: show off, lol) my perfect pronunciation of the Swedish word for 7 — "sju" — (which is difficult for Americans to pronounce), I simply don't use either with enough frequency to remain fluent. Spanish, however, is a far more useful and practicable language in America, and it's time I renew that skill.
So, if any of you have self-taught a language recently, I welcome your advice. Several years ago, I bought a CD to learn French during my work commute. It was completely unhelpful, and I came away with nothing but a somewhat iffy ability to count to 100. (And then I left the CD in the player when I sold my car, so that was the end of that little adventure.) I say "iffy" because my knowledge was all verbal, and being a natural reader, it felt decidedly unnatural to not be able to visualize the spelling of the words I was saying. So, I think I need a combo of audio and written exercises. I found some vocabulary flash cards on Amazon that I might begin with, to create a word base before I start tackling grammar.
¡Felices fiestas! (Baby steps, people, baby steps. 😉 .)
Karen xo
Print Recipe
Mexican Chili with Orzo
A super easy weeknight meal, Mexican chili with orzo is gently spicy and full of vegetable and legume goodness, paired with the carby comfort of pasta.
Ingredients
2

tablespoons

olive oil

1

large onion,

chopped

1

small sweet red bell pepper,

chopped

1

small poblano pepper,

chopped

4

ounce

can mild green chilies

2

teaspoons

smoked paprika

1/2

teaspoon

ground cumin

1/2

teaspoon

ground coriander

1/2

teaspoon

garlic powder

1/2

teaspoon

kosher salt

1/2

to 2 teaspoons chipotle chili powder

1/3

cup

corn,

fresh or frozen (no need to thaw)

15

ounce

can black beans,

drained

14

ounce

can diced tomatoes

10

ounce

can mild red enchilada sauce

6

ounce

dried orzo

cilantro,

chopped, for garnish

green onions,

chopped, for garnish

sour cream,

optional

grated cheese,

optional
Instructions
Prepare the orzo according to package directions; drain and set aside.

Heat the olive oil in a large skillet or saute pan over medium until shimmering. Saute the onions, bell pepper, and poblano pepper until soft, about 5-8 minutes. Add the green chilies and warm through. Sprinkle the paprika, cumin, coriander, garlic powder, salt and chili powder over the vegetables and stir until fragrant. Add the corn, beans, tomatoes, and enchilada sauce, and gently simmer for 10 minutes. Garnish with cilantro and green onions.

To serve, let your peeps spoon the chili over the orzo, or, for all-in-one-pan serving ease, mix the orzo into the chili.
Nutrition
Nutritional information, if shown, is provided as a courtesy only, and is not to be taken as medical information or advice. The nutritional values of your preparation of this recipe are impacted by several factors, including, but not limited to, the ingredient brands you use, any substitutions or measurement changes you make, and measuring accuracy.
Pin Mexican Chili recipe for later:
Pinterest fans, if you'd like to save this recipe for later, use these images (or any image above) to pin to your boards (they're small here, but thanks to the magic of the interwebs, they'll be full size when you pin them). Thanks for sharing, and most of all, thank you so much for reading this post! Blogging wouldn't be any fun without you!