A big, beautiful bowl of colorful spiralized veggies, Vegetarian Pad Thai is a super healthy way to eat the rainbow. Stir fried with rice noodles, eggs, and pad Thai sauce, this dish is surprisingly easy, and one the whole family will love!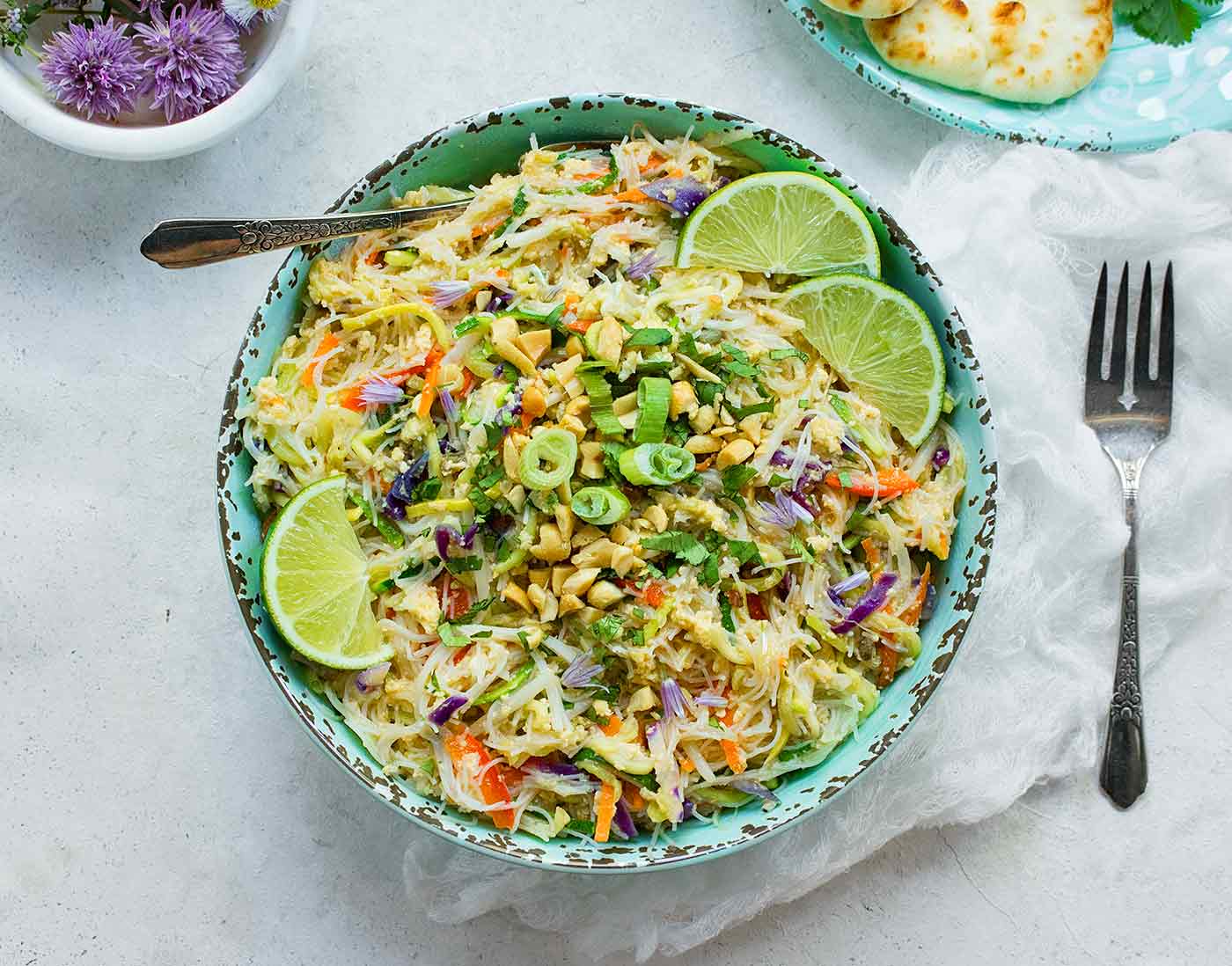 This recipe combines just about everything I love about summer eating: lots of fresh veggies, big flavors … and noodles. And then taking things a step further by making veggies into noodles.
Which is optional, btw, for anyone who refuses to make "pasta" out of veggies, just on principle. (You're not alone — Nigella Lawson has said the same thing, lol.)
I have a spiralizer (affiliate link) and I think it's a completely delightful contraption. I'm not here to fool anyone into thinking zucchini is pasta — and anyway, there are also rice noodles in this dish — I just think it's a fun way to get more veggies into a meal without having to stare down big blocky chunks of same on your plate. I mean, look at this:
I could go at that platter with a fork and a little lemon miso dressing, right now!
But, I do have a higher purpose for these lovely twirly rainbow gifts of summer.
And that would be this gorgeous bowl of vegetarian pad thai. Stir fried with soft scrambled eggs, and aromatics like ginger and scallions, and then tossed with fragrant pad Thai sauce, it's a summery twist on the classic dish.
If you don't have a spiralizer, you can do a dice on all of the veggies. Try to keep them the same size so they'll cook evenly. Or, you could try this serrated peeler (affiliate link), which easily handles all kinds of tricky peeling tasks, such as tomatoes and citrus zest without the pith. But if you drag it down the sides of long vegetables, it also creates narrow strands of veggie goodness, perfect for vegetarian pad Thai, and more.
In fact, before I sprang for a spiralizer, I created this salad and this orange marmalade using a serrated peeler.
By substituting some of the rice noodles for veggies, you create a healthy — and beautiful — meal with the same pleasing texture. This dish is naturally gluten-free, dairy-free, and can be made easily vegan by omitting the eggs. (It is not, however, low carb, as rice noodles are comparable in nutritional make-up to wheat-flour based pasta.)
The lavender blooms in the photos, by the way, are chive flowers (and are optional — and, in fact, not even called for in this recipe, because they're highly seasonal — I don't want any of you scavenger-hunting for something that might be impossible to find in August).
Chives are a wonderful herb to grow. In most zones in the U.S., it's a perennial (returns every year), and not only do you have these tasty green sprites to snip all summer long, but they bloom in the spring, and the flowers are completely edible (they have a gentle garlic-onion flavor).
Veggie noodle bowls for summer are da bomb!
Karen xo
Print Recipe
Rainbow Vegetarian Pad Thai
A big, beautiful bowl of colorful spiralized veggies, Vegetarian Pad Thai is a super healthy way to eat the rainbow.
Share via Text
Ingredients
1

tablespoon

oil

, coconut or olive

1

inch

piece ginger

, peeled and minced

1

zucchini

, sliced into strips or "noodles"

1

yellow summer squash

, sliced into strips or "noodles"

1

carrot

, sliced into strips or shredded

1

heaping cup chopped or shredded red cabbage

1

small red bell pepper

, chopped

2

eggs

, beaten

1

big handful bean sprouts

4

ounces

vermicelli rice noodles

pad thai sauce

peanuts

, chopped

cilantro

, minced

green onions

, sliced on the diagonal
Instructions
Prepare the rice noodles according to package directions. (Usually, this involves soaking them in very hot water for about 15 minutes.) Drain, and set aside.

While the rice noodles soak, heat the oil in a large skillet or wok over medium-high until shimmering, add the ginger, and stir to coat. Drop in the zucchini, squash, carrot, cabbage, and bell peppers. Saute until the veggies are softened (5 to 8 minutes). Reduce heat to medium low, and let some of the liquid given off by the zucchini evaporate for a few minutes. Pour in the eggs, and swirl them around in the veggies until curds form. Add the bean sprouts and fold into the veggies. Pour some of the pad Thai sauce over the veggie mixture and stir.

Finally, mix in the rice noodles. Add more pad Thai sauce to suit (I prefer mine coated with, but not pooled in, sauce). Garnish with peanuts, cilantro, and green onions.
Notes
Recipe alterations:
Gluten-free: this recipe is gluten-free.
Vegan: leave out the eggs and double-check your Pad Thai sauce to make sure it doesn't contain fish products.
Nutrition
Nutritional information, if shown, is provided as a courtesy only, and is not to be taken as medical information or advice. The nutritional values of your preparation of this recipe are impacted by several factors, including, but not limited to, the ingredient brands you use, any substitutions or measurement changes you make, and measuring accuracy.
Pin Rainbow Vegetarian Pad Thai recipe for later:
Pinterest fans, if you'd like to save this recipe for later, use these images (or any image above) to pin to your boards (they're small here, but thanks to the magic of the interwebs, they'll be full size when you pin them). Thanks for sharing, and most of all, thank you so much for reading this post! Blogging wouldn't be any fun without you!