Super thick soft baked chocolate chip cookies are as big as saucers, and stuffed full of chocolatey goodness!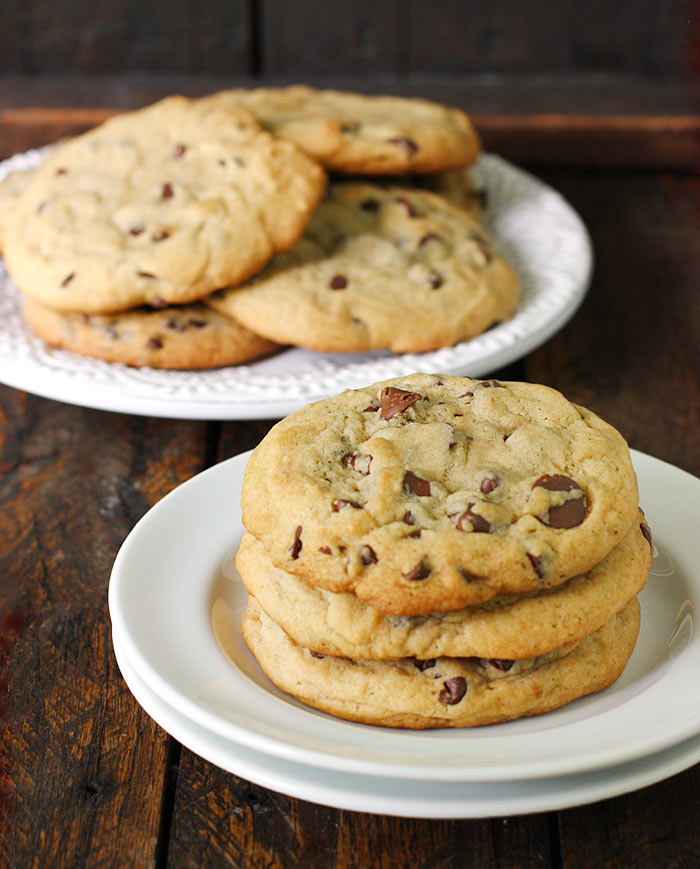 Gosh, it's been so long since I baked cookies. But one day I woke up and I just had to have soft baked chocolate chip cookies. As in, right-now-pronto, had to have ooey gooey cookies with tons of melty chocolate chips.
I blame it on FoodGawker. I'm a savory-salty palated girl, but dang if those dessert photos don't wear you down after a while.
So, I got about baking the biggest, softest cookies I've ever made. I love soft baked chocolate chip cookies. No crunchy cookies for me, thank you very much. It's okay if the outside is just the slightest bit snappy, but the insides should be tender and moist, like a really good banana or pumpkin bread.
For every baker in the world, there's a different opinion on how to get on the road to big, thick, chewy, soft baked chocolate chip cookies perfection: The balance of brown sugar/white sugar. Baking powder with or without baking soda. Cornstarch, yea or nay.
For my two cents, it's two things:
1. Cream the softened butter and sugars (brown and white, whatever their ratios) for way longer than you think is necessary. They'll be creamed at two minutes, but if you can wait, go for five.
2. If the dough is even just the slightest bit warm, refrigerate the dough before baking. I baked these cookies on a super hot August day, and even though the air conditioning was going all gang-busters on the humidity in the house, my finished dough had a sheen to it that signaled, "Ware, flat cookies ahead!".
Since showing is better than telling, I baked half of the batch as is, warm. While that batch baked, I put the other half of the dough in the fridge, about 15 minutes total, and put the metal scoop I was using in the freezer.
You can see the results in the photo above. On the left are cookies baked from warm dough; on the right, refrigerated dough.
Same bowl of dough, both started on cool cookie sheets lined with fresh parchment paper. The only difference was the chilling.
One interesting thing to note is that I used an equal mixture of mini chips (semi-sweet) and regular chips (some milk, some dark). In the warm dough, the regular — and heavier — chips sunk to the bottoms of the cookies during baking. With the cookies on the left, you see mostly mini chips on the top. But with the cookies on the right, even though they're thicker, the regular chips stayed put wherever they were, tops and sides.
Plus, I just like the look of the soft baked chocolate chip cookies on the right: they have more character, bumps and crevices.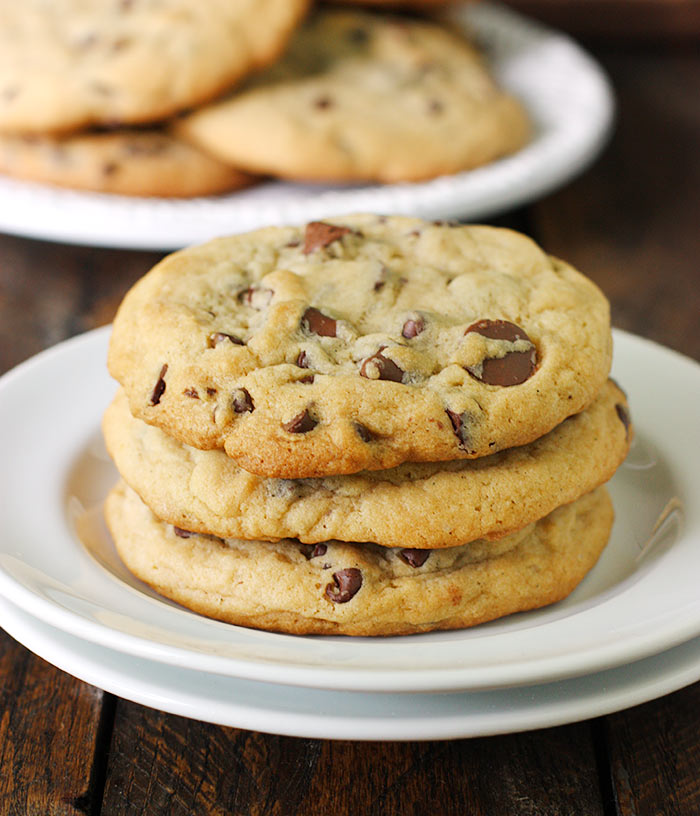 And, guys, I used a 1/4 cup to measure out these babies. Each cookie is 1/4 cup of cookie dough magnificence. And it's so much easier than using a spoon or scoop, especially when both the dough and the measuring cup is cold (I have stainless steel cups, so they chilled down nicely). I spoon dough into the cup, level it off, and then undaintily dump the 1/4 cup of dough onto the baking sheet and leave it as-is (no need to shape it or anything).
Thick and ooey gooey soft baked chocolate chip cookies are da bomb! And they hold up for days in a covered container (not that they'll stick around for days — I intentionally pulled some aside to test on Days 2, 3 and 4. Such a tough life we food bloggers lead — four days of chocolate chip cookies!)
Karen xo
Print Recipe
XXL Soft Baked Chocolate Chip Cookies
Ingredients
2 1/4

cups

all-purpose flour

1

teaspoon

cornstarch

1

teaspoon

baking soda

1/2

teaspoon

salt

1/4

teaspoon

baking powder

3/4

cup

butter

room temperature

3/4

cup

brown sugar

1/4

cup

granulated sugar

2

large eggs

1

tablespoon

vanilla bean paste or extract

1 1/2

cups

chocolate chips

for depth of flavor, use a mixture of dark, semi-sweet, and/or milk
Instructions
Preheat oven to 350°F. Line two baking sheets with parchment paper or a silpat mat.

Measure the flour, cornstarch, baking soda, salt, and baking powder into a medium bowl and stir to mix.

Using a stand or hand mixer, cream the butter and sugars together until very light and fluffy. This will take 3 to 5 minutes.

Beat in the eggs, one at a time, until thoroughly combined. Add the vanilla bean paste or extract.

Decrease mixer speed to low and add the flour mixture in two additions, allowing it to combine with the wet ingredients in between.

Use a spatula or wooden spoon to fold in the chocolate chips by hand.

Place the bowl of dough in the refrigerator for 15 minutes.

Working quickly, measure out dough using a 1/4 cup and drop onto baking sheet, spaced 2" apart. The dough will be a thick disk. (You should be able to fit 6 to 8 cookies per sheet).

Bake for 11-13 minutes. The edges will be lightly golden brown, with the cookies tops still pale.

Remove from oven and allow to cool for about 1 minute, then transfer to a cooling rack.
Nutritional information, if shown, is provided as a courtesy only, and is not to be taken as medical information or advice. The nutritional values of your preparation of this recipe are impacted by several factors, including, but not limited to, the ingredient brands you use, any substitutions or measurement changes you make, and measuring accuracy.
Adapted from LifeLoveandSugar.com