Flavor-boost your rice dishes with this super-simple but super-flavorful spicy green rice sauce. Blends up in just minutes and goes great with Mexican and Thai dishes … or when you just need a little extra tasty carby comfort.
There are recipes that home cooks turn to over and over again, to the point where it's reflex as much as recipe. This, for me, is one of those.
Rice, along with pasta, is the ultimate carb comfort food, in my book, and when punched up with a sauce made with herbs and peppers, well, not to be too precious about it, but: crave-worthy.
The reason this recipe has become muscle memory in my kitchen is because it's so quick and easy, and the fresh and herbacious flavors make the simplest meals — say, this and a tossed salad — seem unexpectedly special. Plus, I feel really good about sneaking extra greens into a dish that normally calls for none. #veggiegoals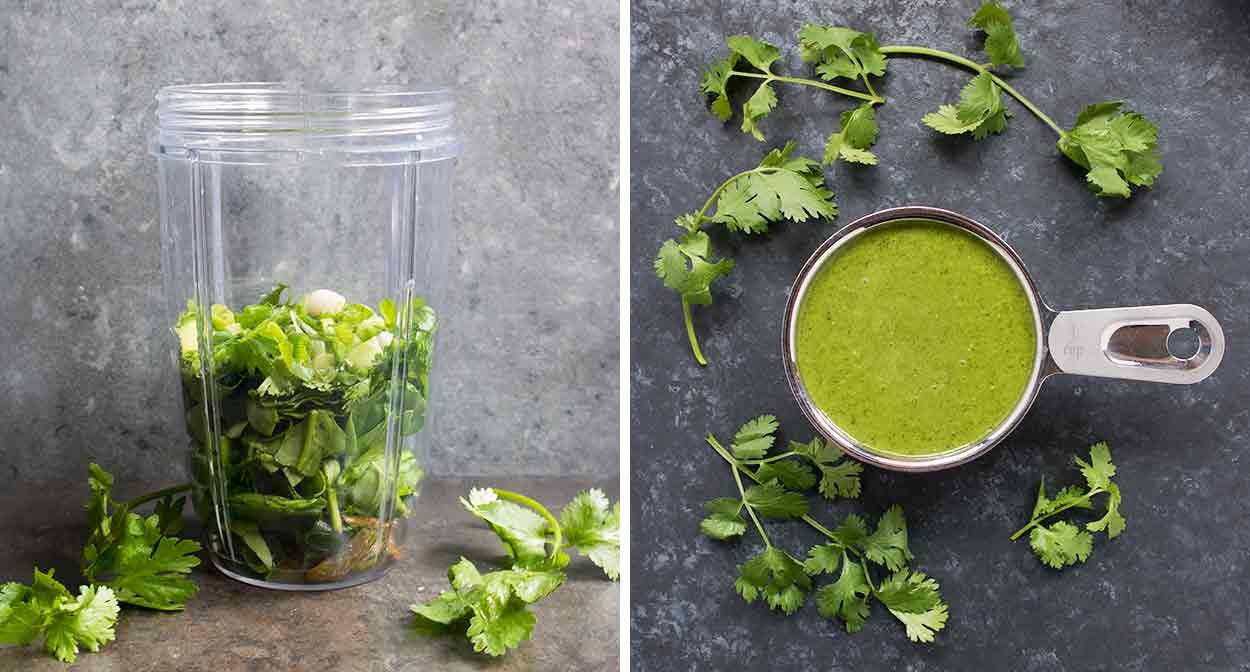 If your fridge or freezer always has a supply of leftover rice (or quinoa or farro), Spicy Green Rice is just a speedy whirl in the blender away. I keep my trusty NutriBullet (affiliate link) nearby, and while my rice reheats (or cooks up afresh), I do a rough chop on the ingredients, toss them into the blender jar, and one short buzz later, my sauce is ready to go. No expensive Vitamix necessary, although it will, of course, do a bang-up job of it.
A bonus to this recipe is that all of the ingredients should be available year round at your regular grocery store, even though out of season locally.
But as a home vegetable gardener, I particularly love that I can pluck all of the green ingredients right out of my yard all summer long, and raid the pantry for the rest.
This recipe has received a lot of testing this winter, as I tweaked it to balance herbs and chiles, and I never tired of its plucky flavors and seamless companionship with meals of quesadillas, roasted veggies, and tacos. (Pro tip: add ginger for Asian-inspired meals — oo-la-la.)
And I can't count the number of times this was the star of a hurried lunch, with a glass of earl green iced tea and a big salad.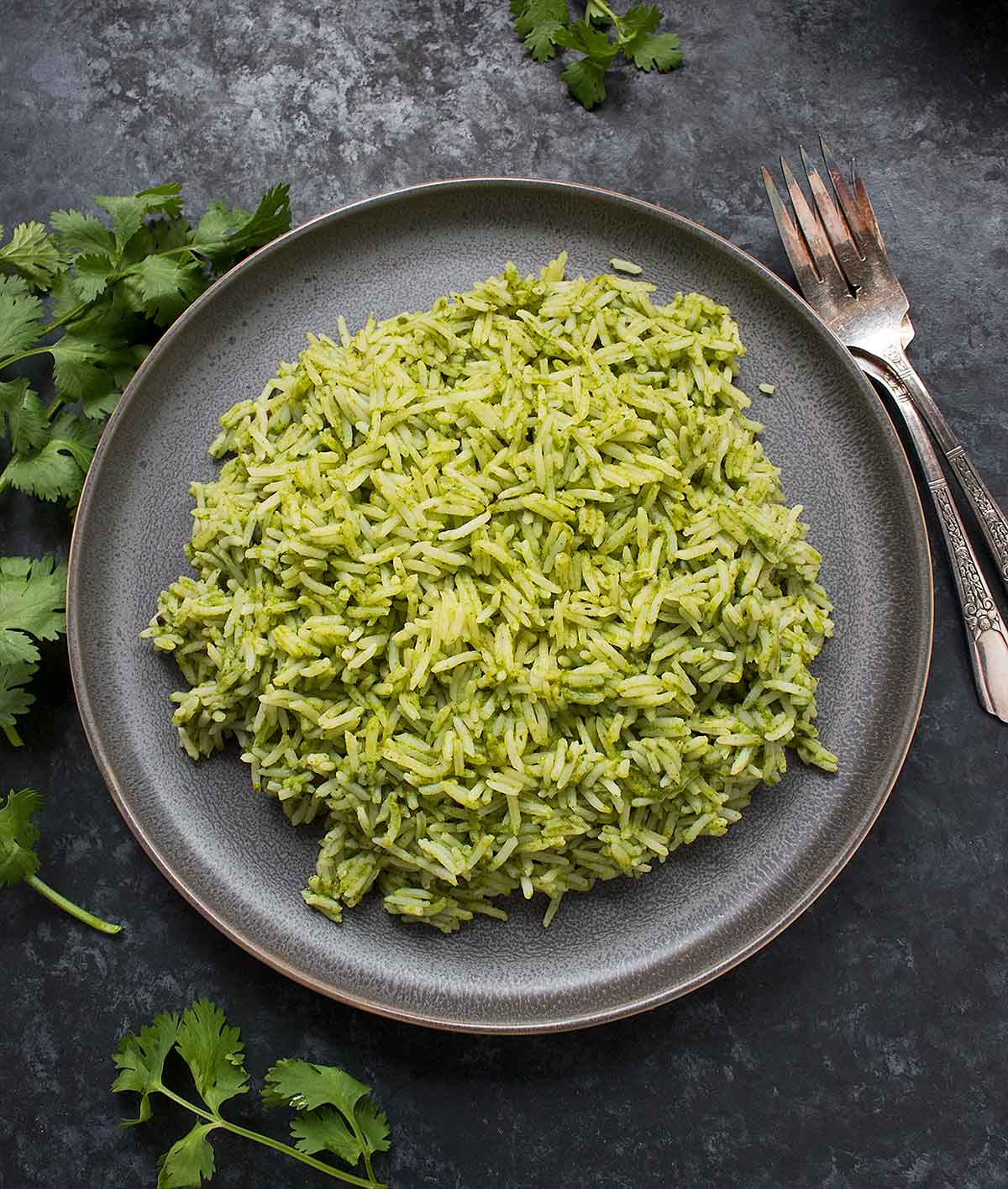 Why everyone will love Spicy Green Rice
Think of it more like a mild chili sauce than an overtly healthy green-monster sauce. The herbs and fresh poblanos create a wonderfully spiced sauce, without the sinus-clearing qualities of sriracha or cayenne.
This is a whole foods plant-based compliant dish, but it's the kind of naturally natural (lol) recipe that appeals to everyone because there's nothing unfamiliar in it; no strange substitutions or suspect ingredients.
This recipe works well with a variety of grains and seeds. White rice? Of course! Brown rice? Yes! Quinoa? Absolutely! Ditto with farro, barley, and even couscous. Whatever your fam's carb craving, the spicy green sauce will top it nicely.
There is no one in my circle who has sampled Spicy Green Rice and didn't love it. If you have carnivore-leaning eaters in your care who raise a skeptical eyebrow at things overly green, I do hope you'll find a way to get them to take a forkful. Because that's all it will take. Just one. (But maybe wait until after that first bite to tell them it's also vegan, lol.)
Karen xo
Print Recipe
Spicy Green Rice
Boost your rice dishes with this super-simple but super-flavorful spicy green rice sauce. Blends up in 5 minutes and goes great with Mexican and Thai dishes ... or when you just need a little extra tasty carby comfort.
Share via Text
Ingredients
1

small poblano pepper roughly chopped

(or sub a jalapeno or serrano)

1

cup

loosely packed spinach

1/2

cup

fresh cilantro,

thin stems okay

2

green onions,

roughly chopped

1

clove

garlic,

peeled

1/2

teaspoon

minced fresh ginger,

optional*

1/2

teaspoon

kosher salt

1/3

cup

coconut milk,

lite or full fat

2

tablespoons

water

3

cups

cooked rice

(warmed, if using leftovers)
Instructions
Add all but the rice to a blender, and blend until smooth. Makes about 1 cup of sauce. Stir into the rice (don't worry; it won't be soupy). Serve immediately, or store in the fridge.
Notes
*Ginger adds a fresh zing to the mix, and goes well with Asian cuisine.
Nutrition
Nutritional information, if shown, is provided as a courtesy only, and is not to be taken as medical information or advice. The nutritional values of your preparation of this recipe are impacted by several factors, including, but not limited to, the ingredient brands you use, any substitutions or measurement changes you make, and measuring accuracy.
Pin Spicy Green Rice recipe for later:
Pinterest fans, if you'd like to save this recipe for later, use these images (or any image above) to pin to your boards (they're small here, but thanks to the magic of the interwebs, they'll be full size when you pin them). Thanks for sharing, and most of all, thank you so much for reading this post! Blogging wouldn't be any fun without you!