A rich and creamy vegan chocolate glaze that goes on smooth but dries hard. Perfect as a drizzle for brownies, a cookie frosting, or doughnut glaze!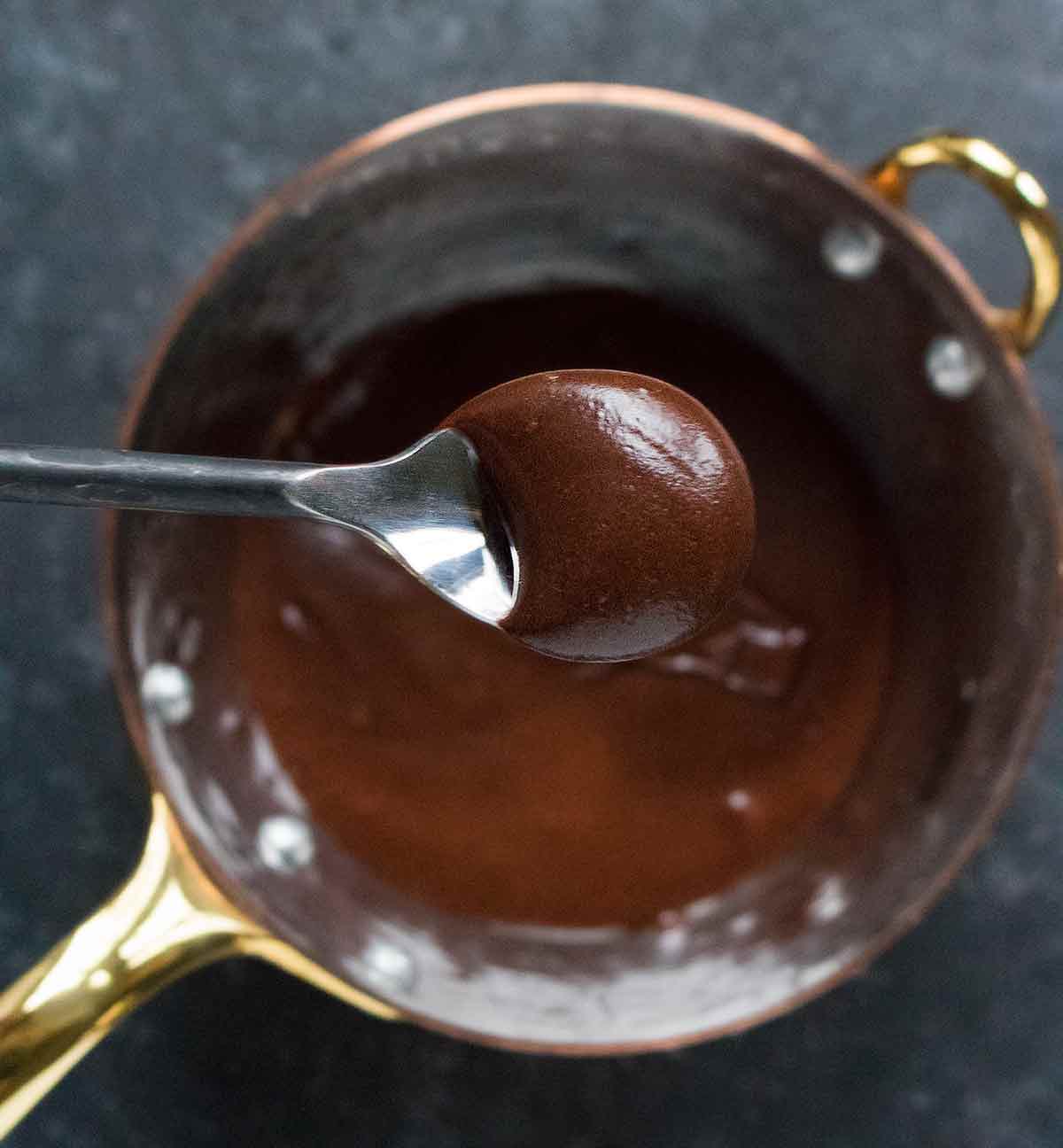 The king of chocolate holidays is nearly upon us, and the great news is that vegetarians and vegans everywhere can enjoy their fill of chocolatey goodness: The cocoa bean is a seed from the cacao tree, so it's literally a plant-based yummy (holla!).
Of course, if you're vegan or a dairy-avoider, you already know that dairy creeps into a lot of the commercial chocolate products we know and love — milk chocolate, lol — so take care to read labels and such when you go shopping. But today's recipe is a worry-free edition of chocolate heaven.
Indeed, this vegan chocolate glaze is made from cocoa powder, which is naturally vegan, along with confectioner's sugar (icing sugar), espresso powder, vanilla, and your choice of non-dairy milk.
This isn't required for this recipe, but in case you're curious, I use this Extra Brute cocoa powder (Amazon affiliate link), which is rich, chocolately, and a deep shade of brick that also makes beautiful red velvet cakes.
Whisk these simple ingredients together until temptingly creamy and smooth. (Yes, take a taste test — that's the best part about being the cook!)
In place of dairy milk that's normally used in glazes, I used Ripple Half & Half, which is a pea-protein based non-dairy milk substitute. And it's awesome. My local Target carries it, but feel free to use your favorite almond or cashew milk instead. I would go with an unsweetened version, since we're already using a lot of sugar here, but if all you have on hand is a vanilla flavor, I think that should work just fine.
Drizzle the chocolate glaze on your favorite dessert. Or right into your mouth — I won't tell! Or schmear on a cookie. It goes on smooth and creamy, but will dry hard as it sets.
I photographed this vegan chocolate glaze in my cute little copper pot, but there's no heating involved! The secret to the creamy goodness is sifting the sugar to remove the lumps. Yeah, I know, it's an extra step, but you'll be glad you did.
Need a recipe to try this amazing vegan chocolate glaze on? How about these fudgy vegan mocha brownies? They're the bomb!
Karen xo
Print Recipe
Vegan Chocolate Glaze
A rich and chocolatey vegan glaze that goes on smooth and creamy but dries hard. Perfect as a drizzle for brownies, a cookie frosting, or donut glaze. Expresso powder heightens the chocolate flavor.
Share via Text
Ingredients
1

cup

confectioner's sugar

3

tablespoons

cocoa powder

1/2

teaspoon

espresso powder

1/2

teaspoon

vanilla paste or quality extract

2-3

tablespoons

non-dairy milk,

such as cashew or almond
Instructions
Sift the confectioner's sugar, cocoa powder, and espresso powder through a medium sieve into a medium, to remove all lumps. Add the vanilla paste and 2 tablespoons of the non-dairy milk, and whisk until smooth. Lift the whisk from the glaze: the glaze should stream smoothly and slowly from the whisk. If too thick, whisk in another teaspoon and retest. If too thin, whisk in another teaspoon of sugar or cocoa powder.

Use immediately. If glaze stiffens during use, add a very small amount of non-dairy milk and whisk until smooth.
Nutrition
Nutritional information, if shown, is provided as a courtesy only, and is not to be taken as medical information or advice. The nutritional values of your preparation of this recipe are impacted by several factors, including, but not limited to, the ingredient brands you use, any substitutions or measurement changes you make, and measuring accuracy.
Pin Vegan Chocolate Glaze recipe for later:
Pinterest fans, if you'd like to save this recipe for later, use these images (or any image above) to pin to your boards (they're small here, but thanks to the magic of the interwebs, they'll be full size when you pin them). Thanks for sharing, and most of all, thank you so much for reading this post! Blogging wouldn't be any fun without you!